My twitter Updates

Buatan Malaysia: Initial d
Friday, July 29, 2005
It's the weekends again! One downside about being in Brisbane is that there are no Chinese cinemas' around (unlike Sydney and Melbourne). Thus most of the time, we resort to renting tapes from video stores in Chinatown to watch the latest HK movies.
A couple of days ago, my gf's brother managed to rent Initial d. Since I don't mind watching the movie again and the video quality was above average, I sat down and watch. At first I didn't noticed anything different and suddenly, it felt wierd. Then it hit me... there's malay subtitles on the bottom of the screen! Nope it's not bahasa Indonesia. I guess watching so many programs in Malaysia, subtitles seems subliminal now.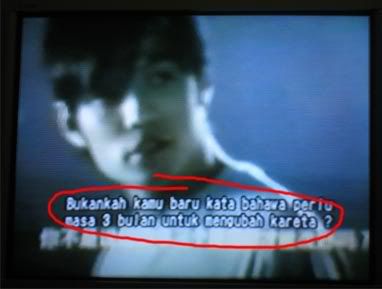 For the first time, I am actually quite impressed with a
buatan Malaysia
(made-in Malaysia) product. Those pirates back home do know how manage exports and market the goods. Cool, I guess these guys know about globalization... something our government-owned corporation should learn from these guys.


You know you are not in Malaysia when...
Thursday, July 28, 2005
My sis was in town for a couple of days for work obligations and meeting her makes me homesick. I guess seeing a familiar face after so long makes one miss home.
Here are somethings I miss about Malaysia that makes living an adventure... I guess.

you step on the zebra crossing, no one tries to run you over.

nobody runs the red light.

you can't find any Ali Maju cafe in the area.

no one steps up to you during dinner and ask if you wanna buy the latest 'movie'.

ladies expose their oversized handbags.

nobody comes and collect old newspapers from your house.

you can't find Ramli burger.

the Policemen seems bigger and build.

the road does not stink after the garbage truck comes by.

you take less than 30 minutes to find a carpark in the shopping centre.

traffic jam? what traffic jam?

shopping centres closses at 5:30pm



Joke of the day: Bad day at work
Wednesday, July 27, 2005
It's mid-week and if you're feeling depressed, hope this will cheer you up!

A man joined a big Multi National Company as a trainee. On his first day he dialed the pantry and shouted into the phone, "Get me a coffee, quickly!"
The voice from the other side responded, "You fool, you've dialed the wrong extension! Do you know who you're talking to, dumbo?"
"No," replied the trainee.
"It's the Managing Director of the company, you fool!"
The man shouted back, "And do you know who YOU are talking to, you fool?"
"No," replied the Managing Director.
"Good!" replied the trainee as he put down the phone!


Signs You've Had Too Much Coffee
Tuesday, July 26, 2005
I guess it's a lifestyle here in Australia. Everyone seem to hanging out in cafe's at night and sipping on their coffee while chatting 'bout the latest Big Brother gos. I reckon without mamak stalls, cafe's are the only thing (besides pub) that is opened till midnight here. I know that the coffee culture has been around in KL for quite sometime, but this is different, people are actually queue-ing up to get a table!
Anyways for you cafeine lovers, here's something that might help... signs you've had too much coffee;

When you call hitz.fm, the morning crew ask you to turn yourself down.

You're first in-line in Starbucks... at 5am!

You can't stop saying "Tak Nak!"

You're passing everybody on LDP when suddenly you realize - you're not in a car.

You order your coffee and the mamak 'ah-neh' delivers it to your home.

Last time you got a good night's sleep, Michael Jackson was black.

You go nuts over little things like the crazy frog ring tone.

You're redeeming your buy 10 free 1 coffee from Starbucks for the 10th time in a week.


F1: Only mathematical chance for Kimi now
Monday, July 25, 2005
Fernando Alonso's sixth victory of the season in the German Grand Prix at Hockenheim puts him 36-points clear of arch-rival Kimi Raikkonen as the Finn's title hopes went up in smoke.
Nonetheless Kimi's team-mate, Juan Pablo Montoya battled through from the back of the grid after his qualifying crash to finish second ahead of BAR's Jenson Button, who out-duelled Michael Schumacher with an excellent overtaking move.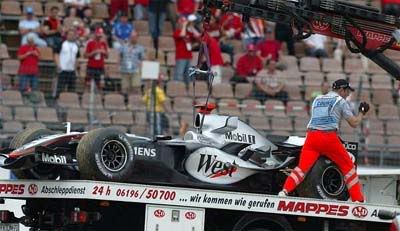 Once again, reliability seems to be Kimi's misfortune. Altough, Kimi did everything right the whole weekend and was enjoying a comfortable lead when, his McLaren suffered a terminal technical fault. It's his third this year and what lousy timing!
So, where are we at the drivers' champisonship?
Pos Driver Points
1 F Alonso (Spa) 87
2 K Raikkonen (Fin) 51
3 M Schumacher (Ger) 47
4 JP Montoya (Col) 34
5 J Trulli (Ita) 31
5= R Barrichello (Bra) 31
7 G Fisichella (Ita) 30
8 R Schumacher (Ger) 26
9 N Heidfeld (Ger) 25
10 M Webber (Aus) 22
11 D Coulthard (GB) 19
12 J Button (GB) 9
13 F Massa (Bra) 7
14= A Wurz (Aut) 6
14= T Monteiro (Por) 6
14= J Villeneuve (Can) 6
17 N Karthikeyan (Ind) 5
18= C Klien (Aut) 4
18= P de la Rosa (Spa) 4
18= C Albers (Hol) 4
21 P Friesacher (Aut) 3
22 V Liuzzi (Ita) 1
There is still a mathematical chance that Kimi can win the Drivers Championship and stop Alonso becoming the youngest ever world champion this year but it's gonna be difficult... still, you never know, keep your fingers cross!

Cravings - Roti Canai
Friday, July 22, 2005
I've been in Brisbane for a month and my biggest craving is Malaysian food, particularly Roti Canai! (Something that I took for granted while in Kuala Lumpur) hahahaha sad but true... hence the next best alternative, instant Roti Paratha!
It comes in 2 flavours, plain and onion. The price is rather reasonable as well, comes to around RM1 a piece... not too bad I guess. Hahaha.. I just thought of making my own roti telur or roti pisang... not sure if it'll work with these instant ones.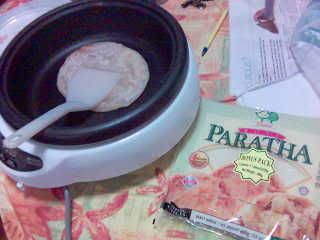 Picture Fact: London almost hit again
London was almost hit for the 2nd time in a fortnight in an attempt to repeat the
events of July 7th
. Last night, police were hunting for four would-be suicide bombers after they set off devices on three Tube trains and a London bus..
The terrorists escaped after their devices failed to detonate properly. Here's the timeline and location of the attempted bombings.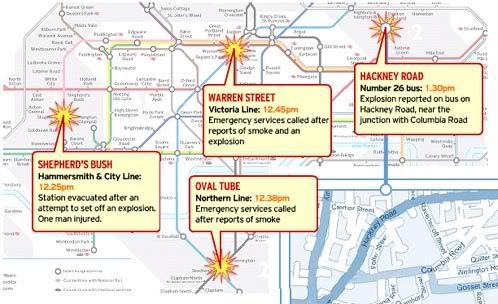 Word of the Day: Deffered Success
Thursday, July 21, 2005
Just read this 'interesting' article from Reuters. According to the article, the word "fail" should be banned from use in British classrooms and replaced with the phrase "deferred success" to avoid demoralizing pupils, a group of teachers has proposed.
Members of the Professional Association of Teachers (PAT) argue that telling pupils they have failed can put them off learning for life. A spokesman for the group said it wanted to avoid labeling children. "We recognize that children do not necessarily achieve success first time," he said.
hmmm.... just imagine your report cards in the future, instead of an F you get a DS. Deferred Success? No lah... it's Darn Stupid! kekeke...


Ways Kenny Sia Can Distract Attention From The Kennygate Scandal
Wednesday, July 20, 2005
I guess the latest scandal has rocked the Malaysian Blogosphere and this time is by none other than the famus
Kenny Sia
. Since his SIArong Party Girl
post
(Kenny, how reckless can you be?) many other blogs have jumped in and criticized Kenny.
I am a big fan of Kenny's since before that April Fool
post
and I won't criticize him for what he did. Anyways, if you're reading this Kenny, here are some ways to distract attention from the Kennygate scandal.

Change your blog name to mrsia.com : When Routine is Exactly Normal.

Make an appearance on 'Latte @ 8' then beat the crap out of Jason Lo.

Start selling DVD version of the new Harry Potter book.

During press conference, start crying and insist that you have nothing to do with the AP issue.

Post something less controversial like Miss Tourism Pageant 2005 Video

Make a last minute entry for the New Paper New Face of 2005.

Start your own cult; Kenny Kingdom.

Hope that helps!


Funny Road Sign: Secret Nuclear Bunker
Tuesday, July 19, 2005
It's been almost a month since I've posted any funny sign boards. Here's something funny.

This is an english sign that directs you to the location of a 'secret' nuclear bunker...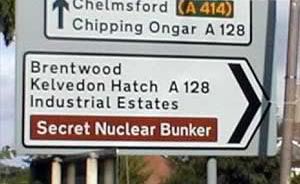 Joke of the Day: Malaysia Boleh!
Monday, July 18, 2005
Here's something that will cheer you up on a Monday!

After digging to a depth of 100m last year, Indonesian scientists found traces of copper wiring dating back 1000 years, and came to the conclusion that their ancestors already had a telephone network one thousand years ago.
So as not to be outdone, in the weeks that followed, Singapore scientists dug 200m, and headlines on Straits Times read: "Singapore scientists have found traces of 2000 year old optical fibers, and have concluded that their ancestors already had advanced high tech digital telephone 1000 years earlier than the Indonesians."
One week later, a Malaysian scientist (who declined to be named), reported the following: "After digging as deep as 500m, Malaysian scientists have found absolutely nothing. They have concluded that 5000 years ago,their ancestors were already using wireless mobile phones!"
MALAYSIA BOLEH!

Brisbane Skyline
Friday, July 15, 2005
Here's a panaromic view of Brisbane taken on my K700i on the way to the city...


EPL: 2005 Summer Transfers Summary
Haven't been keeping up with the English Premier League summer signings? Here's a list that would be of great help...

ARSENAL

In: Alexsandr Hleb (Stuttgart, undisclosed);

Out: Patrick Vieira (Juventus, £13.75m); Graham Stack (Reading, loan); Edu (Valencia, free); Jermaine Pennant (Birmingham City, £500,000); Olafur-Ingi Skulason (released); Adam Birchall (released); Daniel Karbassiyoon (released); Jordan Fowler (released); Frankie Simek (released); Stuart Taylor (Aston Villa, undisclosed); Jeremie Aliadiere (Glasgow Celtic, season-long loan);

ASTON VILLA

In: Patrik Berger (Portsmouth, free); Aaron Hughes (Newcastle United, undisclosed); Stuart Taylor (Arsenal, undisclosed); Kevin Phillips (Southampton, £750,000);

Out: Thomas Hitzlsperger (Vfb Stuttgart, free); Stefan Moore (QPR, free); Stephen Cooke (Bournemouth, free);

BIRMINGHAM CITY

In: Jermaine Pennant (Arsenal, £500,000); Mikael Forssell (Chelsea, £3,000,000); Medhi Nafti (Racing Santander, undisclosed);

Out: Ian Bennett (Leeds, free); Darren Carter (West Brom, £1.5m);

BLACKBURN ROVERS

In: Craig Bellamy (Newcastle, £5m); Shefki Kuqi (Ipswich Town, free);

Out: Craig Short (released); Nils-Eric Johansson (released); Jon Stead (Sunderland, £1.8m);

BOLTON WANDERERS

In: El Hadji Diouf (Liverpool, undisclosed); Ian Walker (Leicester, free);

Out: Vincent Candela (Udinese, free); Julio Cesar (released); Fernando Hierro (retired); Anthony Barness (released); Charlie Comyn-Platt (released); Florent Laville (released); Jason Talbot (released); Kevin Poole (released); Ricky Shakes (released);

CHARLTON

In: Gonzalo Sorondo (Internazionale, loan); Jonathan Spector (Man United, loan); Chris Powell (West Ham United, free); Darren Ambrose (Newcastle United, undisclosed); Darren Bent (Ipswich Town, £2.5m); Kelly Youga (Lyon, free);

Out: Mark Fish (released); Stacy Long (released); Neil McCafferty (released); Paul Konchesky (West Ham, undisclosed); Simon Royce (QPR, free);

CHELSEA

In: Asier Del Horno (Athletic Bilbao, £8m);

Out: Juan Sebastian Veron (Inter, undisclosed); Scott Parker (Newcastle United, £6.5m); Mikael Forssell (Birmingham, £3,000,000); Mateja Kezman (Atletico Madrid, £5,300,000);

EVERTON

In: Simon Davies (Tottenham, £3.5m); John Ruddy (Cambridge United, £250,000); Per Kroldup (Udinese, £5m);

Out: Daniel Fox (released); Guillame Plessis (released); Anthony Gerrard (released); Eddie Bosnar (released); Alessandro Pistone (released); Alan Stubbs (released); Steve Watson (West Brom, free);

FULHAM

In: Ahmad Elrich (Busan I'Cons, undisclosed); Jaroslav Droby (Panionios, undisclosed); Heidar Helguson (Watford, £1.3m);

Out: Edwin van der Sar (Manchester United, undisclosed); Lee Clark (released); Jerome Bonnissel (released); Sean Doherty (released); Ross Flitney (released); Stuart Noble (released); Abdeslam Ouaddou (released); Malik Buari (released); Martin Herrera (released);

LIVERPOOL

In: Antonio Barragan (Sevilla, free); Jose Reina (Villarreal, undisclosed); Mark Gonzales (Albacete, loan); Bolo Zenden (Middlesbrough, free); Mohamed Sissoko (Valencia, £5.6m);

Out: Bruno Cheyrou (Bordeaux, loan); Chris Kirkland (West Brom, loan); Alou Diarra (Lens, £1.98m); El Hadji Diouf (released); El Hadji Diouf (Bolton, undisclosed); Vladimir Smicer (Bordeaux, free); Jon Otsemobor (released); Richie Partridge (released); Paul Harrison (released); Patrice Luzi (released); Mark Smyth (released); Gregory Vignal (Portsmouth, free);

MANCHESTER CITY

In: Kiki Musampa (Atletico Madrid, loan);

Out: Jon Macken (Crystal Palace, £750,000); Paul Bosvelt (Heerenveen, free); Kevin Stuhr-Ellegaard (released); Steve McManaman (released); Christian Negouai (Standard Liege, undisclosed);

MANCHESTER UNITED

In: Edwin van der Sar (Fulham, undisclosed); Park Ji-Sung (PSV Eindhoven, undisclosed);

Out: Jonathan Spector (Charlton, loan); Roy Carroll (West Ham, free); Ricardo (Osasuna, free); Paul Tierney (released); Daniel Nardiello (released);

MIDDLESBROUGH

In: Aiyegbeni Yakubu (Portsmouth, £7.5m); Emanuel Pogatetz (Bayer Leverkusen, undisclosed);

Out: Bolo Zenden (Liverpool, free); Andrew Davies (Derby, loan);

NEWCASTLE UNITED

In: Emre (Inter, undisclosed); Gonzalo Sorondo (Internazionale, loan);

Out: Darren Ambrose (Charlton Athletic, undisclosed); Craig Bellamy (Blackburn, £5m); Laurent Robert (Portsmouth, undisclosed); Andy O'Brien (Portsmouth, undisclosed); Aaron Hughes (Aston Villa, undisclosed); Patrick Kluivert (Valencia, free); Jamie McClen (released);

PORTSMOUTH

In: Gregory Vignal (Portsmouth, free); Andy O'Brien (Newcastle, undisclosed); Laurent Robert (Newcastle, undisclosed); John Viafara (Once Caldas, undisclosed);

Out: Aiyegbeni Yakubu (Middlesbrough, £7.5m); Patrik Berger (Aston Villa, free); Shaka Hislop (released); Steve Stone (released); Hayden Foxe (released); Valery Mezague (Montpellier, loan return); Richard Duffy (Coventry City, loan);

SUNDERLAND

In: Martin Woods (Leeds United, free); Tommy Miller (Ipswich Town, free); Kelvin Davis (Ipswich Town, £1.25m); Jon Stead (Blackburn Rovers, £1.8m); Nayron Nosworthy (Gillingham, free); Daryl Murphy (Waterford, £100,000);

Out: Sean Thornton (Doncaster Rovers, £175,000); Mark Lynch (Hull City, free); Michael Bridges (released); Marcus Stewart (released); Michael Ingham (released); Jeff Whitley (released);

TOTTENHAM HOTSPUR

In: Wayne Routledge (Crystal Palace, undisclosed); Paul Stalteri (Werder Bremen, undisclosed); Teemu Tainio (Auxerre, free); Tom Huddlestone (Derby, undisclosed); Aaron Lennon (Leeds United, undisclosed);

Out: Thimothee Atouba (Hamburg, £1.5m); Rohan Ricketts (Wolverhampton Wanderers, free); Simon Davies (Everton, £3.5m);

WEST BROMWICH ALBION

In: Darren Carter (Birmingham, £1.5m); Steve Watson (Everton, free);

Out: Rob Hulse (Leeds, £1.1m); Artim Sakiri (released);

WEST HAM UNITED

In: Roy Carroll (Man United, free); Paul Konchesky (Charlton, undisclosed); Danny Gabbidon (Cardiff, undisclosed); James Collins (Cardiff, undisclosed);

Out: Don Hutchison (released); Chris Powell (Charlton Athletic, free); Sergei Rebrov (Dynamo Kiev, free); Rufus Brevett (Plymouth, free);

WIGAN ATHLETIC

In: Mike Pollit (Rotherham United, free); Ryan Taylor (Tranmere Rovers, undisclosed);

Out: Gareth Whalley (Swindon Town, free); Magno Vieira (released); Jason Jarrett (Norwich City, free); Nicky Eaden (Notts Forest, free); Ian Breckin (Notts Forest, £350,000);

Signs that you're blogging a little too much
Thursday, July 14, 2005
Wow how time flies! It's exactly one year since my first post

and it's been an interesting one year as I've managed to meet new friends and hook up with old friends as well. For me, it is actually quite entertaining reading old post and I've noticed that I've posted at least 5 post a week. Yikes!
Anyways, here are some signs that you're blogging a little too much;

You accidentally post the wrong article on the wrong blog.

Your mom have to visit your blog to know what you're up to...

You have more friends in the blog-o-sphere than in real life.

You dream about your blog stats.

People start emailing and calling you when you do not post anything for a day.

You keep switching hosts to keep up with your bandwidth.

You name your pet coconut Kenny.

You make more money from adsense than you do at your day job.

You leave the house only to have something to blog about.

You consider marrying someone once you find they've posted about your blog.

You also want your own article in the newspaper.



Movie review: Fantastic Four
Wednesday, July 13, 2005
Caught Fantastic Four over the weekend and as usual, here's my take on the movie. FYI, Fantastic Four is the comic book that gave birth to Marvel Comics, making it the big brother to such better-known titles as Spider-Man, X-Men, and The Incredible Hulk.

The movie starts off with genius scientist Reed Richards (Ioan Gruffudd) and his best buddy, Ben Grimm (Michael Chiklis of the Shield), approaching billionaire Victor Von Doom (Julian McMahon) about financing a project. Reed wants to spend some time on Victor's space station and use the opportunity to study the effects of cosmic rays on living material. Comming along on the trip are, Sue Storm (Jessica Alba), and her brother, hothead Johnny Storm (Chris Evans). Before long, like all Marvel superhero movies, things go wrong. All four are exposed to cosmic rays, and thus fundamentally altering their DNA. Reed's body becomes elastic. Sue gains the ability to turn invisible at will. Ben becomes a hulking rock creature with incredible strength. And Johnny becomes the 'human torch'. Victor, however, taps into the dark side of the cosmic rays and learns how to manipulate electricity.

The story seem to be written to atract a whole new audience (younger) rather than fans of the comic. For me, it is not as good as Spidey or the X-men, which is at a level of it's own. I guess, the writers dwelled too much on the origin of the Fantastic FOur, which is not really exciting! By the time Dr. Doom decided to destroy the Fantastic Four, it's already 20 mins from the end. (It took only 5 minutes to defeat Dr. Doom). Too bad for a lack of build-up. I guess with origin stories, the audience would like to see how the heroes discover their new powers and coping with it.

The actors are not bad. Most of them played thier part well but I think the casting crew should have done a better job with the Reeds Richard and Sue Storm role. Gruffudd doesn't seem to have the charisma to play a leader, he seem to be soft. While Alba, altough visually enjoyable to watch, doesn't seem to fit the role well. Nonetheless, many will agree that Michael Chiklis played the Thing perfectly with his accent, attitude and a good heart. I was watching the credits and yeah... Stan Lee, the co-creator made a cameo as a mailman. BTW, Stan turns up in every Marvel movie, including The Hulk, X-Men and Spider Man.

Overall, a fun movie with an under-developed story, just don't expect too much. For myself, I enjoyed the movie espeacially the corny dialogues! I reckon the movie could've been much much better if producers took the time to polish things up. Watch the movie ONLY if you have nothing better to do.

Ratings (Scale of 1 to 5, 5 being the highest)

Cast : 3.5
Sound : 3
Picture : 3.5
Storyline: 2.5

OVERALL : 3.2

Things To Do While Stuck In Traffic Jam
Tuesday, July 12, 2005
Ugh.... traffic conggestion in KL after chunks of concrete and cement crashed to the ground when portions of the elevated interchange under construction gave way near 3.2km Bukit Raja-NKVE. thestar.com.my reports that nine Bangladeshi workers are injured, three of them seriously.

Anyways if you get stuck in traffic jams frequently, not to worry..! Here are some things you can do while stuck in the traffic jam;

Just imagine you're doing a coke commercial.

Roll down window, ask person in the next car, "Is this the line for Fantastic Four?"

Walk up to car in-front of you, and tell him that you 'forgot' where you parked your car.

Call police, report stolen car, give number plate of car in front of you.

Play the brand new exciting game "My wipers are faster than yours!"

To make it easier, imagine you're waiting in line to run over Samy Velu

Attempt to play synchronized honking with the other cars...

Start mimicking the sound of an ambulance and see if the cars in front of you give way.

Walk up to car in-front of you, and ask him if he wants to buy DVDs.


Lesson for the day: A small change
Monday, July 11, 2005
There is this tooth paste production company in US, producing a high quality, beautiful packaging toothpaste that is well received by the consumers. The sales of the company increase every year by 10-20 recorded for the first 10 years. This has please the shareholders and the management.
But when they entered to the 11th, 12th and 13th year, the sales became stagnant, every month maintaining the same figure. The board of directors are very unhappy about the performance and call for a national management meeting to find a solution.
In the meeting, one young manager stand up and speak to the board, "In my hand there is an envelope, it contains a suggestion. If you want to use my suggestion, you must agree to pay me another 50,000 dollar!!"
The president is very angry when he get this demand, "I am paying for your salary, on top of that, you are getting profit sharing,allowances and bonus, now I call for the suggestion, you still want to press for another 50,000 dollars, don't you think this is too much ?"
"Mr. President, please do not misunderstand my request. The salary that you paid me, get me working hard for the company everyday. But this is a very important and valuable suggestion, you should pay extra for it. If you think that my suggestion is not worthily, you can throw it away and pay me nothing. But, if you do not look at it, what you lose will be more than 50,000 dollars." Explain the young manager.
"OK, I will see what sug! gestion that is worth so much!!!" The president take the envelope and read the contents. After reading, he just write a cheque value of $50,000 to the young manager. On the piece of paper inside the envelope, there is only one sentence, "enlarge the opening of the current tube by 1 mm."
The president immediately order for this suggestion put into force. Just imagine, every morning, every consumer will consume additional 1mm of tooth paste, the total daily consumption of the product will increase by how much? This suggestion has increase the sales for the 14th year by 32.
A small change sometimes can really change the whole picture. When we are facing the new information, new introduction or new innovation, do not ever seal your head, forget about it. We must open our mind, even just 1mm to accept these new information and innovations. Who knows one single innovation will bring us insights that can improve our performance by manyfold, and improved our life, don't you think so?


Key facts about the London blasts
Friday, July 08, 2005
It was like 9/11 again when I turned on my TV to find that several explosions had rocked London. What timing! Just 24 hours ago, the city celebrated after winning the bid for the 2012 olympics and today, the city is total disarray, shock and anger.
For easy reading, here are the facts on the London Blast;
EXPLOSIONS occurred on trains near Aldgate, King's Cross and Edgware Road stations, and bus at Tavistock Place, near Russell Square.
FIRST explosion reported at 8.51am London time.
LONDON transport system shut down.
A GROUP calling itself the "Secret Organisation - al-Qaeda in Europe" has posted a claim of responsibility on the internet.
NO warning was given before the explosions.
BRITISH Prime Minister Tony Blair blames terrorists, describes the attacks as "barbaric".
MR BLAIR returned to London immediately from opening day of G8 meeting in Scotland.
MR BLAIR vows to bring those behind the attacks to justice.
G8 meeting continues.
UN Security Council unanimously passes resolution condemning attacks.
EUROPEAN nations tighten security fearing more attacks across the continent.
INTERNATIONAL Olympic Committee doesn't believe attacks related to London yesterday winning the right to host the 2012 Games.
52 dead (so far).
OVER 700 injured.
Other developements...
AUTHORITIES in Britain reportedly found a timer which may have been used in one of the explosive devices;
CONCERNS were raised that British security organisations reduced their alert level just weeks before the attacks;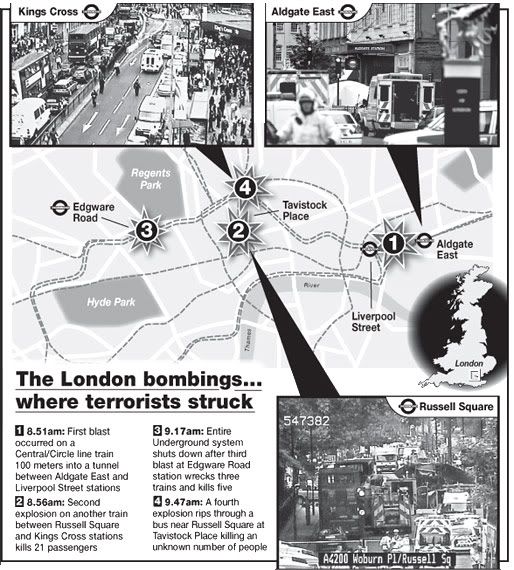 Source: The Daily Telegraph

Reasons To Hold The 2016 Summer Olympics In Kuala Lumpur
Thursday, July 07, 2005
The Brits cheer as London wins the bid to host the 2012 Olympic Games by a four-vote margin, we Malaysians should seriously consider bidding for the 2016 Olympics. Think of what it could do to our economy and our nations' status!
Here are some reasons why Kuala Lumpur should hold the 2016 olympics;

We have lotsa rubbish lying around to use for javelins and shot puts events...

Our drivers on the road are already so competitive... think of our 'world class' athletes!

We've already have all the stadiums from the Commonwealth Games.

Our pasar malams are ready to sell overpriced souvenirs.

Polluted air offsets any effects of ANY illegal performance enhancing drugs.

Our taxi drivers can already speak foregin languages.

Ooo.. we also have cheap pirated DVDs!



Movie review: War of the Worlds
Wednesday, July 06, 2005
Managed to catch Spielberg's latest big budget movie last night and it was a sell-out! In Brisbane, there isn't any seat number printed on the tickets. Thus, I had to be satisfied with 5th row from the front. Not too bad I guess. Come to think of it, the aliens do look bigger from where I am sitting.
The film practically starts of with Tom Cruise (playing an average Joe) walking outside in the morning only to be unexpectedly greeted by neighbours and passer-by with cameras and video equipment. Everyone is looking at the ominously brewing sky, the beginning of a massive alien invasion. A note of interest, this is Spielberg's second collaboration with Cruise after Minority Report.
The film is a completely new and contemporary version of the H. G. Wells' novel. The plot of the story is pretty straight forward. It follows Cruise's character as he 'journeys' to Boston to find his ex-wife when the aliens attack. There are obstacles along the way of course. Spielberg spends as much screen time depicting the insanity of this world, and mankind's inhumanity toward one another as he devotes to the alien attackers. Not bad I would say, but for me, the plot is a bit too shallow.
Like all sci-fi movie nowadays, the visual effects are stunning. When the alien warships rise up to kill everyone, it's interesting to see the towering walkers stomp on buildings and panicked humans get disintegrated out of their clothes. Total chaos! I guess the effects team did an exceptional job, showing the chaotic and insane state of Earth when invaded.
The actors did very well in their respective roles, particularly the impressive Dakota Fanning as Cruise's daughter. Oh... Tim Robbins shows up as well, nothing really special about his role though. Well, this movie is all about Cruise, Tom Cruise. His character is something like James Bond, who has an unexplained ability to never make a false move. I reckon the only injury he got from this apocalyptic doomsday was just a cut on his brow. :P Nonetheless, I reckon he did a good job with his character. It could've been better.
For me, the movie have all the right elements to keep you at the edge of your seats throughout the show but the ending destroyed the film. Overall, an entertaining popcorn movie BUT not really a must-see.

Ratings (Scale of 1 to 5, 5 being the highest)
Cast : 4
Sound : 3
Picture : 4
Storyline: 2
OVERALL : 3.25

Signs that you're too drunk to drive
Tuesday, July 05, 2005
Ahh.. it's been a month since the government included the
say no to booze
component to the health ministry's healthy lifestyle campaign. I'm sure that didn't make any difference. This is a follow-up of my
post last month
.
Well if you're still consuming booze like that's no tomorrow, here are some signs to tell if you're too drunk to drive;
The bouncer suddenly looks really hot.



You can't decide which steering wheel to use.

The Big German, Franz in the corner suddenly looks like a wimp.

Your feet are sore from dancing, and the candle light dinner is only half way through.

You can't count to 1.

You've just won a bet for $100 that you can eat your beer glass.

You can't find your left hand.

It's impossible to see the road because your pants are on your head.

You call the police thinking someone has stolen the steering wheel, only to find out you got into the back seat of your car by mistake.



One of Twelve Apostles collapses
Monday, July 04, 2005
One of the famous Twelve Apostles collapsed into a heap of rubble yesterday, destroying in seconds Australia's landmark.
The 70m-high limestone monolith off Great Ocean Road crumbled and today, only eight Apostles now remain. Yesterday's collapsed pillar - the second of the group, looking northwest from the main viewing platform - was lying as a forlorn pile of rubble last night just metres above sea level.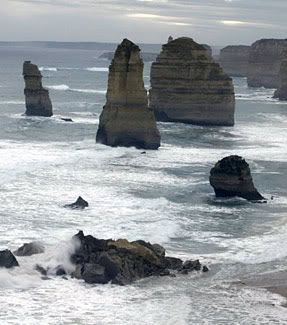 Despite the name, there have only ever been nine apostles. Now there are eight.
The Great Ocean Road generated AUD$1 billion in tourism revenue last year, with hundreds of thousands of people driving the scenic road visiting the Twelve Apostles.
I reckon the loss of one 'Appostle' would not affect tourism to the area.

Sunshine on a rainy day
Friday, July 01, 2005
It's been raining for 4 days non-stop here in Brisbane and the Gold Coast. News of floods dominated the media! I guess being from Kuala Lumpur, that's nothing new, considering the fact that it happened every three months anyways...

Here's an interesting shot (got bored while waiting for the little men to turn green) of the sun peeking out of the dark clouds momentarily.