My twitter Updates

Office: Relying too much on emails
Thursday, March 31, 2005
Nowadays, we rely too much on emails to disseminate information to everyone in the office. Everyday, I get announcements like, Maintenance today, pls log out from your pc or pls be informed that (name) is on MC or backup complete, you can log in to (system name). IMHO, we rely so much on the email technology to keep us updated on what's going on around us. Gone are the days of internal memo or announcement boards.

There was this hilarious announcement I received. It was during a blackout in the building where our office is located. After the power came back on, I turned on my PC and then my Microsoft Outlook, the first message I got was from the IT dept,

Power is back on, you can turn on your PC now.

:P

Damn.. my xbox can't be revived... oh well.. look like I gotta send it for servicing.

Half day today
Wednesday, March 30, 2005
Crap... my XBox died on me yesterday. For no reason, the dashboard failed to boot-up and thus, can't load any games. Shite...! There goes my entertainment. I am exploring several options to try to revive it, looks promising so far. :)

I am on half day today and will be going on a movie marathon today! muahahaha.. haven't done this for a long time... since the Bad Boys 2/ Tomb Raider 2 marathon. Will be going for House Of Fury/ Robots. Hope it's not too heavy. The thing about movie marathon is that, in the mid of the second movie, ppl will tend to get mentally tired. While working in the cinema, I've seen some dude do 3 movies in a row... I saw him outside the cinemaplex in the mid of the second movie and he was saying he needs a rest. :P

Here's my tip after the disastrous Bad Boys 2/ Tomb Raider 2 outing.
1. Watch slow movies first leave action and comedies to the last
2. Have at least 15 mins walk around... It help to stretch yout legs
3. Sneak in some food/water (mineral water better)
4. Sit at the back. Sitting in front gives you a bad headache after 2 shows.

Explanation: Why quake did not produce tsunami
Tuesday, March 29, 2005
Everyone seem to be talking 'bout the midnight Sumatera earthquake that happened early this morning. The tremors were felt on the entire west coast of the peninsula causing tens of thousands of people to be evacuated from their high-rise homes and hotels. The earthquake was measured at 8.5 on the Richter scale. Meanwhile, there were unconfirmed news that tremors can be felt in various parts of Kuala Lumpur and Singapore this afternoon and ppl were evacuated from several comercial buildings in Kuala Lumpur.

For myself, I did not feel a thing, not last night and not this afternoon. I am actually quite surprised that an earthquake at that magnitude failed to produce massive waves . Thank God! for that.

Upon doing some 'research', I came across this news article from AFP that might shed some light. According to David Booth of the British Geological Survey. The midnight earthquake did not cause a tsunami because the earth must have moved downwards rather than upwards. He was "very surprised" the earthquake had not created a killer wave because it was almost similar in force and depth to the December 26 temblor that caused so much devastation.

"It appears Monday's quake caused a downward movement of the earth rather than the upwards jolt of the Boxing Day quake which caused a vertical displacement of the ocean floor, which creates the tsunami," Mr Booth said.

Movie Review: Hitch
*whew* it's been over a month since I watched any movie on the big screen. I managed to catch Hitch with Ruben and Jadryn over the weekend and as usual, here's my take on Will Smith's latest outing.

This time round, Will Smith plays Alex 'Hitch' Hitchens, a self-proclaimed date doctor, who helps those in the dating game from messing up, so they can find true love. The movie begins with Smith narrating simple 'principles' of dating. Using three separate dates as examples, Hitch identifies common mistakes, gives dancing and kissing lessons and helps each of his clients actually walk away with the girl on his arm. As the story continues, Hitch has a new client - Albert, an overweight, clumpsy accountant who is in love with Allegra Cole, a celebrity. Here's where the comedy starts with Hitch teaching Albert how to get Allegra to notice him.

At the same time, there is a lovely gossip columnist Sara, who has captured Hitch's attention. After a disastrous first date, the couple realized that they might have found 'the one' in each other. However things are not as simple, since Hitch keeps his identity a secret, Sara is writing a story on the date doctor, which could end Hitch's career because everyone will then want his assistance with love and not those that truly need it. Thus begins a series of events that leads to several hilarious incidents.

IMHO, it's nice to see Smith back in a comedic role. I am a big fan since his days with Fresh Prince. In terms of on-screen chemistry, there's sufficient between Hitch and Sara (IMHO, if the casting ppl managed to get J-Lo, it'll be better!) and Albert and Allegra to convince us that love is in the air. However, the best is still on-screen chemistry between Hitch and Alberts. Those two seem to be having loads of fun with their teacher/student relationship. This results is several memorable hilarious and chaotic scenes. Besides that, there are not many characters in the movie and the writers did a good job developing the lead characters.

Meanwhile, the plot is mediocre. The thing about romantic comedy is that, it's predictable. Thus, you know somehow everything will come to an end... happily. The writers introduce a couple of sub-plots to fill-up the 2 hour movie.. seriously, without those sub-plots, the movie would last around... 1 hour 15 mins? Thankfully, the writers did not dwell too much on those subplots and managed to wrap everything up in a neat package. kudos to the writers!

The scenes from the movie were shot from various locations in NYC. The thing is, you won't get to see much of the city... but you can 'feel' the hectic life in the city and things happening around the city. Nicely done.

Overall an enjoyable movie, probably one of better romantic comedy to come out in recent years. I had good laughs constantly and would recommend this movie if you're on a date. It's NOT like one of those sappy movie that guys are forced to watch in agony. This movie WILL appeal to both sexes. Eventough you're not into romantic comedy, it is still an enjoyable movie to watch. :)

Ratings (Scale of 1 to 5, 5 being the highest)

Cast : 3.5
Sound : 3
Picture : 3
Storyline: 3.8 [Predictable but enjoyable]

OVERALL : 3.9

Test: Office Stress
Monday, March 28, 2005
Just got this on email. I reckon this is a good gauge to identify the amount of stress you have built up over time in work or studies.
A little background on the test, the picture below was devised as part of a stress test developed by researchers at St. Mary's Hospital in London. It is the final picture of a series of stress determinators to gauge the amount of stress a patient has built up over a short time.
Look at the picture below of two dolphins jumping out of the water in tandem. The research has shown that the more differences you notice in the two dolphins, the more stressed you are. This is attributed to the concentration and recognition influences intensifying when stressed. The two are very similar, so if you can tell the difference without looking hard, you should pack up work and go home immediately.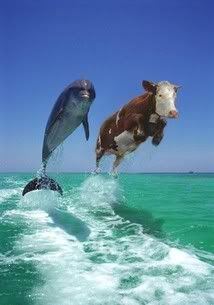 I dunno about you, but I think I should be going home soom. :)

Long Distance Relationship I
Saturday, March 26, 2005
sighh.. gf hurt her leg today in the gym and I feel really bad for not being there to lend her support or to make her feel better. Being in a long distance relationship, all I could do is call her up a few times to see how she is and give her some 'encouraging' words. Thus, I feel really really bad for not being there to comfort or to cheer her up...

:(

Wish I could be there babe.

Wet Cineplex
Friday, March 25, 2005
Crap.. it's been raining on days when I wanna go for my tennis lessons. It was raining heavily on Monday and when we reschedule to Wednesday, the same thing happened. BUT guess what? on Tuesday.. no rain, Thursday (yesterday), no rain.. :P I am never gonna finish my lessons at this rate.

Talking 'bout rain, I have this interesting experience while working in TGV 1 Utama cinema. It was 7 years ago, when I first started in TGV. The day began nicely with birds chirping, clear blue sky, bright sunshine.. the works.. anyways, in the afternoon, dark clouds gathered, rain started pouring heavily (Malaysian weather :P), visibility was like < 10m.

Coincidentally, there was a new show called Hard Rain which just begun its' screening. Starring Christian Slater and Morgan Freeman, this movie was set during a massive flood started by a dam accident in a small town, an armored truck guard who gets robbed by a group of robbers.

I was on usher duty that day and it was around 4-5pm, when this lady came out of the cineplex screening Hard Rain... all drenched (!). You should have seen the look on the lady's face and mine too... I have seen many things in the cinemas but getting drenched inside the cineplex? She was in shocked... I asked her? What did you do? What happened? She just laughed... few seconds later, other patrons start coming of the cineplex, all soaked and drenched as well. There's even this lady coming out with an opened umbrella. It was the sight of the moment.

I went into the cineplex to see what was going on. It seems the water from the rain was coming into the cineplex from the ceiling. Further investigation suggest that the drainage on roof carpark (located directly above the cineplex) wasn't working, thus the water accumulated and the ceiling somehow gave way. This results in the pouring of water in the cineplex.

Anyways, there was this soaking wet big Indian guy commented that the 'special effect' of the movie damn power.. everyone came out wet.. hahaha... anyways, the management refunded the patrons for the movie with an option to watch the movie at different times.

:)

Guide to Cinema Seatings
Thursday, March 24, 2005
It's been awhile since I've been to the movie... was thinking of watching
Hitch
or
Robots
, but have to find kaki to watch. hehe.. Anyways, talking 'bout movies, I remember those good 'ol days when I worked in TGV One Utama. I'll post some interesting stories next time.
I reckon One Utama TGV has one of the best cinema seats due to it's sloping-stlyed seating (they call it 'Stadium-Seating'). Anyways, since I used to work in TGV for 2 1/2 years, I thought it's appropriate to post a guide on selecting Cinema Seats.
Here we go: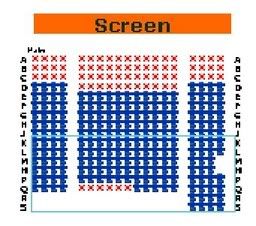 ROW R & S:
Crap, worst seats ever... it's at the corner, it's elevated and worst of all, the leg space is limited. You can forget about surround sound here, just mono. However, if your objective of coming to the cinema is something else, this few rows will suit your objectives. hehe...
Row Q:
Back row seats. Normally not sold, reserved for emergency (double sitting, VIP guests, last minute entry or people who sneaks into cinema).
Row L-P:
Good seats, You will get excellent surround sound experience (from THX speakers and from all the kids around you), nice view of the screen and excellent leg space.
Row H-K:
Excellent seats. IMHO, the best seats in DA HOUSE! Screen is just at your eye-level and sound experience is optimal but for some reason, leg space here is abit limited.
Row F-G:
Ok seats. To me, these seats are still ok.. not as bad as what everyone says. However, if you do get these seats, make sure you get the aisle seats. Centre seats will make you strain your neck and you'll be counting stars when you come out from your movie.
Row C-E:
Near front seats. Damn, sit at the sides... seriously, it helps.
Row A-B:
You gotta be kidding! Watch the next screening. However, if you like to count stars after the movie, see the actors' skin lines, or like to have a cheaper version of the IMAX experience, go ahead. :)

Fun Quiz: Are you pleasing your girl?
Wednesday, March 23, 2005
Ok guys, here's the quiz to see if you're pleasing your girl. It's easy, you get points when you do something she likes. However, if you do something she dislikes, points are subtracted.

Here's the catch, you don't get any points for doing something she expects. Sorry, that's the way the quiz goes...

The guide to the point system:

SIMPLE DUTIES
You make the bed (+1)

You make the bed, but forget the decorative pillow (0)

You go out to buy her what she wants (+5)

In the rain (+8) But return with Beer (-5)

You check out a suspicious noise at night (0)

You check out a suspicious noise, and it is nothing (0)

You check out a suspicious noise and it is something (+5)

You pummel it with iron rod (+10)

It's her pet (-10)

SOCIAL ENGAGEMENTS

You stay by her side the entire party (0)

You stay by her side for a while, then leave to chat with a college buddy
(-2)

Named Tina (-4)

Tina is a dancer (-6)

Tina has silicon implants (-80)

HER BIRTHDAY

You take her out to dinner (0)

You take her out to dinner and it's not a sports bar (+1)

Okay, it's a sports bar (-2)

And it's all-you-can-eat night (-3)

It's a sports bar, it's all-you-can-eat night, and your face is
painted the colours of your favourite team (-10)

A NIGHT OUT

You take her to a movie (+2)

You take her to a movie she likes (+4)

You take her to a movie you hate (+6)

You take her to a movie you like (-2)

It's called 'DeathCop' (-3)

You lied and said it was a foreign film about orphans (-15)

YOUR PHYSIQUE

You develop a noticeable potbelly (-15)

You develop a noticeable potbelly and exercise to get rid of it (+10)

You develop a noticeable potbelly and resort to baggy jeans and baggy
Hawaiian shirts (-30)

You say, "It doesn't matter, you have one too." (-8000)

ENJOY THE 'BIG' QUESTION

She asks, "Do I look fat?" (-5) [Yes, you LOSE points no matter WHAT]

You hesitate in responding (-10)

You reply, "Where?" (-35)

Any other response (-20)

COMMUNICATION

When she wants to talk about a problem , you listen, displaying what
looks like a concerned expression (0)

You listen, for over 30 minutes (+50)

You listen for more than 30 minutes without looking at the TV (+500)

She realizes this is because you have fallen asleep (-10000)


:O
Dammn... better try harder dudes.

Equation: Force of Nature + F1
Tuesday, March 22, 2005
I am still having the post-F1/Force of Nature hangover. Hahaha.. Feel so freakin' tired after a hactic weekend. Too lazy blog today BUT I can't resist sharing this equation with you guys.

Sorry Ferrari fans, hope you do better in Bahrain. :)
See ya tomorrow!

Review: F1 Malaysian Grand Prix 2005
Monday, March 21, 2005
What an exciting weekend! One of the most memorable to date (especially the DIY Pit Lane tour! muahahaha)... Most of the events organized are in conjunction with the F1 Malaysian Grand Prix. Anyways as mentioned earlier, I've purchased tickets for the F1 this weekend for the C2 hillstand. Thoughts of heat and heavy downpour crossed my mind but the C2 hillstand were 'covered'. Thus, didn't have to worry much.
The race starts at 3pm but the gang decided to leave for Sepang around 9am in order to make it in time for the qualifying session at 11am. The journey to Sepang took us 40 minutes but upon reaching the venue, there were massive jams leading to the designated parking area. After crawling thru the jam, we've managed to park out cars and were at the covered hillstand at 10:45am. Cool... 15 minutes to spare and to look for a nice spot to camp. :)
Initially, we managed to get a spot in the middle of the hill but at the edge of the shades. Cool. We could see everything from here as the cars would have to slow down quite abit to make a slight turn at the curve. We sat there for the qualifying session which was around 1 hour. Suddenly most of us felt itchy... hahaha.. we could see rashes forming on our hands and necks... :P we then decided to 'relocate' to the upper portion the hill. Ahh.. feels better... I guess there must be some kinda bug there or something. :P Moral of the story... bring a mat! hahaha.. yeah... we forgot about that and sat on the grass.
At noon, the crowd poured in... every little space under the shades were taken up. For us 'early birds', our vantage point were not blocked.. so it's all good! With 3 hours to kill, we decided to play some
Chor Tai Ti (Big 2)
to kill time. The guys were drinking their beers and were having a jolly good time. We were getting hungry and Shan decided to scout the food shops. Apparently, most of the 'packaged' food were sold out Except this burger store which sold burger at a killer RM10 for one burger! He decided against buying after seeing the line. The dude sitting next to me went out to buy some burger for him and his gf came back only after 45 mins! Ouch.. I'll starve for now... don't feel hungry anyways.
Yeah!! The vintage car parade started about 1:35pm, with all the drivers standing and waving to the crowds in different vintage cars. Quite cute I would say. By 2pm, the hillside were packed! Crowds spilled to the front of the hill. It's really colourful, but as usual, the colour red were everywhere. This time round, yellow to seem to be a favourite colour after the inclusion of the Indian driver.
Airshow started at 2:30pm with 4+1+1 formation MiGs flying low across the track. As usual, they show off their aerial acrobatics. IMHO this year round, it wasn't as impressive as last year. But still a sight to behold. The weather looks ok and there is no sign of rain. :) Thank God for good weather. However, the visibility on the track looks pretty bad due to the haze. The haze did soften the sun rays. Thus with a gentle breeze, it wasn't as hot as I expect it to be.
It's 3pm, you can feel the excitement in the air. The air horns are blowing, ppl are scrambling to the front, flags waving, chatters are getting louder to compensate for the increase in noise level. Suddenly from a far off, you could here the rumble of the F1 car engines. The cars took their formation lap and within 5 minutes, it was racing time! The race went on for approx. 1 hour 30 mins with race leader Alonso dominated from the beginning to the end. Defending champ, Schumi did not even come close. He was actually lapped by the Renaults. This race marks the first ever podium for team Toyota. They did quite well.. achieving position 2nd and 5th. Heifeld of Williams came in 3rd and Montaya of McLaren 4th. Ooo.. for those of you who didn't know, you can actually listen in on the race commentary from your radio on FM90 Mhz. It really helps when you're watching it in Sepang as you won't know who is up ahead or what's happening on the other side of the track.
Heard the news that track temperature went up to 49 Celsius. There were few cars with blown engines and tyres. Anyways, it was a good race with some overtaking action and lapping action. It's nice to hang out with the gang just chilling and listening to the cars roar pass. The race finish about 4:45pm and the gang decided to stay for the after-race concert. Fine with me. Want to see Thai singing sensation, Tata Young anyways. :)
The track management opened the track to the public in order to get to the concert stage located at the middle of the track. With that, many F1 fans took the opportunity to take photos on the track... including me! hahaha... the guys decided to hang around the concert area but Ruben and myself decided to walk the track that Schumi won 3 races in a row.
It took us almost 25 mins just to walk half the track and to think of it, an F1 car can do it in, 20 seconds... hahaha... Anyways, on the way, we decided to walk to the teams' pit stops. But at this rate we're going, we will be dead tired once we reached there.. and we have to think of the journey back as well. We walked to the grandstand and saw that the gates were opened. We cut across the grandstand to the corporate suites which were directly opposite the pits. We could see the pits from here... However, we do not see anyway of getting into the pits unless we walked around the track which we take at least another 20 mins.
We then saw few fellas jumping down the grandstand, crawled under the safety fence, walk across the starting grid and into the pit lane. I looked at ruben and said.. what are we waiting for? The thing is the initial jump from the grandstand is damn scary... 15 feet almost. hahaha.. to make the story short, I managed to persuade Ruben and we jumped down, crawled under the fence, walk across the starting grid and smoothly into the pit lane!
I tell you, it was worth it, we could see the crew packing things up, took a couple of pics here and there and this is where my digital camera battery died. OF ALL TIME!!! Thank God I have my K700i mobile. So We continue clicking! hehehe... We did not see anyone famous but the experience to be in the pit lanes were... sweet. The highlight of that was at the end of the lane, were the 2 medical car and 2 safety cars... took a couple of shots and we were off to the concert to re-join the concert.
It was already 7pm when we reached the concert area. The crowds were enjoying the entertainment. After a few local performances, we decided to leave. it's been almost 12 hours since we were out.. everyone was beat. Just as we were about to leave, Tata Young came out... saw her perform for awhile and we left the concert area and following that the F1 track.
Overall, a great experience. I reckon, I had more fun sitting in the hill than at the grandstand (last year). It was an excellent ideas for the organizers to include commentary for the race straight into your radio. Organization wise, I didn't see any hiccups and everything went as according to plan. Of course, the best part of the day was the DIY pit lane tour... muahahah!
Sweet!
Photo album,
Click Here

Review: The Force of Nature concert
Saturday, March 19, 2005
Ahh.. The Force of Nature concert, for the first time in the Malaysia's history, a pool of stars from all over the world got together for a benefit concert, names like Wyclef Jean, The Black Eyed Peas, Boyz II Men, Lauryn Hill, the Backstreet Boys, Jackie Chan and Nicholas Tze. Other 'surprise' appearance includes, American Idol's Paula Abdul, Clay Aitken, Alan Cumming, Bai Ling, Ken Watanabe, Indonesian songstress Ruth Sahanaya, David Blaine, Nick Stahl, Joey and Lance from NSync and Carmen Electra. *Whew*.
The concert was scheduled to start at 7pm but for some unknown reason, the first artiste,
Lauryn Hill
came out at 8pm after being introduced by
Paula Abdul
. I arrived shortly after 8:30pm, thus missing the first performance. Road leading to the concert venue were surprisingly clear and there were no trouble with parking space. :)
Upon reaching the entrance of the Stadium, I noticed there were scores of fans and media crowding along the 'red carpet' entrance. Even more crowding to buy tickets to enter the Stadium. Anyways, made my way to the RM352 sitting place and was quite disappointed as it was the lower tier behind the stadium. You can see the stage but not as not the performers. No worries tough.. there are 2 projector screens visible from where we were sitting.
Back to the concert... after Lauryn Hill performed, local boy bands,
Innuendo
and
V.E.
performed. They got the crowd singing to
Belayan Jiwa
. Following that,
Sheila Majid
came out and sang a few of her hits and did a duet with
Annuar Zain
. Finally, all local performers including Dayang Nurfaizah brought the house down with
Ikhlas Tap Jauh
. Not bad performance I would say. Here's the downside of the concert. After each performance, there is like a 15-20 mins delay to get all the equipment set up for the next artiste. Seriously, we were all sitting there yawning and I ppl just walking out of the stadium after every performance. Boring! Boring!
The next group came out were
Boys 2 Men
! Yeah! There were seriously good. They make the local artiste look SO bad. They sang all their 'classics', from
Mama, Water Runs Dry
to
End of the Road
! Great performance!Their voice are so powerful and rich, even with accapella they rock the house. Amazingly, they got everyone to sing to thier tune eventough they haven't been around for the past 10 years!
After that,
Wyclef Jean
came out and did his stuff... this reggae fella looks like he was on drugs! hahaha.. but nevertheless, he put the energy back into the house. His group did some scratching and sang hits like
Jump Around, No Woman No Cry
and
Guantanamera.
he later did a duet with
Lauryn Hill
for songs like
Oh La La La, Ready or Not
and
Killing Me Softly
— from their
Fugees
days.
Wyclef
did an exceptional job putting the energy back to the crowd.
Next we have Indonesian star
Ruth Sahanaya
with a medley before teaming up with American artiste
Eric Benet
to present
Everybody Doesn't Matter
. Later Eric Banet did a few Jazzy numbers on his own with help from a what he claims to be a newly formed trumpet and saxophone band from the east and west. Not bad for first time together!
After another long break, this time with some clips of the tsunami,
Jackie Chan
and
Michelle Yeoh
came out to give a speech. They introduced
Yumiko
and
Nicholas Tze
as representative from 'the east'. Yumiko and Nicholas both did a number respectively. So-so performance from those to.
Jackie Chan
and Puan Sri
(Can't remember) did a duet. Jackie was saying that he is a movie star and he can't sing... but for charity, he'll do anything.. hahaha..

Finally, here's what everyone is waiting for... Backstreet Boys. What's interesting during this performance was that people from the back of the stadium started going to the front (near the stage). Sadly, I reckon the urshers had a long long day cos BSB performance was at 12:30 am... it's pretty late. Anyways, BSB did a couple of their hits from Backstreet's Back, Shape of my Heart, I'll be the one, I want it that way and a couple more.. if I'm not mistaken.. around 7 songs including their brand new single which is due in June. Yeah... I am guilty of going to the front as well.. but it was during the middle when they sang I want it that way.. hahaha.. used to like that song. Excellent performance by them. Something I learned.. the boy band moves are like robots.. their dances are so well coordinated. Some moves are actually quite corny and I find it funny at times. Nevertheless, they were really good.

After another long break, Bai Ling came out and commented that this is the 'earliest' concert she's ever been to. She then introduce, the Black Eyed Peas. For myself, I am not really a big fan but we were all just waiting for Where is the Love. I tell you.. they sang and sang.. I think more than 5-6 songs.. most of them unheard of... did a few drum solo and came that hit song. It was already 2:15 am then. After the song, we decided to leave to beat the traffic.

On the way to the car, we could still here the Black Eyed Peas rocking the house.. by then, we were all too tired. Thank God the road was clear. Got home around 3am.

Overall, excellent performance by the international artiste, great planning for the organizers (heard they did the whole thing in 1 1/2 months), excellent publicity but lousy in-between performance during the concert. C'mon 20 minutes break in-between each performance is ridiculous... even ads on Astro isn't that long. Imagine those who came ON time, before 7pm. Ouch... more than 8 hours inside.. for me.. 7 hours is more than I can handle.

Photo album, Click Here!

Awesome Weekend!
Friday, March 18, 2005
It's gonna be an awesome weekend! F1 is in town and scores of international celebrities will be performing for the Forces of Nature concert tonight. The best thing is..

I'LL BE GOING FOR BOTH!!

muahaha.. it's a last minute thing.. 'cos I didn't expect to go for either of the event until my colleague obtained free tickets for the concert and Shan went and bought the F1 tickets without telling me... oh well.. would be fun nevertheless. :)

Looks like there will be 2 new photo albums on my Yahoo! Photos by Sunday. :D

On a different note, my Yahoo! Fantasy Football team has reached an all time high (again!);

Sentinels

Points: 3240.93
Overall Rank: 64
Percentile: 99th
Rank Change: +22

F1: Picture with Sauber Petronas drivers
Thursday, March 17, 2005
Was at the Petronas F1 grand Prix promo yesterday at KLCC and I managed to get both the Sauber driver,
Filippe Massa
and
Jacque Villeneuve
pictures and autograph. :)
Here's the time log of the event:
1300 - Arrived at KLCC. Surprisingly early as roads leading to KLCC were quite clear.
1310 - Rounding around the underground car park for a place to park.
1320 - FINALLY, found a space to park. The car park is quite stupid. The management actually block off ramps leading to other levels. Thus, all cars are just rounding around the same area looking for space and to make it worst, there were stand still jams within the car park!
1325 - Arrived at the concourse area. Petronas had set-up various booth selling Sauber memorabilia and exhibition booth on F1 technology. Thought I saw one of my fren... Tried looking for her but there were too many ppl crowded around the area.
1330 - Line opened to fans for meet the drivers. Managed to get in line. haha.. just found out that my camera is low on batt. Oh no..! Hopefully I'll able to get some photos with the drivers.
1335 - Told Dillon the plan, just take the picture with me and the drivers. If the camera die, just act normal.. haha..
1340 - Finally, the announcer announced that the drivers are here... but she'll introduce the grid girls first and detail of the plans for this event.
1345 - The drivers make their appearance. As usual, they were asked several questions (e.g. how was your stay in Malaysia, do you know any malay words? ...) Here's the surprising thing,
Massa
started waving to someone on the 5th floor. First thought was he was waving at the crowd on other floor. Then he took the microphone and said, "For all of you who don't know, that's
Rubens Barichello
!".
Barichello
then started waving at the crowd from upstairs. I wonder if anyone managed to spot him?
1340 - Autograph session starts. Ppl are bringing F1 car models, posters, headshots and mags for the drivers to sign.
1350 - Damn! Still no where near the drivers.
1355 - Muahaha!! Reached the drivers. They were nice to allow me to take photos with them. :) Didn't wanna take their autograph but just grabbed some anyways.
1358 - Wow.. hahaha thank God! My camera died after the shot with
Villeneuve
. *whew*
1400 - Didn't stay for the rest of the event, but the line was still quite long and I would say Petronas did a good job with the crowd control this year. Things are more organized and there are no shoving to get to the drivers compared to the other years. But I do feel sorry for the drivers, hahaha.. they look really bored especially
Massa
as he was just signing autograph like a robot. Anyways, heard that there will be a fashion show and performance by a local boy band later... who cares.. hahaha..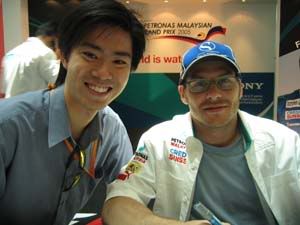 More photos
Click Here!

Top 50 best cities to live in
Wednesday, March 16, 2005
Surfing the internet this morning and found out that Luxembourg is the world's safest city! Swiss cities however, lead the way for combining safety with high quality of life, according to a quality of life survey by Mercer Human Resource Consulting. The Swiss cities of Bern, Geneva and Zurich ranked just behind Luxembourg for safety, along with the Finnish capital, Helsinki.
The safety survey evaluated 215 locations for crime levels and internal stability.
In the United States, the five safest cities tied in 45th place: Honolulu; Houston; Lexington, Kentucky; San Francisco; and Winston Salem, N.C. New York was 58th, while Atlanta had the lowest U.S. ranking at 90. Meanwhile in Canada, Calgary, Montreal, Ottawa, Toronto, and Vancouver rank jointly in position 18 with scores of 112. In Britain, the top-ranked city as far as safety is concerned is Glasgow, Scotland (39), followed by Birmingham (51) and London (69).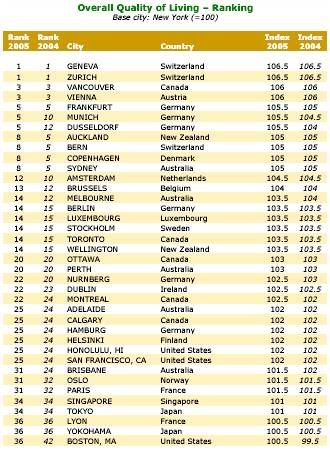 On the bottom of the list is the Iraqi capital, Baghdad, which is the world's least safe city, followed by Abidjan, Ivory Coast; Bangui, Central African Republic; the Nigerian cities of Port Harcourt and Lagos; and Bogota, Colombia.
In its overall quality-of-life survey, Mercer evaluated 39 criteria such as crime, health, education and transport. Other cities at the top in that category are Auckland, New Zealand; Bern; Copenhagen, Denmark; and Sydney, Australia. Honolulu and San Francisco ranked highest in the United States at joint 25th, while New York and London tied at 39th. In Asia, the top three cities were Singapore and Tokyo, both 34th, and Yokohama, Japan (36). In South America, the top quality-of-life cities are Montevideo, Uruguay (76) and Buenos Aires, Argentina (78).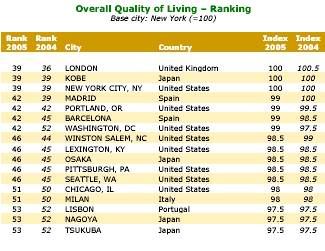 Looks like our neighbours Singapore maintained their position on 34. I wonder how Kuala Lumpur did? Should be in the top 100 (Ranked 84 last year). Anyone knows?
In a nutshell,
- Luxembourg scores highest for personal safety and security; Baghdad scores lowest.
- Canadian cities top the rankings for safety and security in North America.
- For overall quality of life, Geneva, and Zurich rank top; Baghdad scores lowest.

Pub that looks drunk
Tuesday, March 15, 2005
Got this via email this morning and I would say the designers of this pub are really imaginative! However, I would think it would be a nightmare for the builders. Dunno where this pub is located tough.. any ideas? Looks like european architecture to me.
Cool huh?
Over the weekend, I've started swimming again... yeah taking lessons... quite funny actually 'cos there are around 15-20 ppl taking lessons and only 3 adults.. hahaha.. damn shy. Anyways, the lessons were quite good and there are some interesting stories to tell. Will post it up over the next few weeks.

Women Dictionary
Monday, March 14, 2005
Ok guys, time and time again we get ourselves trap for saying the wrong thing. Here's a little something that will give you an upperhand on what women really meant when they say something. Thus, you will be more prepared and not get trapped. :)

Yes = No
No = Yes
Maybe = No
I'm sorry = you'll be sorry
We need = I want
It's your decision = my correct decision should be obvious by now
Do what you want = you'll pay for this later
We need to talk = I need to complain
Sure go ahead = I don't want you to
I'm not upset = Of course I'm upset, you moron
You're so manly = You need a shave and you sweat a lot
This kitchen is so inconvenient = I want a new house
I want new curtains = carpeting, furniture, and wallpaper
I heard a noise = I noticed you were almost asleep
Do you love me? = I'm going to ask for something expensive
How much do you love me? = I did something today you're going to hate
You have to learn to communicate = Just agree with me
Are you listening to me!? = (Too late, you're dead!)

List of F1 Promo Events in Malaysia
Friday, March 11, 2005
The F1 Malaysian Grand Prix will be held in Malaysia and thus next week, there will be promos all around town. Here's your change to rub sholders with the likes of Sato and Villenueve.

I've compiled a list of events happening in KL next week. However, most are Sauber-Petronas events. If you know of any F1 promo events not listed here, would appreciate it if you can add it as a comment. Have fun!

12 March - Saturday
The new Sauber car (C24) will be launched at KLCC Esplanade (in front of Chinoz, Gloria Jeans) at 8pm.
- Johnny Herbert will be will be reciting a narration.
- Too Phat and Jaclyn Victor will sing a few songs.
- Peter Sauber will then narate as well.
- International group called Raw Metal (from Brisbane, Australia) will perform a stomp dance.
- Last narration by Khatijah Ibrahim, and she'll sing something.

13 March - Sunday
C24 street demo at 2pm in front of KLCC. (Note: Streets will be closed due to this event.)

14 March - Monday
Day event with UTP students at the KLCC Park.
- There'll be a game like 'Junkyard Wars'. Students will have to build cars from some junk and then race it with the drivers.

15 March - Tuesday
In the morning, the Sauber drivers will have a session with kids of the staff Petronas for programs community relation. The idea is for them to play traditional games with the kids. Venue, tentatively in KLCC Park.

16 March - Wednesday
1:30pm - 2pm : Felipe Massa and Jacques Villenueve autograph session at Suria KLCC, Concourse.
4pm : Takuma Sato will be Mid Valley Megamall, Centre Court for a meet the fans session.

17 March - Thursday
8pm : Toyota Rev Party, Jarno Trulli & Ricardo Zonta makes appearence at the Dragon Bar, Desa Sri Hartamas. *Invitation only*
7:30pm - 1am : The Malaysian Grand Prix Ice Gala 2005, The Malaysian Grand Prix Ice Gala 2005. Rub shoulders with the stars who will swap their racing gear for black tie evening wear and mingle with a host of local and international celebrities. The most glamorous event of the year will see the Formula 1 teams and drivers support a charitable cause to raise funds for the tsunami victims. All proceeds will go to the Force of Nature Foundation in aid of the victims of the recent Asian quake. Table prices are RM25,000 - RM 200,000. Subject to availability.

18 March - Friday
8pm : Toyota Rev Party at Dragon Bar, Desa Sri Hartamas. No drivers.

19 March - Saturday
8pm : Toyota Rev Party at Dragon Bar, Desa Sri Hartamas. No drivers.

Malaysian English vs British
Thursday, March 10, 2005
Who says our (Malaysian) english is bad? Just see below, ours is simple, short, concise, straight-to-point, effective etc. The British did invent the English Language, but they can't seem to use it economically when communicating their intentions.

Compare these phrases that Malaysians and Brits use to say the same thing:

WHEN GIVING A CUSTOMER BAD NEWS
Britons: I'm sorry, Sir, but we don't seem to have the sweater you want in your size, but if you give me a moment, I can call the other outlets for you.
Malaysians: No Stock.

RETURNING A CALL
Britons: Hello, this is John Smith. Did anyone page for me a few moments ago?
Malaysians: Harlo, who page?

ASKING SOMEONE TO MAKE WAY.
Britons: Excuse me, I'd like to get by. Would you please make way?
Malaysians: PANAS! PANAS!

WHEN SOMEONE OFFERS TO PAY
Britons: Hey, put your wallet away, this drink is on me.
Malaysians: No-need, lah.

WHEN ASKING FOR PERMISSION
Britons: Excuse me, but do you think it would be possible for me to enter through this door?
Malaysians: (while pointing at door) Can or not?

WHEN ENTERTAINING
Britons: Please make yourself right at home.
Malaysians: Don't be shy, lah!

WHEN DOUBTING SOMEONE
Britons: I don't recall you giving me the money.
Malaysians: Where got?

WHEN DECLINING AN OFFER
Britons: I'd prefer not to do that, if you don't mind.
Malaysians: Doe-waaaan!

IN DISAGREEING ON A TOPIC OF DISCUSSION
Britons: Err. Tom, I have to stop you there. I understand where you're coming from, but I really have to disagree with what you said about the issue.
Malaysians: You mad, ah?

WHEN ASKING SOMEONE TO LOWER THEIR VOICE.
Britons: Excuse me, but could you please lower your voice? I'm trying to concentrate over here.
Malaysians: Shaddap lah!

WHEN ASKING SOMEONE IF HE/SHE KNOWS YOU.
Britons: Excuse me, but I noticed you staring at me for some time. Do I know you?
Malaysians: See what, see what?

WHEN ASSESSING A TIGHT SITUATION.
Britons: We seem to be in a bit of a predicament at the moment.
Malaysians: Die-lah!!

:P

Reality TV: The Contender
Wednesday, March 09, 2005
I think I'm turning into reality-tv buff. I've just noticed that besides 24, Las Vegas and NCIS, the shows I watch every week are reality shows; Survivor: Palau, Amazing Race 7, The Apprentice, Queer Eye, American Idol :P and now...

The Contender

The Contender is the brainchild of Mark Burnett, the man behind such reality TV blockbusters as Survivor and The Apprentice. The Contender premiered on AXN last night and I would say, this reality series looks like it could go the distance, from human drama to underdogs to trash talking and... rocky-styled soundtrack.

This series brings together 16 middleweight boxers from different geographic, ethnic and economic backgrounds to compete for the chance to fight in a USD 1 million match at Casaer's Place in Las Vegas.

The show starts with the contestants dividing into "East" and "West" teams. A challenge pitted both teams in carrying three large poles up the very steep slope of Mount Lee in L.A.'s Griffith Park. The third pole was locked with a combination lock, and the combination for each lock was posted on road signs along the way up; each team sent a runner ahead whose job was to unlock it before the team got there. For the winning team, the reward is the opportunity to pick its boxer and his opponent.

This is where it gets interesting, the winning team strategize to pick thie least-experienced boxer to fight the losing team's smallest guy. However out of nowhere, there was a volunteer to who wanted a chance to fight the oposing team's top fighter (early favourite to win the USD 1 Million prize money). The team were having reservations about that decision but if they could pull it off, the other team will crumble. The announcement caught everyone by surprise, including co-executive producer Sylvester Stallone and six-time world champion Sugar Ray Leonard.

In the main event, spectators (including Chuck Norris and James Caan) were treated to a five-round slugfest... I'm not gonna spoil the show for those who wants to watch this series, all I could say that five-rounds were a lot of punches, intensity and emotions.

Overall, great series for boxing fans and altough I'm not, it's still interesting to watch what boxer's go through before and after each fight.

Here's my New weekly TV-schedule:

Monday: NCIS, Las Vegas
Tuesday: 24, The Contender
Wednesday: Survivior
Friday: American Idol
Sunday: The Apprentice

whew...

How to speed... with an excuse
Tuesday, March 08, 2005
Tired of being stopped by the police on the highways for speeding and giving lame excuses like;
Encik, tak tahan lagi. (Sir, I can't hold any longer)
... Here's a good and original one.
Step 1. Tie the balloons (pictured below) to your car.
Step 2. Drive VERY FAST.
Step 3. Watch people freak out.
Step 4. Tell the nice police you thought they were real.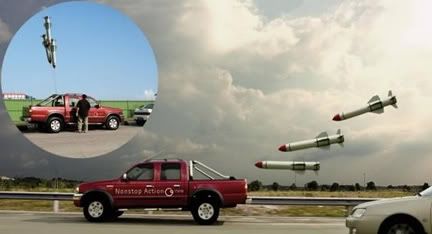 btw... do take it down if you're passing the toll gate. :)

F1: Fisichella dominates the Australian Grand Prix
Monday, March 07, 2005
Fisichella dominated the Australian grand prix last weekend, leading from start to finish after securing pole position in two faultless qualifying sessions. He completed the 57 laps of the 5.3km circuit in 1hr 24min 17.336sec, reaching a sizzling top of 310km/h in his blue Renault.

It was the second grand prix win for Fisichella, whose previous best result in Melbourne was fourth in 1999. Ferrari's, Rubens Barrichello, stormed home to finish second, 5.5 seconds behind the Italian, while Spanish young gun, Fisichella's teammate Fernando Alonso, was 6.7 seconds back, delivering Renault a first-third finish.

Meanwhile, Michael Schumacher who had started from the back row of the grid after being caught in torrential rain during qualifying, was involved in a late-race skirmish with Heidfeld. The Williams driver tried to pass Schumacher, who was rejoining the race from a pit stop, on the inside of Turn 3, but the world champion closed the door and forced Heidfeld on to the grass. Having unable to brake on the grass, Heidfeld colided with Schumacher.

As for my fave team McLaren, Kimi Raikkonen stalled on the grid and had to start from pit-lane. While, Montoya bolted from ninth on the grid to seventh at the start, but then found himself on the tail of a train that stretched as far as third. The man driving the train was none other than ex-Mclaren driver, David Coulthard. At the end Montoya finnished 6th and Raikkonen 8th.

Finally, there's something to watch on the weekends besides the Chelsea dominated premier league this season.

F1: Teams and Drivers
Friday, March 04, 2005
The 2005 season of F1 will be starting this weekend in Melbourne, Australia. For those who are out-of-touch with this sport, here are the driver list for teams participating this weekend.

FERRARI

Michael Schumacher, Rubens Barrichello

Schuey and Rubens stay together for a sixth successive year. Ferrari have won every drivers' and constructors' championship since the duo first linked up in 2000.
But they're not just the quickest combo out there, they're the most experienced too. Michael should beat David Coulthard's record of 150 appearances for a single team next year while Rubens is only two grands prix away from 200 F1 starts.

McLAREN

Kimi Raikkonen, Juan Pablo Montoya

Raikkonen and Montoya should be F1's most explosive driver combination in years. Their battle to the flag at Brazil served up a mouth-watering taste of what we can expect.
Will Kimi be unsettled by his brash, outspoken new team-mate? Can McLaren really get that much more out of Montoya? It will be fascinating to find out.

WILLIAMS

Mark Webber, Nick Heidfeld

The Jenson Button trail may have run cold but Frank and Patrick can content themselves with the signing of Mark Webber, an identikit Williams driver if ever there was one.
The battle for the second seat was a real cliffhanger, with Nick Heidfeld being selected as the winner of a six-week shoot-out with Antonio Pizzonia just minutes before the team's 2005 launch. The German will be out to make the most of his big chance, having spent his F1 career to date marking time with midfield teams.

RENAULT

Fernando Alonso, Giancarlo Fisichella

Having jettisoned Jarno Trulli, for so long the only man to have beaten Michael Schumacher this season, Flav has rehired Giancarlo Fisichella, who he booted out at the end of 2001.
The coming season should make or break Fernando Alonso's reputation as F1's Next Big Thing. He hasn't always looked the part this year but beating Fisi soundly next year could pave the way for him to eventually succeed Schuey at Ferrari.

BAR

Jenson Button, Takuma Sato

So Jenson stays put after all that. But he and Sir Frank have already made noises that he could be on his way to Williams in 2006. In the meantime, it will be fascinating to see how well he rebuilds his bridges at BAR.
Takuma Sato is entering the final year of a three-year contract with the team. He may have the backing of Honda but will need to show consistency to match that explosive pace if he wants to stay in a top car.

SAUBER

Jacques Villeneuve, Felipe Massa

After three lacklustre races for Renault, signing Jacques Villeneuve no longer seems the blinding coup it appeared six weeks ago. Still, let's hope the 1997 world champion rediscovers his form when he has a full pre-season under his belt.
Felipe Massa stays on for a third year with Sauber. Like Sato, he must prove that he is maturing as a driver if he wants to further his career at a higher level. Ferrari will be watching with interest…

TOYOTA

Ralf Schumacher, Jarno Trulli

F1's richest team have splashed the cash this year to secure two race winners for 2005. Whether they could have got more for their money than the inconsistent Trulli and Schuey Jr is a moot point.
Trulli has signed a two-year contract with the team while Ralf, who hopes to do for Toyota what brother Michael has done for Ferrari, is tied down for three seasons.

RED BULL

David Coulthard, Vitantonio Liuzzi

It initially seemed that Red Bull boss Dietrich Mateschitz was desperate to continue his company's policy of grooming young talent - but ex-Jag bosses Tony Purnell and David Pitchforth have convinced him of the need for an experienced driver - hence the signing of Coulthard.

JORDAN

Narain Karthikeyan, Tiago Monteiro

Jordan go into 2005 with an all-new driver line-up to go with their new ownership.
The decision to hire two rookies may seem questionable, but remember that the team's new sporting director Trevor Carlin has worked with both of them extensively before.

MINARDI

Christijan Albers, Patrick Friesacher

Minardi unveiled Christijan Albers as their first race driver just two days before Christmas.
Paul Stoddart tested more than a dozen drivers for the second seat before eventually opting for Austrian Patrick Friesacher. It means that Minardi, like Jordan, will have an all-rookie line-up in 2005.

First Coach Address and Number
Thursday, March 03, 2005
After writing a
review on First Coach
, I have received numurous request for First Coach's booking office in KL and Singapore. For conveinience, I'll post the addresses up ('cos I don't really check my email often.. hehe). Here we go..
Singapore Office
238, Thomson Road
#02-33 Novena Square
Tel #: +65 68 222 111
It's kinda hard to find the Singapore office. It's somewhere on the corner of 2nd floor. If you are driving, you should not have a problem - before turning to the underground carpark, you'll see the office on the right. If you're coming from the MRT station, go to the 2nd floor, turn left and you'll see a pathway with shops. Walk along the pathway and you'll see the office.
Kuala Lumpur
48, Jln Kemuja
Bangsar
Tel #: +603 2287 3311
It's behind the 7-11 along Jln Bangsar. More specifically, right below Malaysiakini office. Pls note that parking is abit bad there.. what I normally do is get someone to wait for you in the car and dash in to get the tix. :P
Hope this helps. :D hahaha.. I should be getting free trips for advertising for them :P
Now let me brag abt my Yahoo! Fantasy Football team..
Sentinels
Points: 3052
Overall Rank: 76
Percentile: 99th
Rank Change: +15
muahahahaha!

Survey: Why did the Chicken cross the Road?
Wednesday, March 02, 2005
Remember the classic question? Why did the chicken cross the road? I've done some interviews on some big international and local names. ;P


GEORGE W BUSH
We don't really care why the chicken crossed the road. We just want to know if the chicken is on our side of the road or not. The chicken is either against us or for us. There is no middle ground here.

COLIN POWELL
Now to the left of the screen, you can clearly see the satellite image of the chicken crossing the road.

HANS BLIX
We have reason to believe there is a chicken, but we have not yet been allowed to have access to the other side of the road.

JOHN KERRY
Although I voted to let the chicken cross the road I am now against it!

SAMY VELLU
There's nothing wrong with the ROAD. We've hired foreign consultants to investigate.

RALPH NADER
The chicken's habitat on the other side of the road had been polluted by unchecked industrial greed. The chicken did not reach the unspoiled habitat on the other side of the road because it was crushed by the wheels of a gas-guzzling SUV.

PAT BUCHANAN
To steal the job of a decent, hard-working American.

RUSH LIMBAUGH
I don't know why the chicken crossed the road, but I'll bet it was getting a government grant to cross the road, and I'll bet that somebody out there is already forming a support group to help chickens with crossing-the-road syndrome. Can you believe this? How much more of this can real Americans take? Chickens crossing the road paid for by their tax dollars. And when I say tax dollars, I'm talking about your money, money the government took from you to build a road for chickens to cross.

SHARIFAH AINI
The chicken did NOT cross the road. The chicken stopped me by the roadside.

MARTHA STEWART
No one called me to warn me which way that chicken was going. I had a standing order at the Farmer's Market to sell my eggs when the price dropped to a certain level. No little bird gave me any insider information.

JERRY FALWELL
Because the chicken was gay --- isn't it obvious? Can't you people see the plain truth in front of your face? The chicken was going to the 'other side'. That's what they call it the other side. Yes, my friends, that chicken is gay. And if you eat that chicken, you will become gay too. I say we Boycott all chickens until we sort out this abomination that the liberal media whitewashes with seemingly harmless phrases like "the other side."

SIMON COWELL
You call that crossing? That's the worst crossing I have ever seen.

DR SEUSS
Did the chicken cross the road?
Did he cross it with a toad?
Yes, the chicken crossed the road, but why it crossed I've not been told.

ERNEST HEMINGWAY
To die in the rain. Alone.

MARTIN LUTHER KING, JR
I envision a world where all chickens will be free to cross roads without having their motives called into question.

ALEX YOONG
What? The chicken crossed the road before me?

GRANDPA
In my day, we didn't ask why the chicken crossed the road. Somebody told us the chicken crossed the road, and that was good enough.

BARBARA WALTERS
Isn't that interesting? In a few moments, we will be listening to the chicken tell, for the first time, the heart-warming story of how it experienced a serious case of molting, and went on to accomplish its life-long dream of crossing the road.

JOHN LENNON
Imagine all the chickens in the world crossing roads together - in peace.

ARISTOTLE
It is the nature of chickens to cross the road.

KARL MARX
It was an historic inevitability.

RONALD REAGAN
What chicken?

CAPTAIN KIRK
To boldly go where no chicken has ever gone before.

SIGMUND FREUD
The fact that you are at all concerned that the chicken crossed the road reveals your underlying sexual insecurity.

BILL GATES
I have just witnessed eChickenXP, which will not only cross roads, but will lay eggs, file your important documents, and balance your checkbook, and internet explorer is an integral part of eChicken.

ALBERT EINSTEIN
Did the chicken really cross the road, or did the road move beneath the chicken?

BILL CLINTON
I did not cross the road with THAT chicken. What is your definition of chicken?

AL GORE
I invented the chicken!

COLONEL SANDERS
Did I miss one?

F1: New season, new rules
Tuesday, March 01, 2005
The 2005 season of Formula 1 will start this weekend (4th March 2005) in Melbourne, Australia. Here's what F1 fans should know about the new rules.

For the past 3 seasons, Michael Schumacher aka team Ferrari triumph seems to have become somewhat of a tradition in Grand Prix racing, the introduction of a new set of rules each year seems to become tradition as well. This year is no exception as well. The reasons for these changes? Amongst them being the need to make the sport more 'cost-effective' and the desire to slow the cars down, another words- to prevent a Schumacher run-away victory again. :P

On with the new rules...

For the first time, the ten-cylinder motors with a three litre cubic capacity will have to be used for two races. If the engine has to be replaced due to a mechanical problem, the driver will be relegated ten places on the starting gird.

Also new is the rule pertaining to the tyres. Gone are the days when fans would watch in awe as mechanics changed tyres during pit stops with breathtaking speed. Instead, teams have to decide before the qualifying which tyres they wish to use as only one set is allowed for the race and the qualifying. In the free practice session before the qualifying, teams will be allowed to test two sets of tyres before deciding which ones to use. If, during the race, the tyres are damaged without the driver being at fault, they can be replaced during a pit stop, but during such a stop, no petrol is allowed to be put in the car.

In an attempt to reduce the speed of the cars, changes to their aerodynamics have also been implemented, which, it is feared, will substantially reduce the power of the cars.

Arguably the biggest change has occurred in the area of the qualifying, where no longer one single session decides on the starting grid. At the first qualifying session on Saturday, the drivers start in the reverse order of the last race, ie, the winner starts last. The second qualifying session is held on Sunday morning before the race and the drivers start in the reverse order of the first qualifying session. Both lap times are then added and these determine the grid positions for the race.

IMHO, these changes will definately change the teams' race strategy in terms of pitstops. However, luck will definately play a big factor as well with the one tyre, one engine rule. Bad weather and an unrealiable engine (for smaller teams) will cost you the race this time round.