My twitter Updates

Photo Album Updated!
Saturday, April 30, 2005

Movie review: Divergence
Friday, April 29, 2005
Managed to catch this show yesterday after attending the meet-and-greet session with the cast the day before. So, here we go.

In the past few years, director Benny Chan has made a name for himself for directing excellent HK movies such as Gen-X Cop, Who Am I? Heroic Duo and recently, The New Police Story. The latest trend for this particular director is that he is incline more towards the human intensity drama and not just pure shoot-outs ala John Woo with guns blazing and big unreal explosions. Hence, this intense human drama continues in this action-movie as well.

The practically kicks of with CID Shing (played by Aaron Kwok) escorting the accountant of a money launderer (played by resident TVB serial actor Galen Lo) back to Hong Kong from Canada. However en route to the safe house, the accountant is assassinated and the killer (Daniel Wu again!) escapes without leaving any clues. This leads Shing to investigate the assasination and thus, bringing back the past that still haunts him after 10 years. Meanwhile the money launderer is happy that his case will be thrown out due to lack of witnesses and thus bring about the resumption of his frozen assets. The plot takes a turn when the head's son suddenly disappeared.

The plot itself is relatively simple and I must admit it's quite engaging to watch how the story unfolds. Unfortunately, the writers outdo themselves this time by introducing too many sub-plots that somehow entangled itself into a big mess. Not too worry tough, the main plot gets a nice wrap-up at the end, but many holes are left uncovered. Nevertheless, this movie has a fair share of romance, action and suspense.

What's attractive about this movie are the cast, Angelica Lee, Daniel Wu, Aaron Kwok, Ekin Cheng, and cameo by Eric Tsang. Not bad. I reckon, the one who stole the limelight in this movie is surprisingly, Aaron Kwok. He brilliantly portrays a love-torn cop whose girlfriend has mysteriously disappeared ten years back. His inner struggle and despondency is greatly portrayed on-screen. Besides that, nothing really outstanding from the other actors. IMHO, it's funny watching Galen Lo on the big screen than on the TV... kinda make you feel like you're watching a HK serial on the big screen.

In this movie, you do get the sight-and-sound experience of Hong Kong. Shot in various locations, from the IFC to the Kowloon area and even to a certain night market in HK. Nice... since I've been there once, I recognized a few places and really, it's like what you see on screen.

Overall, an average action-thriller with big casts. I reckon the only thing pulling the movie from floating is the story. There is just too many elements introduced and at the end, it is clumsily assembled. What a waste really! Guess the writers were too ambitious. Thus, if you don't mind the messy story or if you're a big fan of Aaron Kwok, Daniel Wu, or Ekin, then go for it. Else, just go for another movie. Come to think of it... now I know why the movie is called Divergence. haha...

Ratings (Scale of 1 to 5, 5 being the highest)

Cast : 4
Sound : 3
Picture : 3.5
Storyline: 2.5 [Messy storyline]

OVERALL : 3

Episode I: The Casino Menace
Thursday, April 28, 2005
Ok... since Star Wars: Episode III is just around the corner, I thought of doing my own catch-up episodes of the trilogy...
Ivan's version
. Here's the first episode. I'll post the continuation once I'm done and depending on the response...
Note: I'll be using LEGO characters. :) Cuter...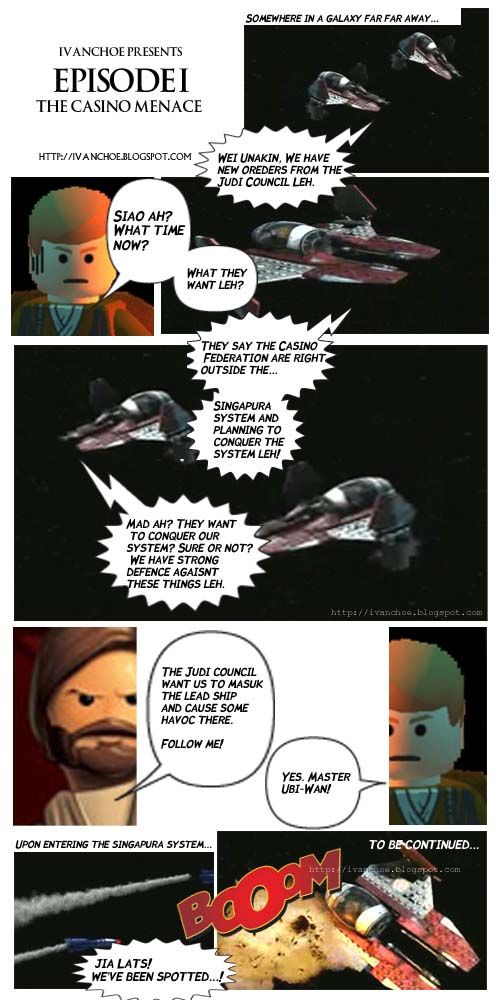 Aaron Kwok and Gang - Berjaya Times Square
Wednesday, April 27, 2005
I was at Berjaya Times Square yesterday to catch the live appearance of Aaron Kwok, Gallen Lo Kar Leung, Lee Sin-je and director Benny Chan to promote the latest HK action thriller,
Divergence
.
Yeah, since I have so much time on my hands nowadays, I thought I would just go and have a look. The meet-and-greet session was suppose to start at 8pm and to avoid making the same mistake that I made for
Jackie Chan's meet-and-greet
, I arrived at 7:45pm. However, the special guest did not make their appearance until 8:20pm. Meanwhile to keep the fans entertained, the emcee (MY FM announcers) were having Q & A to give away free gala premiere tickets and movie posters for correctly answered questions.
20 minutes later, the special guests made their appearance, answered a few questions presented by the emcee and played a few games with 'selected' audience - it was all over in 8-10 minutes.
One thing I noticed was that Aaron Kwok, besides being short, is not as buffed as I thought he would be in the movies (special effects maybe? :P). He is actually quite skinny. Another thing I noticed is that, Lee Sin-Je is extra skinny... she walks with a hunch.
Following that, the stars are then ushered to the gala premiere in GSC Times Square. I've managed to take a couple of pictures and will upload them tomorrow to my photo album. :)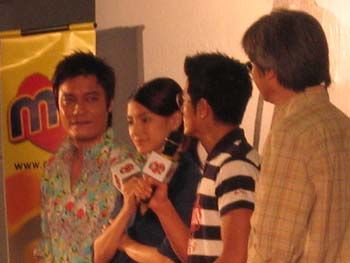 Yikes! JackieLand!
Tuesday, April 26, 2005
A couple of months ago, California Fitness announced its partnership with internatinoal superstar - Jackie Chan. The partnership includes the creation of California Fitness Jackie Chan signature clubs - the first of which will open in next month at Prestige Tower, Nathan Road, Kowloon.
As inspiration to members, clubs will feature large custom-made murals and Jackie Chan memorabilia, inspirational photos and club designs as well as exclusive "Jackie Chan classes," (yikes!) which will capture the beloved action hero's infectious spirit, energy and passion.
If you can't get enough of Jackie Chan. Jackie announced that he will build a theme park- JACKIELAND in Hong Kong (double yikes!). Here's a pic of the proposed theme park.
If you can't read mandarin, from left to right - Museum, Theme Park, Studio, Theater.
hahaha.. this guy is going too far with his fame! I wonder what will it be next? ArnoldLand?

Management Lessons in 2 Minutes
Monday, April 25, 2005
Ok.. for those who watch Donald Trump week-after-week in The Apprentice with the intention to learn a thing or two about management... don't waste your time. 15 weeks? c'mon! Here are some management lessons you can learn in... 2 minutes!

Lesson One
An eagle was sitting on a tree resting, doing nothing. A small rabbit saw the eagle and asked him, "Can I also sit like you and do nothing?"
The eagle answered: "Sure, why not."
So, the rabbit sat on the ground below the eagle, and rested. All of a sudden, a fox appeared, jumped on the rabbit and ate it.

Management Lesson - To be sitting and doing nothing, you must be sitting very, very high up.

Lesson Two
A turkey was chatting with a bull. "I would love to be able to get to the top of that tree," sighed the turkey, "but I haven't got the energy."
"Well, why don't you nibble on some of my droppings?" replied he bull. "They're packed with nutrients."
The turkey pecked at a lump of dung, found it actually gave him enough strength to reach the lowest branch of the tree. The next day, after eating some more dung, he reached the second branch.
Finally after a fourth night, he was proudly perched at the top of the tree. Soon he was promptly spotted by a farmer, who shot the turkey out of the tree.

Management Lesson - Bull Shit might get you to the top, but it won't keep you there.

Lesson Three
A little bird was flying south for the winter. It was so cold the bird froze and fell to the ground in a large field. While it was lying there, a cow came by and dropped some dung on it. As the frozen bird lay there in the pile of cow dung, it began to realize how warm it was. The dung was actually thawing him out! He lay there all warm and happy, and soon began to sing for joy. A passing cat heard the bird singing and came to investigate. Following the sound, the cat discovered the bird under the pile of cow dung, and promptly dug him out and ate him.

Management Lesson -
(1) Not everyone who shits on you is your enemy.
(2) Not everyone who gets you out of shit is your friend.
(3) And when you're in deep shit, it's best to keep your mouth shut!

Ahh.. I am sure the donald would be proud!

Photos Uploaded... (Finally!)
Sunday, April 24, 2005
I've finally managed to upload photos from my previous two outings.
My farewell lunch at TGIF, The Curve.
Click Here!
Latte@8, Sunway Pyramid.
Click Here!

My Farewell Lunch
Saturday, April 23, 2005
Here's the continuing story of my farewell lunch saga. This time round, there were not secrecy in organizing this lunch since I've already
discovered the surprise
. The lunch took place in
TGIF, The Curve
on Thursday (21/4).
Not bad turnout I would say, 15 ppl - Chan, Dillon, Tsu Mae, Chuah, Calise, Heizam, Zaitun & kids, Kat, Shakina, Hathyia, Diana, Penny, Eric, Bert, and Lilian. We had a whale of a time gossiping about the happenings around the office and coincidentally, it was Hathyia's b'day as well, thus as per TGIF tradition, they made her feel special and made her stand up on the chair and sang b'day song for her. Ouch..!
I had a fair share of embarassment as well, as I was made to stand and give a 'farewell' speech and sing b'day song to the b'day girl prior to them singing the b'day song. Double ouch! :P Oh well, all in the name of fun. For me, it's nice to see my colleagues outside the office, letting their hair down and bitch about other colleagues. haha...!
Anyways, just wanna thank you guys for organizing this lunch and I really feel touched by your attandance. I really had a great time and I reckon we should do this more often and keep me up-to-date... muahahaha!
Yesterday was my official last day with the company and thus, this ends the first chapter of my working life.

8tv's Latte @ 8
Friday, April 22, 2005
Managed to catch Latte @ 8 in Sunway Pyramid last night with some of my ex-colleagues. We've been planning this outing for quite awhile and finally, we made it for the show.
I must admit that 8tv's Latte @ 8 was quite entertaining. This one hour talk show (a Letterman wannabe) starts at 11:45pm and it's held outside Sunway Pyramid's Starbucks. We arrived at a quarter past 11 and managed to get a place to sit at the far side of the main stage. The place was relatively packed and there were ppl standing all around to catch the show. The host Jason Lo (radio DJ, singer, producer and host) was not too bad... cracking joke on taxes and the casino situation in Singapore. He is funny at times but most of the time, he just tries too hard to be funny. Good job, nevertheless.
Overall, the show was entertaining except for the guests selection. What a waste! On a good guest day, I am sure the show will ROCK! I enjoyed myself and so did my colleages. If you have nothing to do on Thursdays night... make time and go catch Latte @ 8.
Here's a pic of me with host, Jason Lo.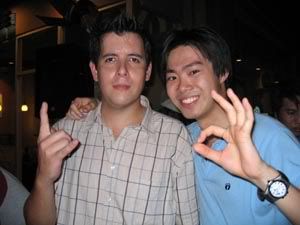 Movie Review: The Pacifier
Thursday, April 21, 2005
Managed to catch
The Pacifier
a couple of days back and as usual, here's my take on Disney's 'action' comedy.
Ok... this doesn't make sense, Why would
Vin Diesel
, a guy with the emotive power of a rock, do comedy? Sure, his previous roles are action hero roles like
XXX, Fast and the Furious
and
Chronicles of Riddick
, where being a buffed works well, but I reckon,
The Pacifier
completely wastes
Diesel
's
limited
talents. IMHO, he must have hoped that The Pacifier could do for him what
Kindergarden Cop
did for
Schwarzenegger
. IMHO, it was a combination of various factors that made this movie a so-so movie.
The Pacifier
starts promisingly with
Vin Diesel
, as Navy SEAL Shane Wolfe, trying to rescue a professor who developed some sort of code scrambler. However, everything does not go according to plan and the professor is killed. Several months later, instead of being sent back out to look for the professor's invention, Shane is assigned to protect the professor's family while his superior and the widow travels to Switzerland to retreive a safe deposit box. Thus, this leaves Shane smack in the middle of suburbia to guard the five children with varying personalities. Despite the challenging prospect of keeping these kids in line, Shane treats this 'babysitting' gig as a top-notch military mission. After all, it's his job to see that no harm comes to his minor assignments should their father's killers come knocking at the door unexpectedly.
There's nothing exciting about the story. It's more a Shane-centric story line on how he deals with the kids. I guess, it's relatively funny to see a buffed guy like
vin Diesel
be a nanny and how he handles various obstacles (changing diapers and reading bed time stories), but the writers aren't imaginative enough to come out with originality to put these scenarios forward, thus making the plot predictable and spoiling the laughs. I guess and I can see it coming. I would say they managed to put in a few hilarious dialogs that saved the day.
There's nothing special about the soundtrack in the movie and most songs and effects blend in with the movie nicely which makes this movie less tedious to watch.. :P seriously, I yawned a couple of times.
As for the actors, they generally did a good job... nothing memorable really. The two outstanding actors would be
Everybody Loves Raymond
's
Brad Garrett
(Raymond's tall brother) who plays the vice-pricipal for his hilarious kung-fu/wrestling expressions and
Morgan York
who plays Lulu, a kung-fu-girl scout wannabe. As for
vin Diesel
, I reckon that he should just stick to what he does best... being the macho-no-nonsense-action-hero. Being funny for him just doesn't cut it. It's just like watching
Jim Carrey
doing an action film. :P
Overall, an OK movie if you wanna bring the kids along for the movie... no blood, no swearing and being a Disney movie, clumpsy bad guys! If you're looking for a comedy to watch, this movie is watchable and it's actually quite entertaining (I had a few good laughs). But I would recommend
Hitch
if you want good comedy. If you don't fall in any of the category above, don't bother.
Ratings (Scale of 1 to 5, 5 being the highest)
Cast : 3
Sound : 3
Picture : 3
Storyline: 3 [Too Predictable]
OVERALL : 3

Solving Impossible Math Questions
Wednesday, April 20, 2005
Was surfing the net and I found this hilarious math paper! :) This reminds me of the time when I used to sit for hours trying to solve math equations for add-math in high school.. sighh.. the frustration! the nightmare! hahaha.. I am sure some of you shares my experience. :)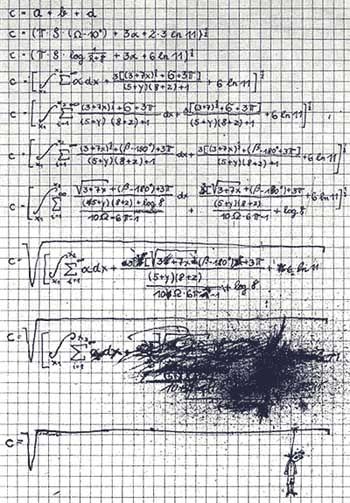 yikes!

Hidden message behind Telekom's new logo
Tuesday, April 19, 2005
So, it's been almost a week since Telekom Malaysia 'rebranded' their identity to TM, and this of course came with a cost of almost RM8 mil to RM9 mil. Ouch!
What does the logo actually translates to?
The new logo with the alphabets "TM" which symbolizes the Group identity comprises three vibrant and distinct colours of orange, blue and red drawing in synergies within the Group. Orange denotes the vibrancy as exhibited by our young multimedia subsidiary TM Net while the red draws upon the liberating identity of Celcom, TM's mobile arm. The letter "TM" together with these new colours projects the new image of the TM Group as an emphatic, bold, vibrant and passionate organisation.
Ok, I actually took the time to do some investigating on my own.

Yup, here is the new logo from the TM website.

hmmm.. there seem to be something with the logo I can't figure out. I'll zoom in on this portion and investigate further.

Using the old invert colour trick, the colour is inverted and yikes!
s
T
rea
M
yx
actually appears! Spooky..!

There must be something else here.. I'll blur the image and wait.. there are 3 blur squares right below the bird-looking stripes.

I'll sharpen it and.. it looks like $$$.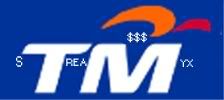 Let's zoom out to get a clearer picture... So, we'll see the whole logo, sTreaMyx $$$?
From what I gather, it probably mean that TM means STREAMYX and with an inconsistent quality of service, users are just letting their $$$ fly away. :P
hahaha.. guess I have too much time on my hands.
Anyways, I reckon that RM8 mil- RM9 mil is a big waste of money for the 'rebranding' and TM should have just used the money to upgrade their systems or thier customer service personels. :P According to the press release, TM planed to develop its new brand identity and at the same time aspires to transform itself into a competitive global player. Well, we'll look and see...

Letter: My last day of work
Monday, April 18, 2005
Wow! Today is my last day at work with my current job... how time really flies! Anyways, I'll share with you the farewell letter that I wrote to my colleagues. ;) Hope this will shed some light to where I am heading off to.
Dear Friends and Colleagues,
Today is my last day at work. This will be my last opportunity to correspond with you for sometime. The boxes are packed and I'm ready to leave soon. I would have let you known sooner, but circumstances dictated that this was not possible. An exciting new job opportunity was offered to me last week and I needed to make a quick decision in order to secure this new position.
Believe it or not, I have decided to go and manage a football team ... I realize that this may come as a shock, but I have always secretly harbored such a desire. I got some old friend's to pull some strings and its finally a reality. I could not turn down this once in a lifetime opportunity to fulfill my personal dream.
The team is based in northern Brazil. This is a very poor and remote area of the country with the nearest city being some 200km away. They required a coach to work at the minimum expense. The team seems to be very promising.
Communications in the area are primitive even by our standards, the infra-structure antiquated and living standards are very basic. On top of this, the area is frequent by torrential rainstorms. Despite all this I am looking forward to the challenges ahead. It can only make me harder.
One of the main aspects of the job is to stay in close contact with the team, day and night. A close contact relationship is essential. We will adopt an Italian style closed training camp regime with no outside contact, except when playing our games. This will give me ample opportunity to focus on individual players ability and the team as a whole.
Both the players and myself appreciate that we must be prepared to give as well as receive. I look forward to the close and intense bonds that this will hopefully create.
The postal service is bad, telephone network often is down and internet facilities are non existant (Bummer!). So please forgive me if you hear very little reply when you try to contact me ...
Wish me luck !!!! Come and visit me...ok???
For those interested I have attached a team photo. Just look at that spirit.
Regards,
Ivan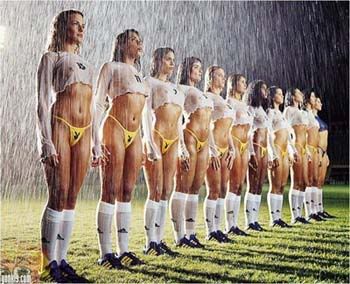 :P what a waste I didn't send this. It would've been a bomb!

'fro: I'm too brown for my blog
Saturday, April 16, 2005
As a gratitude to b-man for the
Brown Anomaly
, I've put on the 'fro and took a couple of snapshots as gratitude to
b-man
as mentioned on my
previous post
. :)
Whoah..! thank God I did not wear this to the cinema or I'll cause some havoc in da house. hehehe.. maybe we can start a
I'm too brown for my blog
campaign, with the 'fro on... ;)

There goes my surprise party
Friday, April 15, 2005
Ahh... looks like things are back to normal today. I reckon I am still suffering from
brownover
hangover of the Brown Anomaly. Anyways, this week will be my last week with my current job of almost 3 years. Thus I've been busy with work for the last few days, teaching my replacement the
ins and outs
of the financial systems.
I received this email (by mistake) on my outlook from a colleague who
was
secretly planning a farewell party for me.
:P hahaha..whoops(!)

The Brown Anomaly
Thursday, April 14, 2005
When you see your blog traffic hike all of a sudden, you'll know that either
i) you're in deep trouble or
ii) you did something right or
iii) you got a link from a
power
blog.
I guess in my case, I got a link from Singapore's top blogger,
mr. brown
(b-man) on my
post
and the traffic just sky-rocketed like never before (like recent oil prices).
This
is what I call the
Brown Anomaly
.
Theoretically the Brown Anomaly applies to small time blogs (like this one), who gets a sudden increase in traffic due to one post that is linked to the power blog (like b-man's). Thus for a brief moment, all traffic descends on that small time blog for that one particular post. Just for that one moment. After that, the traffic slowly decreases and eases back to the support level which was maintained before the Brown Anomaly.
Darn...! It's interesting to see a 6-fold increase in traffic to my blog, but it'll be back to normal in a day's time. Anyways, I've been reading b-man's blog for a couple of months (since I overheard my auntie from Singapore talking about b-man's 'tau pok' post) and I do find him funny and amusing. I really enjoy his podcast during work hours and had a couple of hard time controlling my laughter (yeah... my colleague thinks I am a mad man laughing in front of the monitor :P).
Thus, to commemorate the Brown Anomaly on my site, I've created...
hahaha.. b-man, if you're reading this (I doubt), I tried my best to make you look good leh... :D, and this weekend, I'll get a photo of me with an afro(!) as gratitude for
the moment
.
sighh.. this is sad.
hahaha...

Letter: The State of Reality TV in Malaysia
Wednesday, April 13, 2005
Dear 8tv,

I appreciate your current line-up of programs and I reckon that it's da best compared to the other sucky free-to-air TV stations which I would say are barely watchable. I commend you on your local reality series production namely, Malaysian Idol and Kick Start However, I find those 2 hit series lack originality and 'local' flavour. They seem too predictable after a few episodes. Don't get me wrong, I enjoyed both but I reckon more can be done to increase the entertainment level of local reality series.

Currently, shows by other stations does not even come close to entertaining audience. For example, Top Model wannabe, Secret girl was just a big waste of time. I barely made it past the first episode. Meanwhile, Audition an 'original' idea seem tedious to watch... they are just emulating the phenomenal Akedemi Fantasia's concept. Other forgettable reality series was the Who Will Win franchise, and some home-renovation series by some TV station which seem to have the same logo as some tv station in US, disappeared into the black hole . C'mon I am sure us Malaysians can do much better.

Here are some of my original ideas that will are not only entertaining, but will like increase the station's weekly viewership, and make stars out of everyday people. This will propel 8tv to the pole of the TV station grid.

Mamak Survivor
This season, Malaysia will be watching as 16 contestants eliminate each other one by one from an undisclosed premise in Kuala Lumpur. All 16 contestant will be locked in a house with only one toilet, fed only with mamak curry. Loosers are voted off by not getting to the bathroom in time. The lone survivor will walk away with RM 1,000,000 worth of curry products. Tune in to all 13 episodes and the lifestyle of the locked contestants as they count down to the final Survivor.

Urban Jack
Urban Jack creates the ultimate test of love as 12 kampung men vie for the affections of a rugged street-smart Malaysian lady. What the men don't realize, until it's too late, is that they must make a leap of faith by parachuting into the middle of Malaysia's expansive urban jungle, Kuala Lumpur. IF When they make it to the ground, they will be shocked to discover the potential woman of their dreams is not living a life of luxury, but roughing it in one of the world's most unforgiving cities. Over the course of eight episodes, the men will be put to the test, to see which one of them has what it takes to make it in the city and win the affection of their beautiful star.

Who Wants To Lose A Million?
Based on the hit series Who Wants To Be A Millionaire. This game will be played by top-profile Politicians Millionare's and is really simple, but in a hard way: Be the last to answer a question correctly, and you'll be put in the 'hot seat', where he/she will answer 15 more questions. Every questopn you answer wrongly, you lose money. However, if you answer 15 questions correctly, you'll get to keep your $1 million. However do note that, the multiple choice questions get tougher as they go along: for that reason, 3 "Lifelines" (types of aid) are there to help: once one lifeline is used, it cannot be used again. These Lifelines are:
1. Ask the audience, usually used in one of the first 7 or 8 questions. The audience uses the keypad in front of their seats to vote on what they think the answer is, and the results are shown to the player on his/her computer screen in bar graph form.
2. Phone an enemy. The player may phone one of his/her enemies that may know the answer to this question, but has 30 seconds to come up with an answer.
3. 25:75, in which 1 of the wrong answers are taken away, leaving two wrong answer and one correct one.

An exciting new lineup, don't you think. This will keep your viewers on the edge of their seats, week after week. If you do have any question, please drop me a line.

Cheers,

Ivan Choe

:P

NTV7: Pirated Logo?
Tuesday, April 12, 2005
I was watching the hit TV-series
Lost
and I noticed on the top right of the show (where TV station normally put their logo) has a logo similar to that of NTV7. As far as I know, NTV7 is not showing the series in Malaysia and upon closer examination, I found out that the logo belongs to ABC-7 in the United States of America.
Amazing...! Exactly the same, even to the small circle with the
ntv
word inside. :O Only a week ago,
thestar
reported Malaysia is the largest producer and exporter of pirated CDs and DVDs in the world, according to the 2005 US Trade Representative's (USTR) office.
Looks like we pirate logo's as well. :)

Parts Falling Off Aircraft
Monday, April 11, 2005
This is quite amusing yet funny... according to Kyodo News Agency, Japanese airlines reported in the fiscal year to March 31 a total of 159 incidents of parts falling off aircraft, up from 96 reported in the previous year. The fallen parts included outer panels of aircraft bodies, covers of lights and bolts, but among the more serious cases was one in which engine parts fell off(!)

Hahaha... anyone wanna buy used-assembled aircraft?

Management Defined
What a weekend... Man Utd might have just given away the premiership title to Chelsea. Not only that, Arsenal has took the second spot from the red devils. How did this happened? Man Utd lost to bottom dwellers, Norwich City! 0-2!! Can you believe it? Oh well.. I think most red-coloured-Vodaphone-sponsored team not doing well. For now.. ;)

Anyways, here's my Monday funnies...

A man in a hot air balloon realised he was lost. He reduced altitude and spotted a woman below. He descended a bit more and shouted, "Excuse me, can you help me? I promised a friend I would meet him an hour ago, but I don't know where I am."

The woman below replied, "You're in a hot air balloon hovering approximately 30 feet above the ground. You're between 40 and 41 degrees north latitude and between 59 and 60 degrees west longitude."

"You must be in Information Technology," said the balloonist.

"I am," replied the woman, "How did you know?"

"Well," answered the balloonist, "everything you told me is, technically correct, but I've no idea what to make of your information, and the fact is I'm still lost. Frankly, you've not been much help at all. If anything, you've delayed my trip."

The woman below responded, "You must be in Management."

"I am," replied the balloonist, "but how did you know?"

"Well," said the woman, "you don't know where you are or where you're going. You have risen to where you are, due to a large quantity of hot air. You made a promise, which you've no idea how to keep, and you expect people beneath you to solve your problems. The fact is you are in exactly the same position you were in before we met, but now, somehow, it's my fault.

:P how true

Movie Review: House of Fury
Friday, April 08, 2005
I watched this movie last week during my movie marathon and took my time writing this review because I seem to suck at writing reviews particularly for Chinese movie. Anyways, managed to finally get some 'inspiration' to write and here we go.

The plot follows Teddy Yu (Anthony Wong), a widowed Chinese chiropractor and his son Nicky (Stephen Fung), a dolphin trainer at Ocean Park and daughter Natalie (Gillian Chung), a high school student, who has been learning the art of kung fu from him. However, they are unconvinced and skeptical of their father's claim to having a hidden life as a heroic bodyguard for retired secret agents. Due to his constant bragging of tales of his heroic days, the children became increasingly tired and thus, creating a rift in the family. The plot then takes a twist with the introduction of Rocco (Michael Wong) who seeks information on an ex-agent for the purpose of revenge. Thus, begin a cat-and-mouse chase to find the identity of the ex-agent.

This movie marks the second directorial for Stephen Fung, his first being Enter the Phoenix. This time round, he managed to acquire not only a great cast, namely Daniel Wu, Anthony Wong and the Twins, he even got action director Yuen Woo-Ping of Matrix fame to choreograph the fight scenes. Furthermore, you'll notice superstar Jackie Chan's name on the executive producer title. Not only did Fung direct the movie, he penned and acted in it as well. In directorial/story point of view, I would say that this movie improved on all areas. In terms of story, it was pretty predictable. Imagine the plot, some spectacular fighting in the beginning, villain comes out... bring me to... or else... then back to more fighting, some romance scenes.. then need to help family... more fight... reconcile... then happy ending. :) yeah... typical 80s Andy Lau movie. For me, eventough it was predictable, I enjoyed the humour carefully spread out through out the movie and the beautifully choreographed fight scenes. The only complaints I had was that the some fight scenes are abit too lengthy, and how ex-agent 'fly' across buildings was abit unreal and corny. Anyways, Fung's work looks promising and I reckon he'll have many blockbusters to come.

The actors did a rather good job in the movie. Anthony Wong, after his excellent performance as the Police Inspector for undercover cop in the Infernal Affairs, plays the widowed father/spy protector convincingly. However, I reckon that so much more could be done to expand his character and show off some of this superb acting skills. But regardless, his presence is enough to send laughter throughout. Others like Twin's Gillian Chung and Charlene Choi did an okay job. Gillian did more of the physically demanding fight scenes while Charlene was more of an eye-candy and had some bone-tickling moments with her expressions. Fung and Daniel Wu's acting was just mediocre. Wu did not do much in the movie and plays Gillian's goofy bf. I think it'll be more memorable if they use Eason for the role. Fung, like Gillian did the fight scenes and I read from somewhere that all the actors have no prior kung fu experience and while watching, I must say they did an excellent job in making it believable. Another excellent performance was by villain, Michael Wong. The skin head, wheel chaired bound role suits him really well and I reckon he played it with ease... his cold, emotionless expressions were really good but occasionally overdoing it which results in a bore. I reckon if there is an X-men: China version, he'll definitely play Prof. X.

Eventough the fight scenes are over exaggerated and lengthy, I've enjoyed the movie, especially the cheesy humour and the typical Chinese family scenes. :) Overall, a popcorn movie worthy of bringing your family to.

Ratings (Scale of 1 to 5, 5 being the highest)

Cast : 3
Sound : 3
Picture : 4
Storyline: 4 [Predictable but funny]

OVERALL : 3.5

How To Achieve World Domination!
Thursday, April 07, 2005
I am bored at work and decided to search for things to do to ACHIEVE WORLD DOMINATION!! MUAHAHAHA! (Reminds me of Pinky and the Brain). Some questions first...
Do you want to be the all-powerful overlord of Earth?
Do you long to command armies to do your bidding?
If your answer to both question is 'yes', follow these tips, and you can have it ALL. muahahahah!!. If not,
Click Here!
-
Shave your head
. Evil overlords look considerably more potent when blessed with advanced male-pattern baldness.
-
Change your name
to that which would suite an evil overlord. CAUTION! Names such as Dr.Evil, The Penguin or The Riddler seem to end up failing their goal... so aim for something more simple along the lines of say Mr Bush or Mr Gates... no one would ever expect people with names like that to have the ability to take over the world! Take 'em by surprise!
-
Devise an innovative plan
to take control of the world's infrastructure. Threatening to detonate a nuclear device and thereby pollute the world's atmosphere just won't cut it any more. France has been doing it for years, and no one gives a toss.
-
Be creative
. Holding all the world's toilet paper to ransom might be clever, but imagine how much more effective you'd be if you infected the water supply with laxatives first.
-
Threatening
to take over the White House and asking for insanely amount of ransom is unlikely to have you appointed Supreme Commander of Planet Earth.
- IMPORTANT!
Hire minions who can actually hit their targets
. Most failed evil geniuses seem to hire cross-eyed sharp-shooters who can't hit an elephant from one pace. These employment practices, while low cost, simply allow plans to be thwarted with ease.
-
Beware of anyone named James Bond or Batman
. They will thwart your plans. If you do capture them, kill them immediately. Whatever you do, don't give them a detailed explanation of your plan.
-
Make a budget and stick to it
. Got this from an article in Cosmo, but it applies as much to potential All Powerful Rulers as the personal assistant on a savings plan. It's no use getting halfway through building your doomsday device only to approach the bank for a loan of $58 billion because you over-spent on the catering. Bank managers are notorious for their lack of insight an imagination, and will probably refuse the loan.
- To make it look good,
practice on your evil laugh
. Go Muahahaha at random moments. People will become afraid of you.
- AND FINALLY,
choose your base of operation
wisely, Dams, Submarines, and Mountain base seems to be too obvious nowadays.
That's it! Tell me how you guys go.

F1: FINALLY! Raikkonen's on the Podium
Wednesday, April 06, 2005
It's been awhile since Raikkonen made it to the podium. The Finn finished third in the Bahrain Grand Prix, having started ninth! Incredible! :) To make the victory sweeter, the 2004 constructor's champion, Ferrari did not obtain any championship points from this race! muahahahaha!
What a great weekend!! Here's what has been running on my head...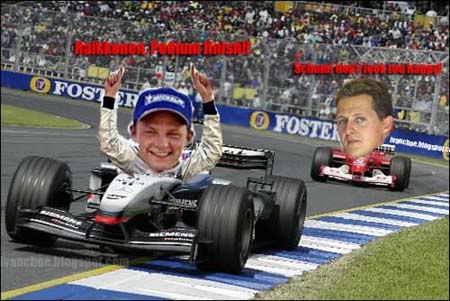 Click Here!
for my analysis on the Bahrain GP.

GMail Drive: HOW-TO make use of 2gb
Tuesday, April 05, 2005
There's some hype going on about gmail. Since 1st April, the nice ppl of google increased gmail's free storage to a whopping 2gb! beating the closest competitor by at least a double. The best thing is, it's still going up! I doubt I'll fully untilised the allocated 2gb... yet. However, with this new software, things might change. It's called the
gmail Drive
.
What is gmail drive?
gmail Drive is a Shell Namespace Extension that creates a virtual filesystem around your Google gmail account, allowing you to use gmail as a
storage medium
.
How does it work?
gmail Drive creates a virtual filesystem on top of your Google gmail account and enables you to
save and retrieve files stored on your gmail account directly from inside Windows Explorer
. Sweet!
What does it do?
gmail Drive literally
adds a new drive to your computer
under the My Computer folder, where you can
create new folders, copy and drag'n'drop
files to.
This is good since we now have infinity storage space but not a lot to fill it up with. Hence, with gmail Drive you can easily copy files to your gmail account and retrieve them again. When you create a new file using gmail Drive, it generates an e-mail and posts it to your account.
The e-mail appears in your normal Inbox folder, and the file is attached as an e-mail attachment. gmail Drive periodically checks your mail account (using the gmail search function) to see if new files have arrived and to rebuild the directory structures.
In short, gmail Drive acts as any other hard-drive installed on your computer. You can copy files to and from the gmail Drive folder simply by using drag'n'drop like you're used to with the normal Explorer folders.
Here's the downside though, because the gmail files will clutter up your Inbox folder, you may wish to create a filter in gmail to automatically move the files (prefixed with the gmailFS letters) to your archived mail folder.
Another is that the gmail Drive is still an experimental tool. There are still a number of limitations of the file-system, such as total filename size must be less than 40 characters, and it doesn't make full use of the secure internet protocols available. Nevertheless, this tool is good enough to help you fully utilise your gmail.
BTW, it's FREE. Enjoy!
Click Here!
to download.

Funny: Looking for Seven-Hundred-Ten
Monday, April 04, 2005
Yow! It's Monday again! The weekend just flew by and I've learned that Man Utd sux! and McLaren rulez!! Anyways, a friend of mine used to fwd jokes to me on Monday and I reckon it's really cool to ease the blues. You know wud I am sayin'? ;) I'll continue with the tradition.
A woman came in and asked for a seven-hundred-ten. We all looked at each other, and the mechanic asked,
"What is a seven-hundred-ten?"
She replied, "You know, the little piece in the middle of the engine. I lost it and need a new one. It had always been there."
The mechanic gave the woman a piece of paper and a pen and asked her to draw what the piece looked like. She drew a circle and in the middle of it wrote 710. He then took her over to another car which had the hood up and asked, "Is there a 710 on this car?"
She pointed and said, "Of course, its right there."
Upon examining closely, the mechanic saw...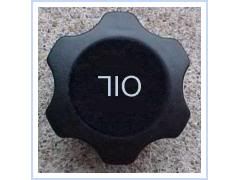 :P

New Blog Site: F1 Pole
Friday, April 01, 2005
I've just created a new blog site specifically for Formula 1. The aim is to share my views and analysis of each race for the 2005 season.
Click Here
to visit F1 Pole.

Movie Review: Robots
Watched this animated movie during my movie marathon and since this isn't from Pixar, I am not expecting much from this movie. The story follows the fortunes and misfortunes of Rodney Copperbottom voiced by Ewan McGregor as he moves to Robot City and does his best to become an inventor for Bigweld (Mel Brooks) Industries. What he discovers when he arrives is that Bigweld is old news in his own company and he's been taken over by the evil Ratchet (Greg Kinnear) who has designs on stopping the supply of replacement parts and condemning poor robots to a painful death because they can't afford upgrades. As usual, here's my review on the first animated movie of 2005.

The movie starts with the birth of Rodney... literally. We see Mr and Mrs Copperbottom put their baby together with spare parts and DIY instruction manual. The writers were quite creative giving an insight on how robots 'reproduce'. Throwing in some baby-making jokes, the whole scene was very well done and gives the audience of what's to come. Following that, we watch Rodney grow up with training wheels, replacement parts second-hand from his cousins and his passion and interest for invention.

The plot for this movie is a fairly simple, follow your dreams and don't give up. :P Along the journey, Rodney faces some obstacles but with the help of his group of friends, he overcomes them with his determination to succeed. Thus, nothing extraordinary really and pretty predictable as well. I guess what makes this plot interesting is the humour thrown along the way and the beautiful rendered animation that keeps the audience captivated.

Speaking of animation, the CGI is beautiful! There's been so much care and attention put into creating the robot world. You can actually see each springs, rust, nuts, bolts... everything! You can also feel the life in Robot City. Not only that, I noticed that each robot is rendered unique with it's own creative function. Maybe too much attention has been given, but I am not complaining. One particular scene that I really enjoy is where Rodney and pal Fender (a slightly-underused Robin Williams) are catapulted through the city in a series of wildly imaginative twirls and roller-coaster styled ride. This is suppose to be the mode of transport in Robot City. Scary! Another memorable scene an almost-spectacular segment where a roomful of colapsing dominos. Stand back to watch the result. Seems like everytime a new CGI movie comes out, it gets better and better... visually.

I am actually quite disappointed with the voice cast, imagine they have Halle Berry, Robin Williams, Mel Brooks, Greg Kinnear, Drew Carey, Jennifer Coolidge, Amanda Bynes, Stanley Tucci, Harland Williams, Dianne Wiest, Carson Daly, Conan O'Brien - ouch. IMHO, they did a good job but at the end of it all, it's just... forgettable (I sound like Simon Cowell). I reckon the only one that stands out the most is Robin William's Fender, but like I mentioned earlier, they could've done much more with his talent.

Robots is an enjoyable movie worth taking your family to. It's creative, funny, and the CGI is captivating. Eventough I had a few good laughs, the story is the only thing holding the movie back from greatness. Overall, an above average movie and it's worth the watch if you are a CGI buff or looking for creative laughs.

Ratings (Scale of 1 to 5, 5 being the highest)

Cast : 3 [Forgettable Voice acting]
Sound : 4
Picture : 4.5
Storyline: 2.8

OVERALL : 3.8