My twitter Updates

World Police Cars
Tuesday, December 30, 2008
Was 'cleaning up' my emails before the New Year and I stumbled on an unread email :O with the subject,
World Police Cars
. Thought I might share it with you... added one or two of my own as well. ;)
To start off, we have a Lamborghini Gallardo from London, England: Coolest cop car in the world.
and from Australia:
then off to NYC:
and the French:
the Germans love their cars:
... and of course, Malaysia:
wait for it...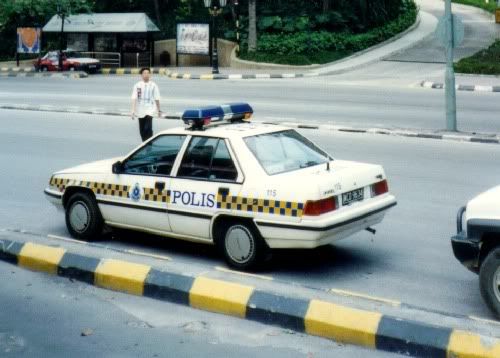 Dang!

Jason Mraz: I'm Yours
Sunday, December 28, 2008
Mann.. I got this song playing over and over in my head! Since it's the season of giving... might as well share the joy! ;)



Man Utd wins Club World Cup
Monday, December 22, 2008
Bwahahah...! Wayne Rooney scored in the second half Sunday to lead 10-man Manchester United of England to a 1-0 victory over Liga de Quito of Ecuador in the final of the Club World Cup in Yokohama, Japan.

Rooney, who earned player of the tournament honors, took a pass from Cristiano Ronaldo in the 73rd minute and connected on a right-footed blast into the bottom corner that beat Liga goalkeeper Jose Cevallos.

Looks like mission accomplished in Japan! Actually... a good year for Man Utd!

World Club Cup: Gamba Osaka 3 - 5 Man Utd
Friday, December 19, 2008
Wayne Rooney came off the bench and scored twice in a four-minute span to lead Manchester United over Japan's Gamba Osaka 5-3 on Thursday and into the final of the Club World Cup.
The European champions will play South American champions Liga de Quito in Sunday's final.
The English Premier club's first-half goals came in identical fashion, with Ryan Giggs corners from the right headed home by Serbian defender Nemanja Vidic and European Player of the Year Cristiano Ronaldo.
Gamba cut the margin to 2-1 when Masato Yamazaki scored in the 74th minute, which sparked a flurry of goals.
United made it 3-1 as Rooney scored with his first touch of the ball in the 75th minute. He chested down a pass from at the edge of the area, shook off a defender and shot across the advancing keeper. Darren Fletcher made it 4-1 in the 78th before Rooney scored again. Gamba added to goals in the final five minutes, including one on a penalty kick by Yasuhito Endo.
A surprisingly entertaining match!

Bush ducks flying shoes
Monday, December 15, 2008
Well if you haven't heard about it yet... today during a surprise visit to Iraq, President Bush was in a press conference and a reporter stood up and threw his shoe at Bush...
...and Bush acting like it was nothing, dodged it and then the reporter threw his other shoe and again Bush dodged the other shoe.
Good reaction!
Speaking of reaction, bush had a pretty solid time on his duck and dodge reaction. Considering his age! Well, if I were him I would have been practicing too...! heh!
Anyways, the reporter said he did this for the orphans and widows that the war and Bush have caused. This is an act of disrespect in Arab societies since showing the sole of a shoe to someone is disrespectful.
I reckon the reporter should've picked a few pointers from Sir Alex Ferguson or get a bigger shoe like Ronald Mcdonalds' famous red! ;) Like this! Probability of hitting increased by 75%! ;)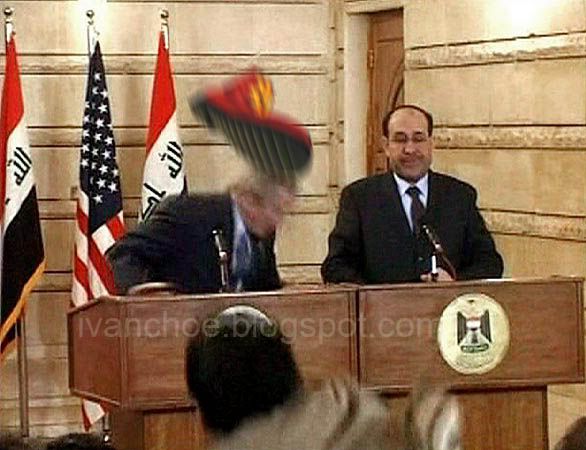 I Knew Bernie Madoff Was Cheating, That's Why I Invested with Him
Sunday, December 14, 2008
Bernard Madoff, founder and president of a New York firm that invested funds for wealthy individuals, hedge funds and other institutions, was charged with securities fraud. Madoff, who told employees his $50 billion firm was a "giant Ponzi scheme,"
Here's an interesting article from Yahoo! Finance:
Specifically, we're hearing that the smart money KNEW Bernie had to be cheating, because the returns he was generating were impossibly good. Many Wall Streeters suspected the wrong rigged game, though: They thought it was insider trading, not a Ponzi scheme. And here's the best part: That's why they invested with him.
For years and years I've heard people say that [Bernie's] investment performance was too good to be true. The returns were too steady -- like GE earnings under Welch -- and too high given the supposed strategy.

One Madoff investor, himself a legend, told me that Madoff's performance "just doesn't make sense. The numbers can't be straight." Another sophisticated Madoff investor actually went through trade confirms in order to reverse-engineer the strategy and said, "it doesn't add up."

So why did these smart and skeptical investors keep investing? They, like many Madoff investors, assumed Madoff was somehow illegally trading on information from his market-making business for their benefit. They didn't consider the possibility that he was clean on that score but running a good old-fashioned Ponzi scheme.
Looks like Madoff may have committed the largest fraud in history! Genius!

Bad Tech Predictions
Saturday, December 13, 2008
If you're not Hiro Nakamura, the future is... uncertain.

'Predicting' the future has its moments, and some glimpses of the future can be laser-beam accurate. Then, there's the other side of the coin... Here's T3s top 10 tech howlers.

10. "X-rays will prove to be a hoax" – Lord Kelvin, President of the Royal Society, in 1883.

9. Spam will be solved – Bill Gates, 2004.

8. "The Americans have need of the telephone, but we do not. We have plenty of messenger boys" – Sir William Preece, chief engineer at the Post Office in 1878.

7. Nobody would ever need more than 640KB of memory on their personal computer– Bill Gates in 1981, allegedly.

6. "We stand on the threshold of rocket mail" – US postmaster general Arthur Summerfield in 1959

5. In 1933, after the first flight of the Boeing 247, a plane that could hold ten people, a proud Boeing engineer reportedly said, "There will never be a bigger plane built."

4. TV won't last because people would, "soon get tired of staring at a plywood box every night" – Darryl Zanuck in 1946

3. "Nuclear-powered vacuum cleaners will probably be a reality within ten years" – Alex Lewyt, president of the Lewyt Corp vacuum company

2. No need for a computer in the home – Ken Olsen, founder of Digital Equipment Corp in 1977

1. The iPod will never take off – Sir Alan Sugar in 2005


Brick Labourer in Bangladesh
Thursday, December 11, 2008
This guy is crazy!



Bailout for GM, Ford and Chrysler?
Tuesday, December 09, 2008
Hmm... how 'bout this? GM, Chrysler and Ford Motor have been asking for loans to help them survive until 2010, when some cost cuts and labor contract savings kick in that could help the Big Three eventually return to profitability. The companies could get a total of $15 billion in federal loans as soon as Dec. 15!
In a statement, GM said it is plea$ed lawmakers are working on a bill that would give the industry immediate assistance. "Million$ of job$, America'$ manufacturing ba$e and future competitivene$$ hang in the balance and we urge quick pa$$age of thi$ bill," the statement said.
GM and Chrysler have warned that they could soon run out of the cash they need for operations without assistance from the government. Ford has said it has enough cash on hand for now and may not need the federal help but that it would still like the funds to be available as a backstop.
I dunno how this massive bailout is gonna help! I reckon, these automakers had it coming. Back in 2006, GM CEO Rick Wagoner earned $9.3 million in salary and bonus, nearly double what he earned in 2005.
Also, Ford's CEO, Alan Mulally, got $27.8 million in salary and bonus in his first few months on the job, including an $18.5 million signing bonus! They have ample chance to cut cost and make changes but nothing was done. No wonder they are in trouble today! I doubt the bailout is gonna help... comic below sums everything up!

Signs that it's gonna be a bad Christmas
Saturday, December 06, 2008
In this recession and season of corporate cutbacks, not only is the office Christmas party getting downsized,
retail sales have also tumbled
. Here are some signs that it's gonna be a bad Christmas.

Santa puts his reindeers up on ebay

Santa outsource his elf service to India

Every night Santa walks out with a sack full of Ipods

Santa's down to 530 pounds

Santa asks Congress for Christmas Bailout


Whaling Season
Wednesday, December 03, 2008
hmm.. it's been awhile hasn't it? Just been really busy... doing nuthin'! :P
One of the news headline that caught my attention today is,
Actress Daryl Hannah joins anti-whaling assault
. Looks like the whaling season has begun!
According to the article, anti-whaling crusader Chris Watson and US actress Daryl Hannah will lead a new assault on the Japanese whaling fleet in the Southern Ocean aboard the Steve Irwin. Mr Watson said the Japanese planned to slaughter 935 minke whales and 50 fin whales.
Since the govt have been powerless and/or unable to do anything, my suggestion is...
Someone should tell those Somali pirates about these
easy targets
Japanese whaling ships! ;)
This year alone, there have been nearly 100 pirate attacks in Somalian waters and the pirates have raked in millions of dollars in ransoms from attacks in the Gulf of Aden and the Indian Ocean. One gang is still holding a Saudi oil tanker seized last month - the largest vessel hijacked so far.
Imagine bringing the Somali pirates to the Southern Ocean! Problem solve! Everyone will be happy!
... well except for the Japanese whalers. haha!