My twitter Updates

Off for the New Year...
Thursday, December 30, 2004
Will be going to Singapore for the New Year weekend. With what's going on the past few days, the New Year atmosphere seem to be toned down in this part of the world. In Malaysia, Prime Minister Badawi said that the Government has decided to cancel all New Year celebrations in view of the recent tsunami tragedy and has called on all parties, including the private sector, to instead hold prayers for the welfare of those affected.

A quick update on the tsunami, the death toll has passed 80,000 and many predict that it will reach 100,000. What scares me most is how destructive mother nature power is...

Anyways, have a good New Year and see you in 2005!!~!!! :D



The Apprentice, Asian Tsunami and Football...!
Wednesday, December 29, 2004
Whoah..! Apprentice Season 1 ended on Star World yesterday with Bill winning and thus, earning the title The Apprentice to the Donald. Entertaining series I would say and I look forward to the next. Meanwhile, the third season will begin next month in the US and Donald Trump is turning his next prime-time boardroom from a battle of the sexes into a contest between "book smarts" and "street smarts." ACcording to a short sypnosis of the third season, 'A team of nine college graduates faces off against a group of nine entrepreneurs whose formal education ended with high school when the third edition of NBC's hit reality show The Apprentice debuts on January 20'. Interesting huh?

Update on the Asian tsunami disaster, the death toll passed 68,000 today as the sea and wreckage of coastal towns across Asia yielded tens of thousands of bodies. Aid has began to pour in for the most costliest disaster in history with the United States offering a total of US$35 million, followed by Japan with US$30 million. Australia has now pledged US$27 million, Saudi Arabia US$10 million and Germany US$2.7 million. There are more of course from various European countries and South Americas as well and other non-monetary aid.

Finally, on football.. Chelsea moved eight points clear of Arsenal with a hard fought 2-0 victory at Portsmouth. It took Jose Mourinho's side until the 79th minute to find a way through the home defence as Robben added to his Premiership tally. And the Blues grabbed a second at the death courtesy of Joe Cole. Man Utd's 1-0 win over Aston Villa kept their title challenge on course with Giggs' scoring a goal. With that, Man Utd, move to third place and one point behind the Arsenal. :)

Impact of the Quake
Tuesday, December 28, 2004
Was wondering of the impact by Sunday's deadly quake on our blue planet and as if by conincidence, CNN.com posted an article entitled, Quake likely jolted Earth's rotation.

According to the article, scientists describe Sunday's devastating earthquake off the island of Sumatra as a "megathrust"- a grade reserved for the most powerful shifts in the Earth's crust. So how powerful is powerful? By some estimates, it was equal to detonating a million atomic bombs. :O Thus, scientists said it probably jolted the planet's rotation.

"It causes the planet to wobble a little bit, but it's not going to turn Earth upside down."
- Kerry Sieh, California Institute of Technology geologist,


On a lighter side, Star World will be showing The Apprentice: Season 1 Finale today. Apparently, they'll be showing a 3-hour special! So grab you fave comfortable spot and your popcorns and be entertained by the Donald. :P

Asia quake in numbers
Monday, December 27, 2004
9 countries affected by the tsunami, namely, Indonesia, Thailand, India, Sri Lanka, Malaysia, Myanmar, Somalia, Maldives and Bangladesh.
9.0-magnitude earthquake strongest in
40 years and
4th-largest in a century.
20-foot tidal waves ravaged coasts across
1000s of miles and killed nearly
13,500 people.
1,000,000 people were driven from their homes in Indonesia and Sri Lanka alone,
25,000 soldiers and
10 air force helicopters were deployed in relief and rescue efforts.
1 1/2 hours for the wave to get from the earthquake to Sri Lanka and
1 hour for it to get to the west coast of Thailand and Malaysia.


Ads, Ads, Ads everywhere!!
Friday, December 24, 2004
Was down with fever and flu yesterday thus, on MC. Feel abit better today and I hope I'll recover in time for Christmas! Had a little office Christmas gathering at Erics' and it's good to see your colleagues from different circles out of the office. We exchanged gifts and I got a Real Madrid T with Bekhams' 23 behind. Cool! :)

Anyways, back to the topic. Recently, I have noticed a significant increase in airtime for advertisements for pay-TV, namely ASTRO and TGV cinemas. For ASTRO, slotting in tonnes of ads for pay-RV are both unfair and unreasonable for subscribers as we actually do pay for the programs. However, @$$TRO made us sit through long-winded comercials similar to those found on free-TV and not only that, the frequency of the ad time has also been increased. From my research, @$$TRO earned a total of USD120 Million in 2002 and USD330 Million in 2003 from advertising! That's a whopping 175% increase! Oh well, that's what you get for being the sole pay-TV provider out there. Hopefully, we'll see MiTV soon. I just love competitions!

As for the cinemas, I've noticed that ad time has been increased to 20 mins instead of 10 mins. I've noticed this from my outing to watch the Incredibles and Ocean's 12. You can feel people squirming in their seats and some ppl actually finnished their popcorn before the start of the movie. I dunno bout GSC but I've noticed the increased in ad time for TGV. (I was actually 15 mins late for the Incredibles and was surprised that I still made in for the ads!) I would suggest the movie operators to reduce the ad time. We pay to watch a movie and not 20 mins worth of ads! 20 mins is like 16% of the average movie time! Sometimes I understand why ppl would rather watch 'cheap' DVDs than pay for seats in the cinema.

Getting sick and Reality TV winner buys AUD$ 1.1 million house
Wednesday, December 22, 2004
Damn.. I think I am getting sick, throat itchy, feel cold, headache.. hahaha.. There goes my Christmas hols :(. As usual, was updating myself with online news and I came upon this article on Guy Sebastian (the Fro), the first Australian Idol.

It seems that the Fro is the newest neighbour at Sydney's millionaire haven Palm Beach, which he bought the house for more than AUD$ 1.1 million. News is that his new place is close to where actress Nicole Kidman will spend Christmas this year. She will spend about $38,000 a week to rent a seven-bedroom house. :P

So it would seem reality TV does pay after all. :) I wonder how Jaclyn Victor is doing? :P


Game review: GoldenEye: Rouge Agent
Tuesday, December 21, 2004
GoldenEye: Rogue Agent is the latest James Bond franchise game that dwells in the underworld of the Bond universe. You play a disgraced 00 agent who is recruited by Goldfinger to take down his competition, Dr. No. Anyways, was playing this game over the past week and here's a quick take on the game.

From the brief description, the plot looks promising and there are numerous storylines that can be used to make this game great, however, EA decides to stay within the villain vs. villain boundary and thus, a so-so storyline. (A shootout with 007 will be great!) Not to be disappointed tough, you will cross path with other Bond-film villains, namely Dr. No, Scaramanga (the man with the Golden Gun), and Oddjob as you progress to the next levels. There are cutscenes between levels, however, each cut-scene are too short and somehow, you don't seem to get a feel of what the character is up to and thus, not a captivating storyline. Speaking of levels, there are a total of 8 massive levels that will keep you occupied for hours! (literally). The game is designed in such a way that you can't load a certain checkpoint in the level unless you finish that particular level. That means you can't quit that level until you finish or on the next load, you'll have to restart the entire level. Thus, making this game a tedious outing. Sometimes it gets frustrating after playing for such a long period and the finish line is no where to be seen. For one particular mission, I had to go on for 2 1/2 hours.

If you're a FPS fan, Rogue Agent has a full slate of weapons- pistol, shotgun, sniper rifle, grenades, EPS guns, detonators and more. Also, maps in the game ranges from bathhouses, rooftops, all sorts of laboratories and buildings. However, all this are ruined by the poor computer AI which I would say is the worst I've ever seen. Some enemies will actually run towards your firing line. :P One interesting feature is that you can take advantage of machinery in the environment to eliminate your adversaries. The biggest over-sight of this game is, the player can't jump! Seriously... this is dumb..

Overall, this game is a blunt clone of the Halo series with additional features to make it different. Many of Halo features can be seen here, dual-wield, regenerating shields, and 2- carry weapons max. However, that didn't work and I would say it was a disaster! Halo 2 was fun with its' fast paced action, this game tries hard to be that but in the end, it is just tedious and frustrating. Save the world, give this a miss.


Ratings (Scale of 1 to 5, 5 being the highest)

Graphic : 3
Sound : 2.5
Gameplay : 1.5
Storyline: 1.5

OVERALL : 2.125


TIME Magazine's Person of the Year
Monday, December 20, 2004
TIME made President Bush the 'Person of the Year' for 2004, the second in 4 years as Bush was also TIME's choice in 2000 after winning the presidential election despite losing the popular vote. This year, TIME chose Bush "for sticking to his guns (literally and figuratively), for reshaping the rules of politics to fit his 10-gallon-hat leadership style and for persuading a majority of voters this time around that he deserved to be in the White House for another four years," Jim Kelly wrote in the magazine. :P

Another note of interest, Kelly said he and his staff debated giving the award to others including Karl Rove, the president's influential political adviser, and filmmakers Michael Moore and Mel Gibson.

Oh well, some will be pleased and some will sighh..

Quote of the Day:
"The person or persons who most affected the news and our lives, for good or for ill, and embodied what was important about the year, for better or for worse," - Jim Kelly, TIME magazine's managing editor on "Man Of The Year" winner.


Toll Charges and Holidays Plans
Friday, December 17, 2004
Damn... Toll prices are up again!! This time 10% increase on the toll charges for the North-South Expressway and would be effective 1st January 2005. Sighh..

Quote of the day:
"If the Government keeps on trying to make other people happy because of their own popularity, the Government will eventually pay RM38bil in compensation," - Works Minister Datuk Seri S. Samy Vellu on the toll increase.

Hahaha.. what a joker. :P

Anyways, I got something off the late show with David Letterman last night. :)Everybody's got plans for the holidays. In case you don't read the Gossips, here's what's up.

Donald Rumsfeld: Giving people the gifts he has, not the gifts they want.

Michael Moore: Releasing holiday documentary about Santa's ties to the Saudi royal family.

Martha Stewart: Making egg nog out of contraband gin and delousing powder.

Santa Claus: Nothing – the whole operation's been outsourced to India.

John Kerry: Part-time gig as a department store Santa in Malden, Massachusetts.

Paris Hilton: We don't know, but I pray she's videotaping it.


Mobile Game: Asphalt: Urban GT
Wednesday, December 15, 2004
I've managed to download Asphalt: Urban GT by Gameloft into my K700i and was blown away by the graphics and for its' addictive gameplay. This mobile game is simple the best available game out there for java-based mobile phone. Asphalt: Urban GT takes you out on 8 tracks inspired by genuine places, ranging from New York to Tokyo to London. Each track includes tunnels and elevations that enable you to perform impressive jumps, among other things… but don't get flashed or stopped by the police. Depending on your behavior (excessive speed, pushing competitors off the road, etc.), they'll put up roadblocks or send out cars and helicopters to stop you.
To meet the different challenges, Asphalt: Urban GT comes with several dream cars: the Audi TT Roadster 3.2 quattro, Chevrolet Corvette C6, Ford GT, Lamborghini Gallardo, Lamborghini Murciélago R-GT, Lotus Exige, Saleen S7, Nissan Skyline GT-R and TVR Sagaris. Each car has its own characteristics, and like all arcade racing games, there is a tank of nitro to boost your car when you need the extra edge over the competition. Amongst other thing that stands out with this game is ability to customize your car color and the breathtaking graphics that will give you a sensation of speed never seen before on any other mobile racing titles. It may seem trivial but for a mobile game, it may be a sign of things to come for mobile entertainment. Too bad Java games doesn't support multiplayer games.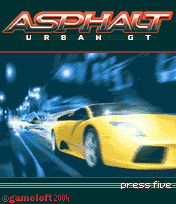 Beckham signs up for movie role
Tuesday, December 14, 2004
Some of you guys might have probably heard this news. Looks like English soccer star David Beckham will make his movie debut in the first film of a soccer trilogy due to hit the big screens next year.

According to Beckham's publicist, the England captain will appear alongside Real Madrid teammates Zinedine Zidane and Raul in the three movies, which are to tell the story of a young Hispanic soccer player in Los Angeles who joins English team Newcastle United. It seems that Beckham, is expected to play a small role in the first movie, which is entitled Goal! The interesting part is that the first two films will feature Newcastle United and Real Madrid matches, while the finale will take scenes from the 2006 World Cup. Sounds good! :)

BTW, Goal! is expected to be released in August 2005.


Movie review: The Forgotten
Monday, December 13, 2004
Was bored over the weekend and unfortunately, I caught The Forgotten in the cinemas. Initially, I had the impression that it would be a psychological thriller, however, it wasn't what I expect the movie to be. Here's my review.

The movie stars Julianne Moore as Telly who has lost her son Sam, and is overwhelmed by grief. Every day she goes into his room, goes through his drawers, smells his clothes, look at his photos, watches his video and generally behaves like a mad woman. Her husband, Jim, is worried, as their relationship is not working out well – he wants to move on, she is stuck in the past. She goes for therapy in the hope of
getting herself out of the depression. Then Telly's world falls apart. Sam disappears from photos. His things are gone. Her therapist and Jim tell her that she never had a son, and that she has made Sam up. The neighbors have no recollection of a Sam. Desperate, Telly runs away, and encounters Ash, the father of one of Sam's friends. He and Telly were suddenly persued by the NSA, the FBI and the local authorities. Confused and believing that their children are not dead, the race to find their children began.

Seriously, the first half hour of The Forgotten was pretty good and the plot was building up for something good. Julianne plays Telly's grief reasonably convincingly and you can actually feel that she's either going mad or she's sane in a confused way. Suddenly, the plot took a plunge when MIB starts appearing and yup, you've guessed it, Alien Abduction. :P There aren't any memorable scenes in the movie but the way the director depict the abduction was quite interesting. It's something like a bungee rope snapping a person back up from the bottom. Besides that, there aren't many suspenseful scenes either, besides a sudden car crash when you're not really expecting one. This really plays out like an X-File episode. The only difference is that you don't see Mulder and Scully running around.

Overall, a forgettable movie and seriously, don't bother unless you're an X-Phile or you love donating RM9 to the cinemas.

Ratings (Scale of 1 to 5, 5 being the highest)

Cast : 2
Sound : 2
Picture : 3
Storyline: 2

OVERALL : 2.25


Movie review: Ocean's 12
Friday, December 10, 2004
I'm back from my long vacation. :) Didn't have time to blog during those 10 days, however, I'll blog it during the weekends and will be posting it the next few days. Anyways, managed to catch Oceans 12 this afternoon and as usual, here's my take on the movie.

The star studded cast of the successful Ocean's 11 are back! Yup, all of 'em! The movie pick up three and a half years from where Ocean's 11 left off where Danny Ocean (George Clooney) and his 10 man crew, Rusty Ryan (Brad Pitt), Linus Caldwell (Matt Damon), Basher Tarr (Don Cheadle), Frank Catton (Bernie Mac), Turk Malloy (Scott Cain), Virgil Malloy (Casey Affleck), Saul Bloom (Carl Reiner), Reuben Tishkoff (Elliott Gould), Livingston Dell (Eddie Jemison), and Yen (Shaobo Qin) pulled off one of the most lucrative heists in history, robbing casino executive Terry Benedict (Andy Garcia) of $160 million stored in his "impenetrable" Las Vegas vault.

The movie begins with Rusty having to sneak out of a relationship with his girlfriend Isabel, who happens to be a detective just about to discover what Rusty really does for a living. The scene then cuts to three and a half years later, where we see Ocean team is now enjoying their post-big heist lifestyle. But their old nemesis Benedict suddenly steps back into all of their lives rather unexpectedly, and is demanding his stolen money be repaid with interest within two weeks. The team were then left to wonder how exactly did Benedict found each and every one of them in the first place. However, none of them have anything close to the original amount they left with, thus they see no other option but take on another job. Since they're too notorious to work in the States, the team decides to go across to Europe.

I find Steven Soderbergh movie direction pretty good. The story flows nicely with the fast-paced camera work (sorta like NYPD Blue) and the various exotic European capitals namely, Rome, Paris and Amsterdam. The story is pretty straight forward but there are several unnecessary subplots introduced throughout the movie which IMHO, spoiled the movie with holes of inconsistency. Nevertheless, Soderbergh managed to cover those 'holes' with beautiful character and their witty remarks. Talking about witty remarks, the cast are evidently having fun on this movie. There are several scenes in the movie that are totally hilarious. Keep a lookout for Bruce Willis' cameo. It is interesting to note that other supporting actors (besides Clooney, Pitt, Damon, Zeta Jones and Garcia's character) have smaller parts but sufficient screen time to pack a few laughs and make you notice them.

Other than that, this movie is more about style than storyline. However, I would say the first movie is much better. Nevertheless, this outing is still a worthy one and if you're in for an entertaining movie, this one is for you and worth the watch.

Ratings (Scale of 1 to 5, 5 being the highest)

Cast : 5
Sound : 4
Picture : 4.5
Storyline: 3

OVERALL : 4.125


Hiding Files in Visual Images
Thursday, December 09, 2004
Just stumbled upod this freeware. It's called
jphide
(hiding files) and
jpseek
(retreive hidden files), which allow you to hide a file in a jpeg visual image. Compared to other similar softwares on the net,
jphide
and
jpseek
is designed not simply to hide a file but rather to do this in such a way that it is impossible to prove that the host file contains a hidden file.
Given a typical visual image, a low insertion rate (under 5%) and the absence of the original file, it is not possible to conclude with any worthwhile certainty that the host file contains inserted data. As the insertion percentage increases the statistical nature of the jpeg coefficients differs from "normal" to the extent that it raises suspicion. Above 15% the effects begin to become visible to the naked eye.
Cool.. :D Of course some images are much better than others when used a host file - plenty of fine detail is good (like the pic below). A cloudless blue sky over a snow covered ski paradise is bad.
Anyways, heard that the
Initial D
the movie will be out next year. Can't wait.. time
pass
so slow...
word
can't explain. hahaha.. will be heading to the Forums on cinema.com.my for more information on the movie. btw, heard that the uppercase word is important.