My twitter Updates

Key facts about the London blasts
Friday, July 08, 2005
It was like 9/11 again when I turned on my TV to find that several explosions had rocked London. What timing! Just 24 hours ago, the city celebrated after winning the bid for the 2012 olympics and today, the city is total disarray, shock and anger.
For easy reading, here are the facts on the London Blast;
EXPLOSIONS occurred on trains near Aldgate, King's Cross and Edgware Road stations, and bus at Tavistock Place, near Russell Square.
FIRST explosion reported at 8.51am London time.
LONDON transport system shut down.
A GROUP calling itself the "Secret Organisation - al-Qaeda in Europe" has posted a claim of responsibility on the internet.
NO warning was given before the explosions.
BRITISH Prime Minister Tony Blair blames terrorists, describes the attacks as "barbaric".
MR BLAIR returned to London immediately from opening day of G8 meeting in Scotland.
MR BLAIR vows to bring those behind the attacks to justice.
G8 meeting continues.
UN Security Council unanimously passes resolution condemning attacks.
EUROPEAN nations tighten security fearing more attacks across the continent.
INTERNATIONAL Olympic Committee doesn't believe attacks related to London yesterday winning the right to host the 2012 Games.
52 dead (so far).
OVER 700 injured.
Other developements...
AUTHORITIES in Britain reportedly found a timer which may have been used in one of the explosive devices;
CONCERNS were raised that British security organisations reduced their alert level just weeks before the attacks;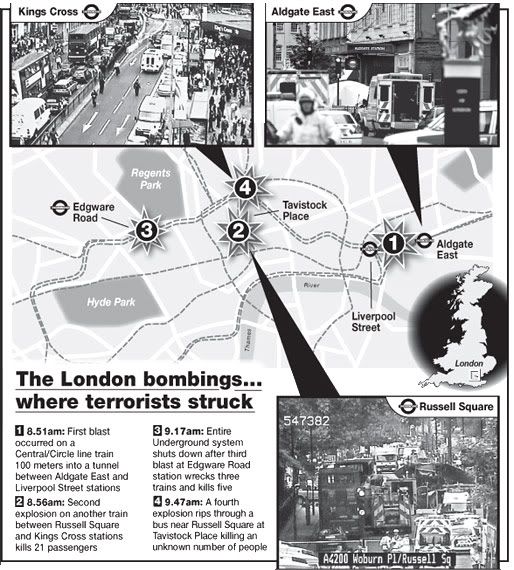 Source: The Daily Telegraph
0 Comments: