My twitter Updates

One of Twelve Apostles collapses
Monday, July 04, 2005
One of the famous Twelve Apostles collapsed into a heap of rubble yesterday, destroying in seconds Australia's landmark.
The 70m-high limestone monolith off Great Ocean Road crumbled and today, only eight Apostles now remain. Yesterday's collapsed pillar - the second of the group, looking northwest from the main viewing platform - was lying as a forlorn pile of rubble last night just metres above sea level.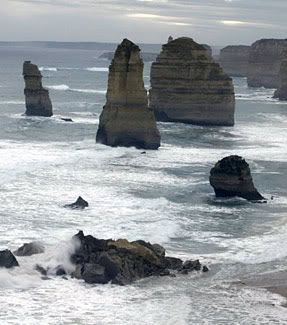 Despite the name, there have only ever been nine apostles. Now there are eight.
The Great Ocean Road generated AUD$1 billion in tourism revenue last year, with hundreds of thousands of people driving the scenic road visiting the Twelve Apostles.
I reckon the loss of one 'Appostle' would not affect tourism to the area.
2 Comments: