My twitter Updates

Of rising fuel prices, Ferrari, and Picture Virus
Thursday, September 30, 2004
A day of shocking news and surprises.

1. Due to rising world crude oil prices at approx USD48 per barrel, petrol and diesel prices will go up by 5sen per litre effective Friday (01/10/2004), according to a statement from Malaysia's Domestic Trade and Consumer Ministry. Sigh, looks like this will result in a gradual increase of all goods and services soon. Everything is going up except my salary. :P

2. The lastest news is, Michelle Yeoh is engaged to Jean Todt, the French sporting and managing director of Ferrari. Yikes, this comes as a surprise as this came a month after she broke up with her former movie producer boyfriend. Yeoh was quoted by the newspaper praising Todt as a "very nice person" and admitted that she was glad their love made both of them very happy. Happy?Are you kidding me? That's an understatement!! He's the FERRARI boss!! :O

3. Looks like Microsoft is at it again. More exploits on their popular Windows OS as a virus named W32.Perrun, will appends itself to .jpeg or .txt files. The exploit takes advantage of a flaw in the way Microsoft applications process .jpeg image files, a common format for displaying images on the Web. What does the virus do? According to BBC, theoretically, a malicious attacker could take over a vulnerable machine using a carefully crafted image that contained code to exploit the bug. Yikes, now we hafta be careful when opening a .jpeg file from annonymous or unknown email sender.. sighh.. looks like another patch download. It never stops does it, Mr Gates? :P


Performance Appraisal Terms and their Real Meaning.
Wednesday, September 29, 2004
Since the end of the year is coming, be prepared for your job preformance appraisal. Here's some guidelines that will help you understand the terms and the real meaning. :)

* GREAT PRESENTATION SKILLS............. Able to bullshit
* GOOD COMMUNICATION SKILLS............. Spends lots of time on phone
* AVERAGE EMPLOYEE...................... Not too bright
* EXCEPTIONALLY WELL QUALIFIED.......... Made no major blunders yet
* WORK IS FIRST PRIORITY................ Too ugly to get a date
* ACTIVE SOCIALLY....................... Drinks a lot
* FAMILY IS ACTIVE SOCIALLY............. Spouse drinks, too
* INDEPENDENT WORKER.................... Nobody knows what he/she does
* QUICK THINKING........................ Offers plausible excuses
* CAREFUL THINKER........................Won't make a decision
* AGGRESSIVE.............................Obnoxious
* USES LOGIC ON DIFFICULT JOBS.......... Gets someone else to do! it
* EXPRESS THEMSELVES WELL............... Speaks English
* METICULOUS ATTENTION TO DETAIL........ A nit picker
* HAS LEADERSHIP QUALITIES............... Is tall or has a loud voice
* EXCEPTIONALLY GOOD JUDGEMENT.......... Lucky
* KEEN SENSE OF HUMOUR.................. Knows a lot of dirty jokes
* CAREER MINDED......................... Back Stabber
* LOYAL..................................Can't get a job anywhere else

ESPRIT Vertical Catwalk 2004
Tuesday, September 28, 2004
Heard over the news that there will be a 'fashion show' organized by ESPRIT showcasing their latest sportswear in KLCC today. The only thing that is different is that the catwalk will be vertical! Anyways during lunch time, Dillon, Calise and I went over to KLCC to have a look at this feat.
The show started around 1:10pm with the blazing hot sun right above us. The backdrop of the catwalk was almost perfect with the twin towers right there in the background. Good photo op. :) The German-produced show itself was pretty good with the models walking down on the catwalk vertically and doing some great synchronized free fall stunts. It was entertaining and exciting at the same time. The whole show was quite energetic with the typical upbeat fashion show music played during the whole show.
At the end of it, we left feeling quite satisfied even tough we had to get drench by the hot tropical sun. Personally, I felt it was more like an extreme stunt rather than a fashion show. Hahaha.. the best thing is, no one paid attention to the clothes that the models were suppose to parade. ;O
Photo Album:
ESPRIT Vertical Catwalk 2004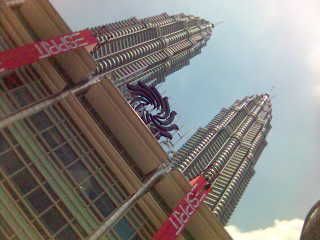 My K700i and games!!
Monday, September 27, 2004
I've managed to obtain the highly acclaimed console version of Splinter Cell: Pendora Tomorrow for my mobile. One word, WOW! It's amazing how mobile gaming evolved from a simple snake to this highly addictive platform gaming.
In this game, you play Sam Fisher who is sent where no one else can go to do what no one else can do! Meanwhile, a gruesome threat is looming over the whole world. To avoid being captured or eliminated, the dangerous leader of the Indonesian guerilla group Suhadi Sadono has perfected a Machiavellian plan that serves as his own life insurance. If he fails to make contact with his men every day, the latter will trigger a huge network of biological bombs, propagating the smallpox virus throughout the biggest cities in the world!
Sounds exciting! hahaha.. I think there is a great future for mobile gaming and a report from CNN states that major gaming companies like EA are jumping in on the bandwagon. Hopefully there will be more interesting games in your mobiles soon.
As for me, it's back to save the world. :)

Funny Alternative Google
Friday, September 24, 2004
Tired of the plain-original google? Here are some alternatives:
Hacker
Swedish Chef
Elmer Fudd
Pig Latin
Looks like these googlers are really creative. I wonder what other stuff have they hidden within the popular search engine. :) Enjoy!

Chip and Kim wins the Amazing Race 5
Thursday, September 23, 2004
Whew! Finally, the race is over! This is one reality show that I follow religiously week after week. This time round, the race was more intense with new 'surprises' introduced during the race namely the yield and no-money start if you come in last during the non-elemination leg. Not only that, one particular team (Colin and Kristy), was really competitive. Coming in first place almost 70% of the season.

Anyways, the last episode was really good with the final three teams giving their all to win the 1 million dollar prize money. It was a neck to neck race from Manila to Calgary until Chip and Kim did a clever menuever and managed to get an earlier flight back to the Dallas. While other teams struggle to get on the same flight the leading team were cruising all the way to the finnish line.

I was actually rooting for models Brandon and Nicole to win the race but who cares, as long as Colin and Kristy didn't win. hahaha.. don't intend to be mean but Colin did play the game really well. It's just that he's so damn cocky and arrogant and Chip took advantage of that by feeding his hungry ego and thus, forcing him to make unforced errors. hehe.. Overall, a great show (2 emmy's can't be wrong :D) and the news is, Amazing Race 6 is in two weeks time.



Jacky Chan in One Utama
Wednesday, September 22, 2004
When I first heard that Jacky Chan was coming to One Utama to promote his latest movie,
The New Police Story
, I told myself I am going to see him! Anyways, One Utama shopping centre is only 5 mins drive for my place and I would not wanna waste an opportunity to meet an actor.
The event was scheduled at 9pm, that's what all the banners and adverts said anyways. My colleagues and I managed to arrive at the shopping centre at 8:55pm and how fortunate, we were just in time to see Jacky come on stage. haha.. he came on stage, thank his Malaysian fans for supporting him and his new movie. After that, he waved to the crowd and left the stage. It was all over in... 2 minutes!! What!! It's not even 9pm yet!!
He left using the fire exit behind the stage. Anyways the best thing is, those ppl who came at 9pm to catch him would not know that Jacky came and went 'cos there are still so many ppl crowding around the stage. Those new ppl just kept pulling the crowd and soon there's a new big crowd hoping to catch Jacky. hahaha.. it's hilarious. The crowd disperse with a puzzled look when the cleaners came on stage and kept all the banners and microphones almost half an hour later. haha.. who would have tought a big star like Jacky would come and leave promptly before time. :P
Anyways, managed to catch a pic of the event with my new K700i :DD. In the picture, Jacky is waving to the crowd with his co-star Daniel Wu. yeah.. i know, it's abit small.. hahaha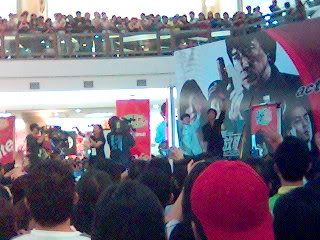 Man Utd Wins
Tuesday, September 21, 2004
Found out this morning that Man Utd defeated their arch-rival Liverpool, 2 - 1. WIth Man utd scoring all 3 goals. :P Anyways, can't comment on how the game was 'cos the game was on at 2:30 am. But it would seem that the return of Rio Ferdinand - super defender helped Man Utd to keep the 'pools strikers from scoring. :) We shall see the subsequent matches.

Muahaha.. looks like my Fantasy Soccer team is doing rather well. So far, this is the highest rank I've ever been:

Sentinels
Points: 687.52
Overall Rank: 569
Percentile: 99th

:D

New Phone!
Monday, September 20, 2004
Bought myself a new mobile over the weekend. :) It's a SonyEricsson K700i. It comes with a VGA camera, color screen, MP3 funtionality, bluetooth, infrared, triband and a storage space of 41mb. Not bad for a phone I would say.

i like the large and colorful display of the phone. Looks like large displays are now the in thing for mobile phone. Unlike Nokia, the new models still comes with small squared displays (except the N7610). Another plus feature is the MP3 ringtone functionality. Yup, that means you can attach your MP3 songs as a ringtone. I'm sure to turn some heads. hehe.

The camera is pretty cool as well. It has all these effects you can do. (i.e. Polarized, blackwhite and negative colors to name a few.) What makes this camera different from others is that it can take up to 4x zoom and you can record 'unlimited' video.

So far the only problem I fiind is that I can't seem to delete names attached to a group. hmm.. bug? I am still getting used to the sms feature of the phone. So far, I am still too used to the Nokia's sms function.

Overall, a cool and function-filled phone. With the new camera phone, you'll see more 'intersting' shots on this blog. ;)



Chewbacca spotted in Sydney, Australia
Friday, September 17, 2004
Here's another sightings of a movie character. This time in Sydney, Australia. Star Wars' resident furball, Chewbacca, turned a few heads as he walked into a bar in Sydney.
The hulking Wookie, quite understandably, didn't enjoy yesterday's warm weather and went to The Tilbury where he managed to order a beer. :)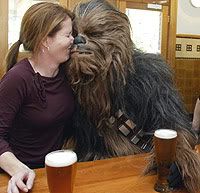 The hairy giant was in town to promote the DVD release of the original Star Wars trilogy, in which he played a starring role. He also wowed the crowd devouring pies at the famous Harry's Cafe de Wheels. He was earlier spotted strolling over the Anzac Bridge and expects to see more of Sydney's sights today. So if you're around Sydney, get your cameras ready. A visitor from Galaxy for far away.. is here. :)

More Boogle!
Thursday, September 16, 2004
Yay! Finally got my glasses yesterday. It's an Oakley Choptop 2.0 with blue tint lenses. :) Looks really funky and the casing looks like a worn out time capsule. Cool. Anyways, feeling bored anyone? Here's something wacky for you guys. :)

Follow the steps,

Step 1:
Open Google

Step 2:
Type, Bush's foreign friends

Step 3:
Click "I'm Feeling Lucky"

Hahaha.. There's some more. Just follow the steps above, but during step 2, type:
1. french military victories
2. miserable failure


Batman scales Buckingham Palace
Wednesday, September 15, 2004
This is an interesting news from London. A protester dressed in a Batman costume apparently scaled the front wall of Buckingham Palace and perched for more than five hours on a ledge near the balcony where the Royal Family appears on ceremonial occasions.
From reports, the police were stung by the ease with which 'Batman' climbed up to his perch. Asked if the breach was embarrassing for authorities, "There's no doubt it is...".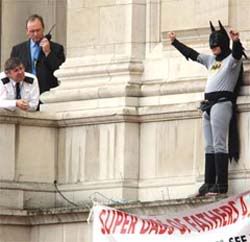 The picture shows a police officer, left, watches 'Batman', right, who stands on a ledge at London's Buckingham Palace.

View from the top.
Tuesday, September 14, 2004
Muahaha.. went for a training in the Petronas Twin Towers (KLCC) and took a couple of shots of the view from the 41st floor, where the infamous sky-bridge is located.
:) The sky-bridge is actually opened to public in the mornings. However, the catch is you gotta queue up for the 'tickets' at 7am-8am at the lobby of tower 2. The sky-brige can only accomodate a limited number of people. Therefore, tickets are limited.
I went there 'early' once and was a minute too late. A tour bus pulled over and... 30 ++ aunties and uncles with huge cameras hanging from their neck came down and begin to form a snake line. sighh.. didn't manage to get the ticket. Oh well, at least I can go up there nowadays.
Here's the album:
KLCC

Yahoo! Fantasy Football
Monday, September 13, 2004
Yahoo! Sport Fantasy Football
, is a free game that lets you run your own team of real English Premier League footballers from the season 2004/2005 season.
Each week, you'll decide which players to start, with an initial budget of 100m (Makes you feel like Abromovich doesn't it). The better your players perform in real-life games, the more points they score for your fantasy team, and the more you can sell them for, in order to increase the value of your team. It's something like managing a portfolio of stocks but instead of stocks, it's football players. If your players do poorly after you have picked them however, you may lose money by selling them on. Therefore, stick to the finance theory, buy low sell high. :)
Like any other sports games, there are leagues which you can compete in to show off your managerial skills. You can either join a public group or create a private group. IMHO, creating a private group is much more fun as you can compete with you group of friends and thrash talk as the season progresses. Cool on-line game to keep you occupy and keep up with the EPL.
Anyways, I've been playing this game for 4 years and my score this year is the highest it has ever been at this stage of the game. :) haha.. Anyways, I don't really keep up with the game but I try to when I am free since the players need to be added to my 'portfolio' once a week.
Sentinels
Points: 586
Overall Rank: 890
Percentile: 99th
Rank Change: +786

Bolton 2 - 2 Man Utd
Sunday, September 12, 2004
Sigh.. another bad match for Man Utd today. It was a promising first start when Man Utd dominated the first half and scoring a goal before half time. However, that changed when Senegalese midfielder Diouf was subbed in and created multiple chances for Bolton and thus, dominated most of the second half. By the end of 90 mins, Bolton was up 2 to 1. Man Utd scored a really scrappy-lucky goal with 15 seconds left on injury time and thus salvaging one point from this disastrous outing. Lucky draw I would say.

Everybody wants to be Simon.
Saturday, September 11, 2004
Was surfing the net earlier and I stumbled upon this site (
idolonline.org
) and discovered that they are 35 countries with the idol franchise. Amongst the new entries are India, China, Serbia, Croatia, Kazakhstan, Slovakia, and few others. Well, looks like everyone wants to be someone somewhere. I wonder how the
world idol
format is gonna be this time round as there are so many contestant compared to last year. Probably this year they'll split the contestant into three groups and have eliminations like the local idol shows. Hmm.. regardless, it's gonna be interesting and competitive this year.
While on the topic of the idol franchise, Mr Hans Ebert, the executive director of
EMI Music
South East Asia accused the
Singapore Idol
judges of being 'subjective, rude and... destructive', spewing critiques smacking of 'bitchiness and pettiness'. Ouch!
According to his letter published in
The Straits Times Life!,
he managed to catch
Singapore Idol
while he was in Singapore, formed such a negative opinion about the show that he claimed he even sent copies of the first three episodes to Simon Fuller, the man behind the Idol franchise, whom he claims to be a 'good personal friend'. Double Ouch!
Well, looks like everyone wants to be the infamous Simon Cowell from
American Idol
. Even tough Simon is blunt and straightforward, IMHO, he actually respects the contestants and does not degrade or demoralize them. He gives constructive-blunt comments to encourage the contestant to improve themselves. I guess in every idol show, the producers will put one controversial judge to 'spice' things up. Unlike the other idol shows, all four
Singapore idol
judges are competing to be the ONE but it would seem that they are just trying too hard. :P Looks like everyone wants to be a Cowell.

Recipe for Dan Brown
Thursday, September 09, 2004
*Spoiler*
I've noticed Dan Brown's recipe after reading 3 of his novels.

Plot:
1 Mysterious Murder.
Use Symbols or Crypto as subject.
Use technology and religious issues.

Main Characters:
1 single male probably a Uni Proffesor or lecturer.
1 gorgeous female, single in late 20s or early 30s.

Villains:
1 powerful man who hires/consults by the main character for the mission.
1 highly skilled assassin who inevitably gets killed by one of the weaker main character.

Location:
Preferably done in Europe.

Twist:
Caution!
1 Hidden agenda. Villain will reveal it to the main character after capturing or cornering them.
1 'new' problem, normally villain's backup plan.

Steps:
1. Add one mysterious murder in location.
2. Add main characters in location (preferably together) and stir.
3. Add plot. Carefully add assassin in location and put it to boil.
4. Boil for 7 hours.
5. Slowly remove the lid from hidden agenda twist and add one powerful man villain to twist. Stir slowly.
6. Once assassin desolves, add new mixture into location. Stir well.
7. Stir for 45 mins until new mixture has been desolves then add 'new' problem twist into location and stir for another 45 mins.
8. Meal done in less then 24 hours. Enjoy! :)


Book Review: Digital Fortress
The story starts off with Susan Fletcher, NSA's top cryptographer, getting an urgent call from her boss, Commander Strathmore, to come to work. She arrives only to find out that NSA's incredibly advanced code-breaking machine, TRANSLTR, has at long last come face to face with its nemesis. Codenamed the Digital Fortress, it is an unbreakable code created by an ex-NSA cryptographer, Ensei Tankado, who had threatened to make it available for public use if the NSA didn't make TRANSLTR's existence known to the general public. As the repercussions of this comprise a deadly threat to the nation's security, it sends shockwaves through the corridors of the NSA.

Ahh.. another typical Dan Brown novel. Not only has Brown done detailed research on the subject of cryptography to make this book realistic, he provokes the readers to ponder upon how private is our digital communication in this age of technology. It's an interesting read with a good mixture of suspense, love, betrayal, and honour. However, I would say the plot is fairly predictable if you've read Brown's other novels. Nevertheless, this novel is real page-turner with me finishing the novel within 48-hours. Haha..


Ratings (Scale of 1 to 5, 5 being the highest)

Plot : 4
Writing : 4
Character Development : 4
Understanding : 4
Research : 4.5

OVERALL : 4.2


No photos in KLCC
Wednesday, September 08, 2004
Just read on a forum that this guy got sounded by a security guard for bringing a camera into the KLCC shopping mall. How ridiculous! They are hundreds of tourist that come in and out of the mall everyday and since the building is within the 'Worlds' tallest twin tower', tourist tend to bring their camera along with them when they visit KLCC. How would the management be able to control these tourists?

This restriction probably came after 911 and the management are concerned with security risks to the building. Anyways, this is still quite shocking as I've never had any problems bringing cameras into to shopping malls even in overseas.

Word of the day: Kawanster
kawanster - Pronunciation Key (ka-uan-ster)
n.
1. Malaysian Trully Community Portal (note: yeah, that's their tag line)
2. Place to meet people, make new friends and keep in contact with your friends and loved ones.
3. Unoriginal clone of friendster.

Just found out that Malaysia has it's own Friendster clone, Kawanster! hahaha.. I don't intend to be mean or want to imply anything but this is really a unoriginal clone of friendster. If you're able to find kawanster, you'll notice the uncanny design of the original friendster and the big Yahoo! Messenger smiley. Sighh.. there goes originality and innovation. I reckon it's ok if the developers copy the idea and the friendster concept but to copy the design of the website as well? At least they've added the forum and the blog feature. :P
Nevertheless, good effort.


Wierd way to make a buck
Tuesday, September 07, 2004
Here's one way to make a quick buck,

According to the Herald Sun, Britney Spears fans in the US are finding some very weird ways to make a buck. They are apparently following the singer and grabbing chewing gum off the footpath when she spits it out. The next step is chucking the chewed-up lump on to eBay and hoping for a fortune. And from the look of things on eBay, Britney must be spitting her way across the US.

(Might be a song title in that).

One seller, xokissezxoxox, is after $700, but the top bid had only reached $15 last night. "She had the pack of Juicy Fruit in her hand, and she stopped to answer her phone. She put the pack down on top of the trash can and spit the gum she had in her mouth out," xokissezxoxox writes. "Then walked away. Being a huge Britney fan, I ran over and took the pack and the gum she spit out."

Another seller claimed to have the gum that started it all and he wanted $650, but the best bid last night was less than a dollar. "This gum has come straight from Britney's mouth as she spat it out in anger at the press outside her LA home in early August," was his sales pitch.

There's even a bit of gum from Australia, supposedly left on the side of Britney's plate after she had a feed at a restaurant, and that's a steal at $180. The most hopeful of all is the seller who has a $7000 price tag on a bit of Britney gum from the night she pashed on stage with Madonna. A chap in London, who claimed to have been the first to auction Spears' gum, was waiting for his $1000 from the winning bidder after his auction closed at the weekend.

It gets worse. A cigarette butt is yours for just $1000, and a corn cob (chewed) is a bargain at 1c. But the trashiest items were three unopened rubbish bags, supposedly collected from outside her Malibu house.

:P



DVD Review: Around the World in 80 days
Monday, September 06, 2004
Ugh.. what a weekend! Confined at home due to food poisoning! Was feeling quite bored when I stumbled upon this DVD that I bought a couple of months ago, Around the World in 80 Days. Finally! I got around watching it. Here's my take on the movie.

In this Disney adaptation of Jules Verne's classic adventure novel, a Phileas Fogg (absent-minded inventor) suffered rejection by England's Royal Academy of Science, and thus, strives to prove his scientific worth by accepting a challenge to travel around the world in 80 days. Fogg, and his valet (Jackie Chan) find adventure, trouble, and excitement as they make their way from Turkey to China to the United States.

Jackie Chan practically stole the show with his role as Passepartout, who masquerades as Fogg's valet in an attempt to escape authorities after he robs the Bank of England. He's typical stunts and fight scenes are flawless and he seems to enjoy the role with his natural comedic action. I would say that this is his better Hollywood performance to-date. If you're a big Jackie fan (like me!) you'll definitely enjoy this movie. Otherwise, this movie is just an average outing with nothing much to shout about. Don't get me wrong, it's an entertaining movie but it lacks of a certain lustre that makes it an enjoyable movie. Probably it's the cast that doesn't quite click that well with each other. Nevertheless, it has action all the way and the scenes are really well generated. Oh, watch out for cameos by Arnold Schwarzenegger, Macy Gray, Oven and Luke Wilson, Daniel Wu, Karen Mok and Maggie Q. These are the ones that I recognize anyways.

Ratings (Scale of 1 to 5, 5 being the highest)

Cast : 3
Sound : 3
Picture : 4
Storyline : 3

OVERALL : 3.5

Body ache!
Friday, September 03, 2004
Hahaha.. was playing badminton for a whole 2 hours yesterday and when I woke up this morning, I can't hardly move. My arm hurts, my leg hurts and I think I walk funny right now. (sigh) I think I am getting old.. hehe..


Lesson for the day: Good or Bad, hard to say.
Thursday, September 02, 2004
Here's something for those who are down in the dumps and feel that life's not treating them fairly.

Once upon a time, there was a king. The king liked one of his followers very much because he was very wise and always gave very useful advice. Therefore the king took him along wherever he went. One day, the king was bitten by a dog, the finger was injured and the wound was getting worse. He asked the follower if that was a bad sign. The follower said, Good or bad, hard to say'. In the end, the finger of the king was too bad that had to be cut.

The king asked the follower again if that was a bad sign. Again, the follower gave the same answer, 'Good or bad, hard to say'. The king became very angry and sent the follower to prison.

One day, the king went hunting in the jungle. He got excited when he was on the chase of a deer. Deeper and deeper he went inside the jungle. In the end he found himself lost in the jungle. To make thing worse, he got captured by the native people lived inside the jungle.

They wanted to sacrifice him to their god. But when they noticed that the king had one finger short, they released him immediately as he was not a perfect man anymore and not suitable for sacrifice. The king managed to get back to his palace after all. And he finally understood the follower's wise quote, 'Good or bad, hard to say'. If he hadn't lost one finger,he could have been killed by the native people.

He ordered to release the follower, and apologized to him.But to the king amaze, the follower was not mad at him at all. Instead, the follower said, 'It wasn't a bad thing that you locked me up.'

Why? Because if the king hadn't locked the follower up, he would have brought the follower along to the jungle. If the native found that the king was not suitable, they would have used the follower. Again, the quote 'Good or bad, hard to say' stands.

The moral of the story Everything that happens in this world, there is no absolute good or bad. Sometimes good things turned out to be bad things eventually, while bad things become a gain.

Whatever good things that happen to you, enjoy it, but don't have to hold too tight to it, treat it as a surprise in your life. Whatever bad things that happen to you, don't have to feel too sad or despair, in the end, it might not be a total bad thing after all.

Bloogle?
Wednesday, September 01, 2004
Here's something interesting from Google.
Step 1:
Go to
http://translate.google.com/translate_t
Step 2:
Enter the following line:
my mom is nice and cool
Step 3:
Translate english to spanish
Step 4:
copy the translated text, and translate it back from
s
panish to english.
:P