My twitter Updates

EPL: 2005/06 Champion - Chelsea
Saturday, April 29, 2006
Chelsea is the 2005/06 English Premier League Champions after thrashing second-placed Manchester United 3-0 at Stamford Bridge. The victory put Chelsea 12 points clear of Man Utd with two games to play.
The goal came as early as 5 mins when defender William Gallas nipped in to head past Edwin van der Sar following Frank Lampard's corner delivery. A magnificent individual goal from midfielder Joe Cole just past the hour mark made it 2-0 and Ricardo Carvalho finished off a sweeping move with a fierce shot after 73 minutes to put the title party in full swing.
Manchester United's misery was compounded ten minutes from time when Rooney was stretchered off with a foot injury and is now a doubt for England at this summer's World Cup.
Oh well.. I've been saying this for the past 3 years... Maybe next year...

I'M BACK!!
Wednesday, April 26, 2006
Yikes..! I've been on a one month hiatus! Been really really busy at work and things are not really improving.
I'm having a really interesting 2006 so far... work, work and work. Was busy in my company with a merger... and to make things worst, I was down with a cold due to the seasonal changes (yeah... getting cold at night)... and things didn't get better this morning as we found out that there's an industry restructure in the State of Queensland (more work and more uncertainty!)
Oh well... that's life! Hopefully things will start to cool down... but from the looks of things.. it ain't getting better.
Anyways, I noticed I haven't done any funny signs lately... here's a good one...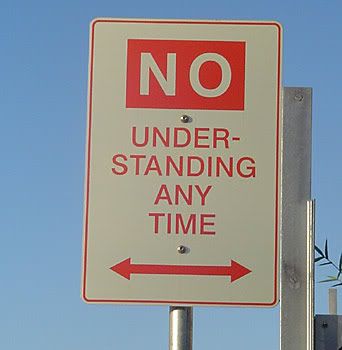 hmm...

F1: Alonso wins (again!) Melbourne GP 2006
Sunday, April 02, 2006
22 drivers, 12 finishers, ten retirements, four Safety Cars and only one winner... no surprise: Renault's Fernando Alonso. What a chaotic Australian GP!
Fernando Alonso won the race by less than two seconds from the McLaren of Kimi Raikkonen. Ralf Schumacher was third, scoring his first podium of 2006 for Toyota. BMW-Sauber's Nick Heidfeld was 4th while Giancarlo Fisichella capitalised on a last lap, second last corner blow-up from Jenson Button to snatch 5th place. Meanwhile, Ferrari had a bad weekend after both Massa and Michael crashed out. I reckon Michael crashed out in a spetacular fashion after he pushing his car beyond its' capability.
Ohh.. Kimi Raikkinen never fail to crack me up during press conference. This is what he said:
Yeah at one of the restarts I overtook Jenson and I locked up the inside wheel at turn one I still managed to stay ahead of him through corners one and three but fortunately even with the vibration and a front tyre the car was still quite quick and I was able to keep up with Fernando but then suddenly I think we lost part of the endplate because of the vibration I was quite slow at that point but luckily during the safety car period we had enough time to change the nose after that I think the speed was there in the car to really fight for victory but my little mistake cost quite a lot in the end and also there were some lapped people always between me and Fernando but the car is quick if we get a proper race without any problems I think we should be able to fight for wins and then we will see what happens.
Yeah.. all that in one sentence.. no kidding!