My twitter Updates

F1: Only mathematical chance for Kimi now
Monday, July 25, 2005
Fernando Alonso's sixth victory of the season in the German Grand Prix at Hockenheim puts him 36-points clear of arch-rival Kimi Raikkonen as the Finn's title hopes went up in smoke.
Nonetheless Kimi's team-mate, Juan Pablo Montoya battled through from the back of the grid after his qualifying crash to finish second ahead of BAR's Jenson Button, who out-duelled Michael Schumacher with an excellent overtaking move.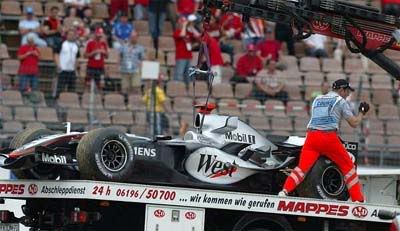 Once again, reliability seems to be Kimi's misfortune. Altough, Kimi did everything right the whole weekend and was enjoying a comfortable lead when, his McLaren suffered a terminal technical fault. It's his third this year and what lousy timing!
So, where are we at the drivers' champisonship?
Pos Driver Points
1 F Alonso (Spa) 87
2 K Raikkonen (Fin) 51
3 M Schumacher (Ger) 47
4 JP Montoya (Col) 34
5 J Trulli (Ita) 31
5= R Barrichello (Bra) 31
7 G Fisichella (Ita) 30
8 R Schumacher (Ger) 26
9 N Heidfeld (Ger) 25
10 M Webber (Aus) 22
11 D Coulthard (GB) 19
12 J Button (GB) 9
13 F Massa (Bra) 7
14= A Wurz (Aut) 6
14= T Monteiro (Por) 6
14= J Villeneuve (Can) 6
17 N Karthikeyan (Ind) 5
18= C Klien (Aut) 4
18= P de la Rosa (Spa) 4
18= C Albers (Hol) 4
21 P Friesacher (Aut) 3
22 V Liuzzi (Ita) 1
There is still a mathematical chance that Kimi can win the Drivers Championship and stop Alonso becoming the youngest ever world champion this year but it's gonna be difficult... still, you never know, keep your fingers cross!
0 Comments: