My twitter Updates

Photo Album Updated: Cardiff
Thursday, July 27, 2006
I've FINALLY updated one photo album. Better late than never I reckon.
I'll upload the others, London and Paris once I find time to resize and select over 200++ photos to be uploaded.
For now,
Cardiff, Wales

Tuesday, July 25, 2006

Moving office...
Ahhh.. no more crummy govt building. Due to the privatisation of my current company, we will be moving to the financial side of Brisbane. WooHoo!
31st floor, babeeee..! Yeah, will be able to enjoy the view of the Brisbane river and obviously the whole of Brisbane.


Slideshow of my June trip
Friday, July 21, 2006
I've compiled and uploaded a slideshow of my Euro Trip from last month...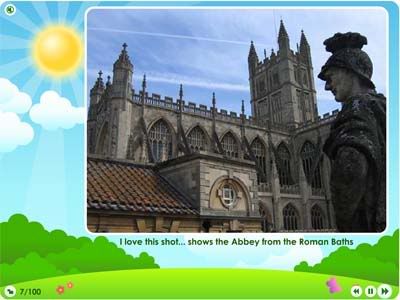 I've put up two links 'cos of the hourly bandwidth restrictions these free homepage portal impose on us free users. Here we go... file size is approx 3mb.
http://ivanchoe.googlepages.com/My_Trip_2006.html
http://www.geocities.com/ivanchoe/My_Trip_2006.html

The World and Zidane's headbutt
Tuesday, July 18, 2006
Zidane's World Cup headbutt incident has created a huge hype on the internet. Many were parodies... I reckon this has gotta be the best:



Hilarious!

Busy, busy, busy...
Thursday, July 13, 2006
The work just keeps on coming.. hahaha.. I can't believe this, just last month this time... I am walking in the streets of London, checking out those museums and catching the tube to the Millemium Eye.

Now, I'm just sitting in-front of the computer staring at the Excel spreadsheet... depressing... heh heh!

Italy wins the 2006 World Cup
Sunday, July 09, 2006
Italy are world champions for the fourth time after beating ten-man France 5-3 on penalties after a 1-1 draw in Berlin's Olympiastadion.
Twelve years after losing to Brazil in the first shoot-out in a FIFA World Cup Final, Italy made up for that heartbreak as all five men in blue converted their kicks to claim world football's greatest prize for the first time since 1982. For France the pain of defeat was compounded by the sight of Zinedine Zidane, on his last appearance as a professional, leaving the field having been sent off in extra time for headbutting Marco Materazzi.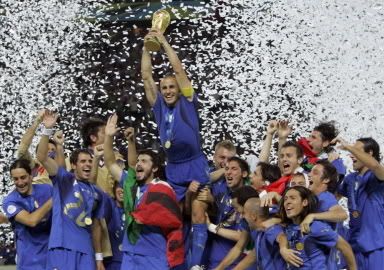 The match:
6': This Final began with the most extraordinary of opening goals after Materazzi was adjudged to have illegally halted the progress of Malouda as he hurtled into the box. The resultant penalty saw two adidas Golden Ball candidates face off, and it was Zidane who prevailed, if only just, with an impudent chip that deceived Buffon, but rebounded off the underside of the bar and dropped down no more than a foot over the line. (0-1)
9': Materazzi, perhaps unsettled by his role in the French goal, came perilously close to doubling Les Bleus' advantage - and his own misery - when he glanced a Willy Sagnol cross into the side-netting with Buffon scrambling frantically across his line.
14': With Andrea Pirlo's set-pieces as dangerous as ever, Lilian Thuram showed admirable bravery to dive in and head one particular out-swinging free-kick behind for a corner, this from a position which could easily have seen the Juventus defender put through his own goal.
19': Italy hauled themselves level thanks to a potent combination of Pirlo's dead-ball mastery and the aerial ability of Materazzi, as the latter gained spectacular redemption for his earlier blunder by towering above the French defence to bullet the former's corner past Barthez. (1-1)
35': Some neat, one-touch interplay by the Azzurri on the edge of the French box gave Toni his first scent of goal, but Thuram slid in decisively to make a last-ditch saving tackle. France's defence again struggled to deal with Italy's height and power from the resultant corner, however, and Toni headed yet another pinpoint Pirlo cross against the crossbar.
France assume control:
47': Henry started the second half in threatening mood, breaking into the Italy box but failing to trouble Buffon with his shot.
49': As in the first period, however, Italy looked threatening from a corner as Totti swung in the ball towards the head of Cannavaro but his effort was blocked by a defender and France survived.
50': Henry showed remarkable balance to carry the ball past three defenders but he could not pick out a white shirt with his low ball across goal, Zambrotta clearing the danger.
58': Despite the loss of Patrick Vieira with an apparent hamstring injury, replaced by Alou Diarra, France continued to take the game to the Azzurri. Lippi responded by sending on Daniele De Rossi and Vincenzo Iaquinta in place of Francesco Totti and Simone Perrotta.
62': France breathed a sigh of relief when Toni headed a Pirlo free-kick past Barthez only for the linesman to raise his flag for offside. Moments later at the other end, Henry, under pressure from Cannavaro, found the space to get in a shot but Buffon made the save.
72': Toni turned on the edge of the box and forced Barthez into a low save but the Italian had controlled the ball with his arm before letting fly.
78': As the clock ticked down, the game became increasingly scrappy with neither side enjoying any sustained possession. Pirlo was not far off target with a 25-yard free-kick, curling the ball narrowly wide of Barthez's right-hand post.
90': Come the closing moments of the match, and despite the introduction of Alessandro Del Piero, it was Italy on the back foot but for all their probing, France were unable to open up the Azzurri back line.
Extra time:
100': Ribery created and then spurned the first opportunity of the extra period. He played a wall pass with Malouda on the edge of the Italy box and continued his run into the area before poking the ball just wide of the far post.
104': France were dominating and Zidane was denied a second goal only by the excellence of Buffon. The French No.10 slipped the ball out wide to Willy Sagnol and then met the ensuing cross with a firm header but Buffon tipped over.
111': Suddenly this Final took another twist as referee Horacio Elizondo brought play to a halt and marched to the other end of the field, where, after consulting with his linesman, he sent off Zidane for an off-the-ball incident in which Materazzi was butted in the chest. A sad way for the France captain to end his glorious career.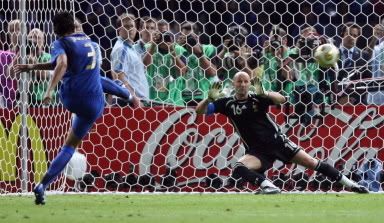 Penalties:
Pirlo, Materazzi, De Rossi and Del Piero all converted their spot-kicks for the Azzurri but although Sylvain Wiltord, Eric Abidal and Sagnol found the net for France, Trezeguet's miss from France's second penalty let in Grosso to win the Trophy for Lippi's side.

World Cup Finals: France vs Italy
Friday, July 07, 2006
Looks like it's gonna be a repeat of the EURO 2000 finals... France vs Italy!

I reckon this is gonna be a close one. We'll see!

GTA inspired Coca Cola ad
Thursday, July 06, 2006
Hahaha.. it is no secret that I LOVE the Grand Theft Auto series. GTA: San Andreas especially, blew me away... Anyways, found this awesome ad on youtube and I being a big fan of the game, I HAVE to put this ad up...



Been really busy at work... until it's not funny anymore...

Monday Blues....
Monday, July 03, 2006
Back at woorkkk... This will need getting use to... after one month of non-stop football action and irregular sleeping hours, waking up for work is gonna be quite a trick...


Dang... France 1, Brazil 0
Sunday, July 02, 2006
Thierry Henry's volley sent holders Brazil out of the World Cup as France moved into the semi-finals. France were the better side in the first half, but failed to create clear chances to trouble Dida.
That changed just before the hour when Zidane swept a free-kick to the far post where it was sumptuously volleyed past the Brazilian goalkeeper by Henry.
Here's an analysis I got from email on why Brazil lost: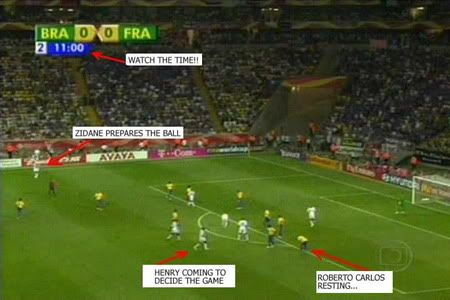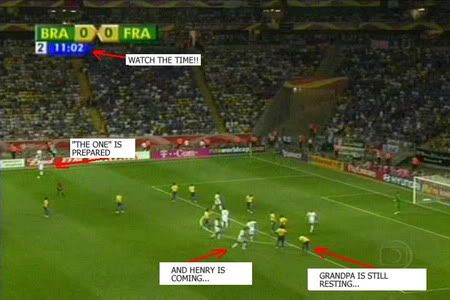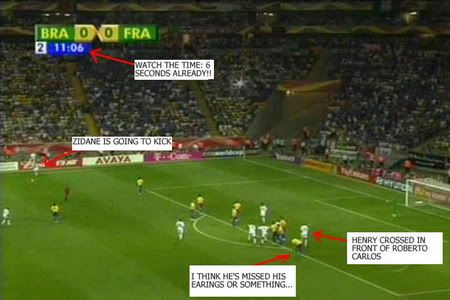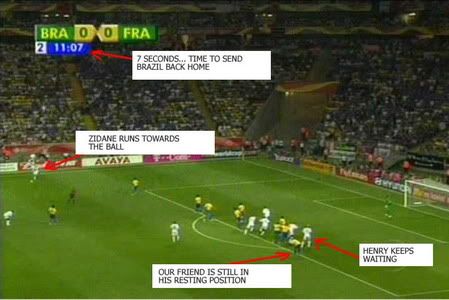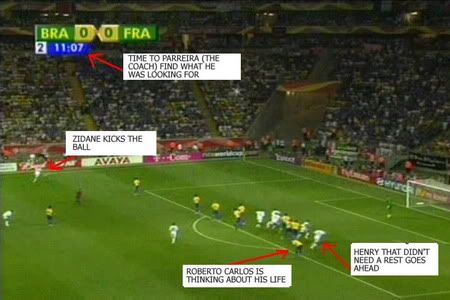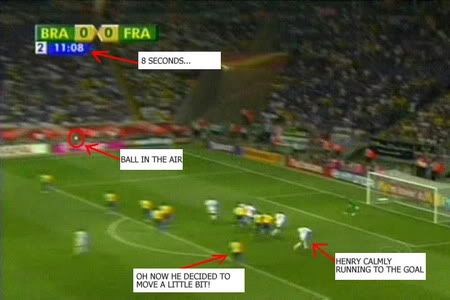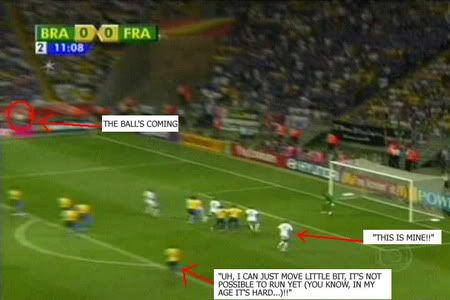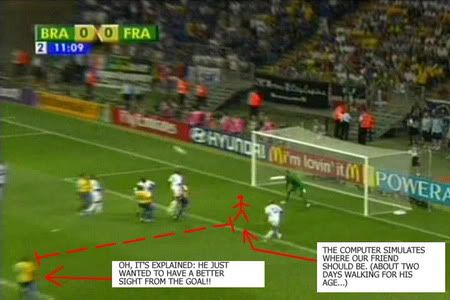 Back in Oz
Saturday, July 01, 2006
Yow!!! How fast does time fly? I can't believe that it's been a month already since the first day of my hols!
Back to the nice cool winter weather here in Brisbane... and of course... back to work on Monday...