My twitter Updates

Attack of the Toilet
Tuesday, February 28, 2006
It's another round of month-end for me! It's like a vicious cycle... sigh...! Haven't really been up to anything lately really... except the fact that I've passed the second accreditation exam. hehehe.. total relief!
Oooo.. I've found something quite hilarious; THE ATTACK OF THE TOILET!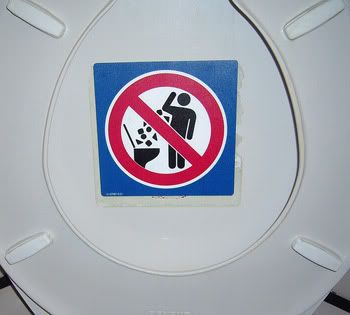 Moral of the story: Don't mess up the toilet, mate!

The Amazing Thierry Henry
Sunday, February 26, 2006
Arsenal's Thierry Henry goal against Real Madrid in the Champions League match on the 21st February was AWESOME! I am not an Arsenal fan but this goal is just beyond words...
Thierry Henry struck seconds after half time amidst the capacity crowd of 80,000, as Arsenal became the first British side to win at the Bernabeu against the Spanish giant Real Madrid in the first leg of their Champions League knockout tie.
The French striker surged past four Real challenges and punished the limp defender with a left-foot finish across Iker Casillas to give Arsenal victory in the first ever-European meeting between the two sides.

News from Iraq
Thursday, February 23, 2006
bwahahahaha!! This is hilarious! Made my day, mate! Enjoy!


Australian Army Hunting Flasher
Wednesday, February 22, 2006
whahaha... I think this is HILARIOUS!

The Australian military police are hunting for a well endowed serial flasher nicknamed "Donkey Dong" who is terrorising underwear salespeople. The supposedly well-endowed flasher, who wears army uniform, has been labelled "Donkey Dong" by some city retailers.
Several clothing and sporting retail outlets have been targeted over the past six months by the unidentified pervert, who calls shop assistants into the change room to see if his tight underwear "fits".
The most recent retail outlet to be targeted by the mysterious flasher received a visit on Valentine's Day.
"I thought it was one of my mates having a joke on me because we sometimes send each other fat-o-grams or something on Valentine's Day when he called me in to the changing room and I saw it," the shop assistant said.
"He has been in here four times and apparently he always tries on the same pair of red undies. I didn't really know what to say when he asked me if I thought they fitted him.
"It looks real and it's so big, it winds all the way down his leg and I wasn't sure what to do so I just went and got him a bigger pair. We call him Donkey Dong in here. He never buys anything and walks out saying that everything in the shop is too small for him."
Another favourite form of clothing for the serial flasher is bicycle pants, which reveal him in all his glory. One retailer who outfitted the man with a pair of bicycle pants recently said he revealed himself to her. After getting a good look, she believes the serial flasher may be using a stocking to fake his credentials.
"It fell out of his pants and he said, `That's so embarrassing, it happens all the time'," she said.
A Department of Defence spokesman yesterday confirmed military police have spoken to retailers and are analysing surveillance footage to try to identify the man. Source: news.com.au


It's been awhile!
Tuesday, February 21, 2006
wahahaha.. it's been awhile since I've posted anything..! Yeah.. been really really bz at work. You wouldn't believe it! Things just come one after another! sigh...

Anyways, nothing really new with me except that I am already starting to plan for my hols in JUNE! yeah man! hahaha... Guess I just need a break.

Will post the details once I get things sorted out... heh heh!

Happy Valentines' Day!
Monday, February 13, 2006
I am not a true believer of Valentines' day and believe it is too commercialised and a big conspiracy by the corporation to earn additional revenue from us guys. Heh heh... nonetheless, don't let me spoil this special day...
Happy Valentines' Day!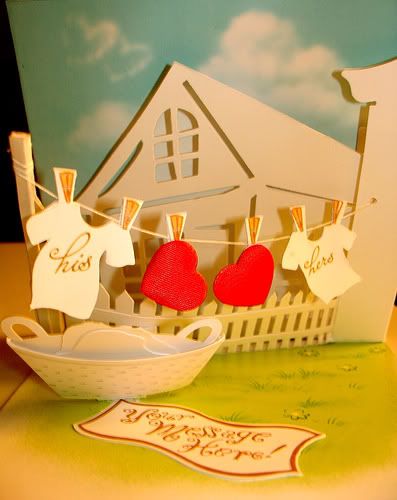 Love is the enchanted dawn of every heart.
- Lamartine

What a week!
Saturday, February 11, 2006
Sighh.. been really really busy since 2006 started, hence the lack of updates in my blog. One of my colleague went AWOL and thus, ended up doing 2 persons' job for the week... to make things worst, there are just so many ad hoc task I need to complete.. arrghh! To add salt to the wound, I hafta study for my exam on Monday... sigh!
Glad I made it to the weekend! :) Here's what I feel like currently: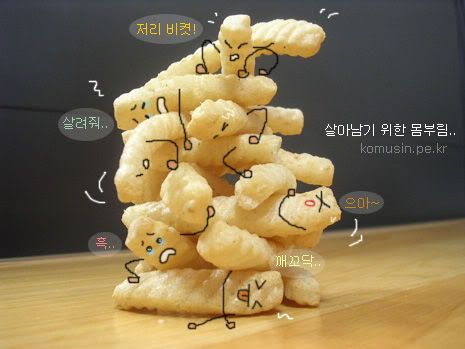 Ivan's Korean translation:
the struggle to survive

Nudist Beach
Tuesday, February 07, 2006
Hahaha.. I found this picture online and I think is hilarious!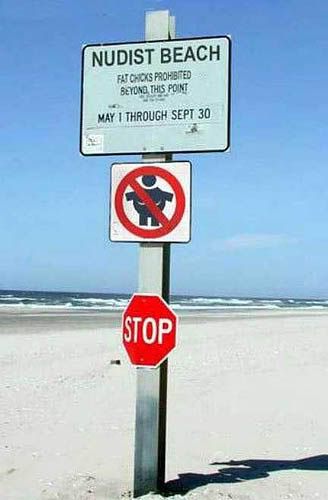 Q1: The World's tallest residential building
Thursday, February 02, 2006
Ugh! Can you believe it? It's FEBRUARY already!!! Time flies! Anyways... I have been really bz lately and thus the lack of updates.
Regardless of my hectic-ness... I managed to do a write up of Q1... the latest addition to Gold Coast's skyline;
At level 77, the observation deck of Q1- the world's tallest residential tower, you can see right along the Gold Coast, south as Byron Bay and north to Brisbane.
Just opened a month ago, the Q1 apartment resort is set to become one of Australia's sought-after destinations. There are 526 one-, two- and three-bedroom luxury apartments, 150 of which have already been set aside for serviced holiday rentals. Within the next 12 months, that figure is expected to rise to 250.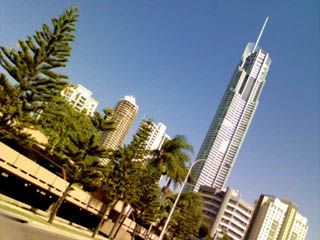 Every apartment comes with an underground car space. There's also 24-hour reception with a concierge, and rooms are cleaned daily. Together with Palazzo Versace down the road (built by the same developer), Q1 raises the bar in Surfers Paradise to a whole new level.
Q1's apartments are ultra-contemporary, with white walls, clean, sleek lines and modern designer furniture. All have gourmet kitchens, full laundries, and huge bathrooms with spa bath.
But it's the views that win the prize. Our apartment was on level 38, a little less than half-way up, yet we had a panoramic ocean and hinterland vista from every room, especially the funky, glassed-in balcony. It was wonderful to lie back in bed at night and watch the sparkling Gold Coast lights.
An impressive aspect of Q1 is that it's possible to stay there without ever needing to leave the property. For a start, there's the high-definition cinema on level two. You can hire it for the family for just $15 for three hours. The theatrette has a capacity for 12 people, and you'll be seated in groovy, red reclining chairs. There are 200 DVDs to choose from at reception.
Then there's the retail area on the ground floor. It was still being touched-up and will be opened soon.
A highlight will be the Absinthe restaurant, run by a Michelin star-rated chef formerly of the Franklin Manor, in Tasmania. The tower itself is surrounded by more than a hectare of beautifully landscaped grounds.
There are two lagoons, one with its own beach surrounded by tropical gardens of pandanus, bamboo and cordylines. Adjacent to the beach are the covered barbecue facilities, with outdoor settings, a perfect place for families to enjoy their dinner. If you can't be bothered cooking, there's always the lagoon-side Beach Club Cafe, which specialises in casual alfresco dining.
There's also a fully equipped gymnasium, a heated indoor lap pool, a jacuzzi and his and hers steam and sauna, ganes room for the kids and a sky bar if you fancy coffee, cakes and light snacks at a high altitude.