My twitter Updates

8tv's Latte @ 8
Friday, April 22, 2005
Managed to catch Latte @ 8 in Sunway Pyramid last night with some of my ex-colleagues. We've been planning this outing for quite awhile and finally, we made it for the show.
I must admit that 8tv's Latte @ 8 was quite entertaining. This one hour talk show (a Letterman wannabe) starts at 11:45pm and it's held outside Sunway Pyramid's Starbucks. We arrived at a quarter past 11 and managed to get a place to sit at the far side of the main stage. The place was relatively packed and there were ppl standing all around to catch the show. The host Jason Lo (radio DJ, singer, producer and host) was not too bad... cracking joke on taxes and the casino situation in Singapore. He is funny at times but most of the time, he just tries too hard to be funny. Good job, nevertheless.
Overall, the show was entertaining except for the guests selection. What a waste! On a good guest day, I am sure the show will ROCK! I enjoyed myself and so did my colleages. If you have nothing to do on Thursdays night... make time and go catch Latte @ 8.
Here's a pic of me with host, Jason Lo.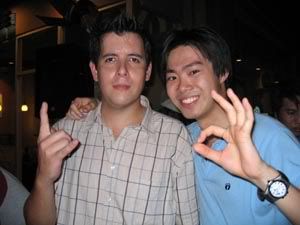 3 Comments: