My twitter Updates

Aaron Kwok and Gang - Berjaya Times Square
Wednesday, April 27, 2005
I was at Berjaya Times Square yesterday to catch the live appearance of Aaron Kwok, Gallen Lo Kar Leung, Lee Sin-je and director Benny Chan to promote the latest HK action thriller,
Divergence
.
Yeah, since I have so much time on my hands nowadays, I thought I would just go and have a look. The meet-and-greet session was suppose to start at 8pm and to avoid making the same mistake that I made for
Jackie Chan's meet-and-greet
, I arrived at 7:45pm. However, the special guest did not make their appearance until 8:20pm. Meanwhile to keep the fans entertained, the emcee (MY FM announcers) were having Q & A to give away free gala premiere tickets and movie posters for correctly answered questions.
20 minutes later, the special guests made their appearance, answered a few questions presented by the emcee and played a few games with 'selected' audience - it was all over in 8-10 minutes.
One thing I noticed was that Aaron Kwok, besides being short, is not as buffed as I thought he would be in the movies (special effects maybe? :P). He is actually quite skinny. Another thing I noticed is that, Lee Sin-Je is extra skinny... she walks with a hunch.
Following that, the stars are then ushered to the gala premiere in GSC Times Square. I've managed to take a couple of pictures and will upload them tomorrow to my photo album. :)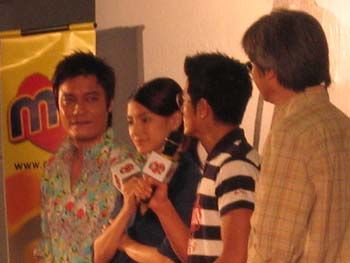 0 Comments: