My twitter Updates

Hidden message behind Telekom's new logo
Tuesday, April 19, 2005
So, it's been almost a week since Telekom Malaysia 'rebranded' their identity to TM, and this of course came with a cost of almost RM8 mil to RM9 mil. Ouch!
What does the logo actually translates to?
The new logo with the alphabets "TM" which symbolizes the Group identity comprises three vibrant and distinct colours of orange, blue and red drawing in synergies within the Group. Orange denotes the vibrancy as exhibited by our young multimedia subsidiary TM Net while the red draws upon the liberating identity of Celcom, TM's mobile arm. The letter "TM" together with these new colours projects the new image of the TM Group as an emphatic, bold, vibrant and passionate organisation.
Ok, I actually took the time to do some investigating on my own.

Yup, here is the new logo from the TM website.

hmmm.. there seem to be something with the logo I can't figure out. I'll zoom in on this portion and investigate further.

Using the old invert colour trick, the colour is inverted and yikes!
s
T
rea
M
yx
actually appears! Spooky..!

There must be something else here.. I'll blur the image and wait.. there are 3 blur squares right below the bird-looking stripes.

I'll sharpen it and.. it looks like $$$.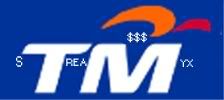 Let's zoom out to get a clearer picture... So, we'll see the whole logo, sTreaMyx $$$?
From what I gather, it probably mean that TM means STREAMYX and with an inconsistent quality of service, users are just letting their $$$ fly away. :P
hahaha.. guess I have too much time on my hands.
Anyways, I reckon that RM8 mil- RM9 mil is a big waste of money for the 'rebranding' and TM should have just used the money to upgrade their systems or thier customer service personels. :P According to the press release, TM planed to develop its new brand identity and at the same time aspires to transform itself into a competitive global player. Well, we'll look and see...
9 Comments: