My twitter Updates

Letter: My last day of work
Monday, April 18, 2005
Wow! Today is my last day at work with my current job... how time really flies! Anyways, I'll share with you the farewell letter that I wrote to my colleagues. ;) Hope this will shed some light to where I am heading off to.
Dear Friends and Colleagues,
Today is my last day at work. This will be my last opportunity to correspond with you for sometime. The boxes are packed and I'm ready to leave soon. I would have let you known sooner, but circumstances dictated that this was not possible. An exciting new job opportunity was offered to me last week and I needed to make a quick decision in order to secure this new position.
Believe it or not, I have decided to go and manage a football team ... I realize that this may come as a shock, but I have always secretly harbored such a desire. I got some old friend's to pull some strings and its finally a reality. I could not turn down this once in a lifetime opportunity to fulfill my personal dream.
The team is based in northern Brazil. This is a very poor and remote area of the country with the nearest city being some 200km away. They required a coach to work at the minimum expense. The team seems to be very promising.
Communications in the area are primitive even by our standards, the infra-structure antiquated and living standards are very basic. On top of this, the area is frequent by torrential rainstorms. Despite all this I am looking forward to the challenges ahead. It can only make me harder.
One of the main aspects of the job is to stay in close contact with the team, day and night. A close contact relationship is essential. We will adopt an Italian style closed training camp regime with no outside contact, except when playing our games. This will give me ample opportunity to focus on individual players ability and the team as a whole.
Both the players and myself appreciate that we must be prepared to give as well as receive. I look forward to the close and intense bonds that this will hopefully create.
The postal service is bad, telephone network often is down and internet facilities are non existant (Bummer!). So please forgive me if you hear very little reply when you try to contact me ...
Wish me luck !!!! Come and visit me...ok???
For those interested I have attached a team photo. Just look at that spirit.
Regards,
Ivan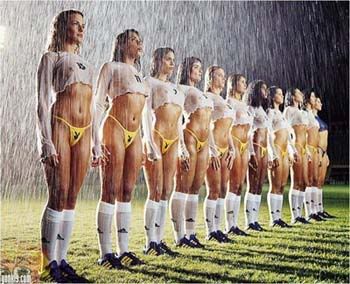 :P what a waste I didn't send this. It would've been a bomb!
6 Comments: