My twitter Updates

Malaysian Idol: Grand Finale Results Show
Monday, October 11, 2004
Wow.. Got the tix last minute and next thing I know, we're (4 of us) on the way up to Genting Highlands. We arrived at the Arena of Stars at about 6:45pm and we managed to get a seat 2 rows behind Jac's mom. :P hahaha.. pretty good seats I would say. The stage looks even more impresive compared to what you can see on TV.
Anyways, the crowd started to pour in around 7:30pm which includes the 8 other finalist and the ever-popular judges who got a big applause when the walked in. The pre-results show kicked off with at 8:15pm with a video presentation of the auditions, the workshop and the spetaculars show. It was very entertaining with the audience laughing at some really bad singing and the judges reaction to that. The video presentation was really really well done!! What's a show without singing? The organizers got some 'failed' contestants from the auditions to sing. The highlight was the red cross guy (forgot his name) who did exactly what he did on auditions. Ouch.. you should see Paul Moss, his head was on the table the whole time.. haha..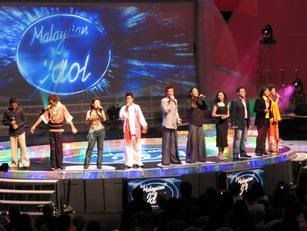 The results show started at 9pm with a medley of the 10 finalist followed by a duet by the 2 finalist, Dina and Jac. From my observation, there seem to be more Jac fans in the Arena compared to Dina. The cheers for Jac was just deafening. Wouldn't blame Jac for the superb performance she did the night before. On other things, Jien the host really got the crowd going with his off-the-screen antics. Can't say much about the co-host tough, she's usually not there when the commercial breaks are on.
30 minutes later, the results were announced and Jac, as expected became the first ever Malaysian Idol. She then sang the song, Gemilang, which practically nailed the votes for her the previous night. Overall, the reaults show was highly entertaining and the crowd was great, the lighting was great, the stage looks great, the settings was great and the performance was great. I only had one complain, the sound. :P The band was actually louder than the singer and there was feedback quite a couple of times when Dina was singing. :O
That's it, the end of Malaysian Idol Season 1. It's been a really entertaining series, with a really entertaining Auditions, the top 100 and top 33 show was a little boring and slow, however, it picked up momentum as it geared towards the finale. Very well done show I would say and would be looking forward to the next season.
For the photo album,
Click Here!
0 Comments: