My twitter Updates

One Utama's Initial D Movie Carnival
Thursday, June 23, 2005
The Initial D Movie Carnival was held in One Utama's open air car park (new Wing). There were drifting demonstrations by R3, Street Shootout Champs, display of Japan GT race cars, modified cars and the Toyota AE86 Trueno used in the movies and appearance of the movie cast and not forgetting the race queens as well.
I arrived at One Utama around 5++. Later than expected due to bad traffic!

Nonetheless, had no trouble making my way to the open air car park and you can see the crowd around the Drift area. As expected, the crowd were mostly teenagers hoping to see their idol- Jay Chow, Shawn Yue or Edison Chen (pick one).
I hung around the drift area for 10 minutes and noticed that nothing is happening and then made my way to the exhibiton area. Not bad I would say... there were many cars and parts on display. There were crowd around the Digi booth hoping to get free movie posters and other freebies.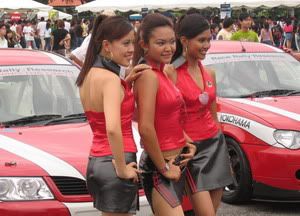 Nothing really exciting and IMHO, the young crowd were there to catch a glipse of the cast. I guess it's rather hard to see the stage from anywhere due to the distance. It was until 6pm that the announcer informed the crowd that the cast will only take stage at 7:30pm.
I hung around till 6:20pm hoping to get a glimpse of the drift competition but nothing started. I then made my way up to the multi-storey car park to have a better view of the event.
At around 6:30pm the event started with modified cars taking on the track. Some cars were excellent to watch and some were just... funny. Especially when a mini (looks like Mr. Beans' car) came out... everyone cheered/laughed... the driver misjudge a corner and did it did a 360. What a sight!
As the stage was beyond the visual range, I didn't bother waiting for the cast and head off for dinner.
Click Here!
for the photo album.
0 Comments: