My twitter Updates

Movie review: Initial D
Thursday, June 23, 2005
Adapted from the successful Japanese anime/manga, Initial D follows the tale of Takumi (Jay Chou) who delivers tofu in his father's Toyota AE86 every morning. After five years, not only has he become a good racer, he perfected the art of drifting as well!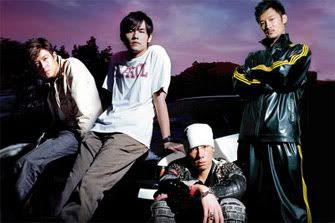 Initially, I had the perception that the producers of the movie was banking highly on Jay Chou's popularity, but after watching the movie, that was not the case. Other actors such as Edison Chen, Anne Suzuki and Shawn Yue were impressive in the movie. They add to the 'cool' factor of the movie. Other actors such as Chapman To and Anthony Wong out did themselves in this movie and added a touch of humour to the movie. Of course for first time actor Jay, he did a fabulous job potraying the clueless/shy Takumi. Good all round cast I would say.
The best part of the movie is the race/drifting action! The well planned camera angles put the audiences right in the heat of action! Visually, this is the best racing action I've ever seen on the silver screen. The effects are done just right and nothing too elaborate to make it look unrealistic (like the Fast and the Furious). Futhermore, the scenery are just breathtaking! The aerial shot of Mt. Akina shows how the serene country side can be turned into a race/drifting track.
What's a movie without a soundtrack? The music for suits the movie well with a few rap and R&B number. The fast paced music during the race adds to the excitement without drowning the sound of the engines and the tyre screeching as the cars race downhill. Well done in the sound dept (wish the cinema had a better sound system!).
Overall, an excellent movie! One of the best I've seen this year and I really enjoyed it. It has Good story (although it doesn't follow the actual manga script), well rounded cast, excellent sound and visual effects to keep you on the edge of your TGV seats. I guess if you're into cars or a race fan, I highly recommend this movie. If you're not, go anyways... you'll enjoy it.

Ratings (Scale of 1 to 5, 5 being the highest)
Cast : 5
Sound : 5
Picture : 5
Storyline: 4.5
OVERALL : 4.8
1 Comments: