My twitter Updates

Things to do during the Haze
Thursday, August 11, 2005
ugh.. I still have not receive my work login and thus, still no connection to cyberspace.
Just read from TheStar online that the air quality levels throughout the Klang Valley have reached levels considered hazardous to health. With that, the government announced a haze emergency for Port Klang and Kuala Selangor until a date to be announced in the future.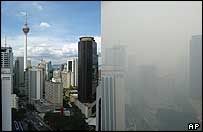 If you're living in those areas, here are some things to do during the haze season.

Play hide and seek!

Pretend you're in Genting Highlands and open a casino in-front of your house.

Shout Fire, Fire!

Enact Battle of Helms Deep from Lord of the Rings.

Camera's won't work... speed on the highways!

Go up to your neighbours and tell them you lost your way and need direction back home.

Starlight Hazy Cinema anyone?
1 Comments: