My twitter Updates

King George Square Market
Friday, August 05, 2005
During the weekends, there will be several markets around the city. Most of the time, these are arts and craft markets. Unlike the 'pasar malams', which carries a wide range of relatively cheap perishable and non-perishable goods, these markets carries mostly paintings, 'designer' clothing, crafts and some food stuff.
The food stuff are mostly 'European' finger food, like hotdogs, Greek yoghurt, Danish pancake... The picture below is from the King George Square Market which is relatively new and thus, still small in size. It is located right in-front of the city hall clock tower.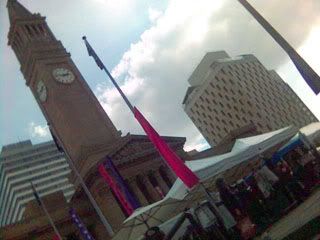 Going to all these markets make me miss the pasar malam back home. Those yummy eateries and cheap audio cds and movie DVDs.... sighs...
0 Comments: