My twitter Updates

F1: Kimi's back in the hunt!
Monday, August 01, 2005
After
last week's
disastrous Grand Prix weekend, Kimi's dream of winning the World Championship was revived after winning the Hungarian GP yesterday while Championship rival Fernando Alonso failed to score any points.
Kimi, who started the race fourth on the grid, managed to jump and took the lead from race leader Michael Schumacher in the second round of pit stops. Michael admitted that Ferrari threw away victory by bringing him into the pits a lap before Kimi. The two rivals were forced to second-guess each other's fuel plans, with whoever stayed out longer before a second stop destined to seize a crucial advantage.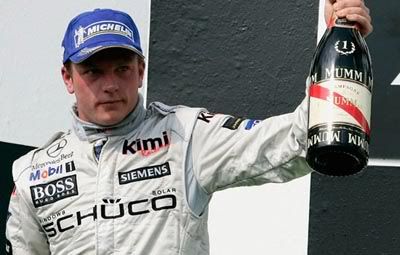 Meanwhile, Montoya who was leading the race at one point, suffered a gearbox problem and had to retire leaving Kimi to claim the win by more than half a minute from Michael. This race also marks Michael's brother Ralf his first podium for Toyota with a third place (finally!).
With six races to go, the Championship is still wide open and if the Hungarian GP results persists, Kimi can still fight for the Championship! Excellent! See you in 3 weeks.
Here's the what the Top 10 Drivers' World Championship standing look like after yesterdays' results.
1 F Alonso (Spa) 87
2 K Raikkonen (Fin) 61
3 M Schumacher (Ger) 55
4 J Trulli (Ita) 36
5 JP Montoya (Col) 34
6 R Schumacher (Ger) 32
7 R Barrichello (Bra) 31
8 G Fisichella (Ita) 30
9 N Heidfeld (Ger) 28
10 M Webber (Aus) 24
1 Comments: