My twitter Updates

DIY: Wii Accessory
Monday, July 09, 2007

Welcome to the first
and last
DIY post. Today we're gonna teach you how to make your own Wii accessory... the
useless
Wii tennis racket which is suppose to authentically recreate the experience of swinging the real thing. This accessory will set you back around AUD15. So here's something that will help you save some mulahs!
Here's what ya need...
6 Elastic Bands
1 Wii-mote
1 Badminton / Tennis racket
Here's how the final product will look like... oh here's a disclaimer... if you're below 18, get your parents' permision. Also, try this at your own risk, we're not responsible injuries/damages/destructions around you or persons/things around you. ;P
Here's close up view;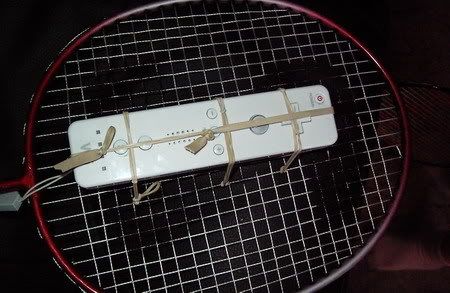 If you dun have a badminton racket, use your tennis racket. I do not recommend squash racket... it's a lil' on the heavy side. heh heh!
0 Comments: