My twitter Updates

Today's weather forecast...
Monday, June 18, 2007

Today's weather forecast for northern Israel: Hot, dry, and a 70% chance of falling rockets
This is in response to at least two Katyusha rockets fired from Lebanon landed near the northern Israeli town of Kiryat Shmona on Sunday, police and Israel Defense Forces said.
There were no reports of casualties, police said. Only minor damage was reported. Video from Israeli television showed a damaged car on the side of a road, it's front bumper crushed and windshield cracked.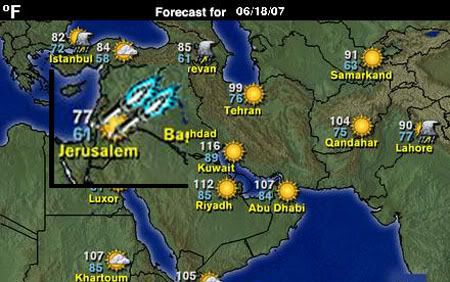 A representative from the U.N. force called the attack a "serious violation of Security Council Resolution 1701 and of the cessation of the hostility agreement" that followed last year's war between Israel and Hezbollah militants.
0 Comments: