My twitter Updates

Blogcast: Australia vs Uruguay
Wednesday, November 16, 2005
UPDATE:
After a waiting for 32 years, Australia stood their ground in front of 82,698 fans and took the game to penalties.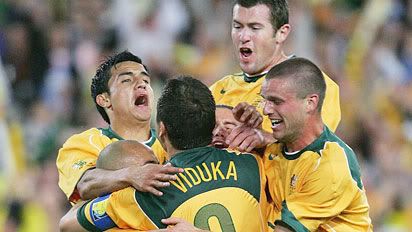 Mark Schwarzer saved twice, from Fabian Estoyonoff and Dario Rodriguez, before John Aloisi tucked away Australia's fifth spot-kick to secure a memorable win.
Coach Guus Hiddink, who is also in charge of Dutch side PSV Eindhoven, now has the opportunity to enhance his World Cup pedigree after taking joint hosts South Korea to the semi-finals in 2002.
Original Blogcast:
The sporting focus of Australian life for the next 12 months will be determined by 22 men kicking a small ball around in the nation's biggest stadium tonight...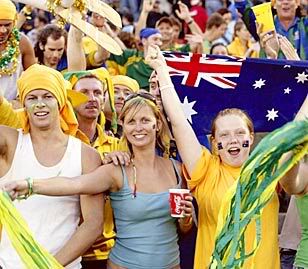 The equation is simple. If Australia beats Uruguay in the decisive World Cup qualifier by two goals or more, the nation, which already whips itself into stratospheric frenzies over rugby, AFL, cricket and the occasional horse race, will have yet another game to shout and argue about.
18:59
Kick-off in 2 mins...! Can't believe that there are so many football fans in Aus! Telstra stadium is PACKED!
19:35
Throw in... Kewell dribbles' into Uruguay territory tries to kick, misses... the ball finds Bresciano and GOAL!! Mark Bresciano SCORES!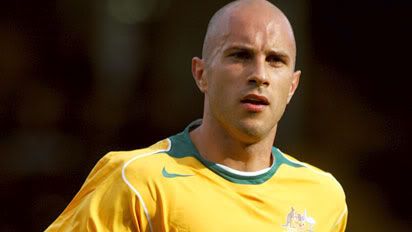 19:48
Whew...! Half time.. what an intense game! So many diving, fouls and free kicks given. Uruguay looks good in the first half with Ricorba wasting a few good chances. But it was Australia who took thier chances well and made it 1-0. It's all squared now!
20:58
Full time with Australia leading by 1-0. It's gonna be extra time and from the looks of it... Austrlia dominated the second half with many chances but unable to convert! Kewell was exceptional since coming out as a substitute and was involved in most of the chances.
21:03
Extra time! Here we go! 30 mins closer...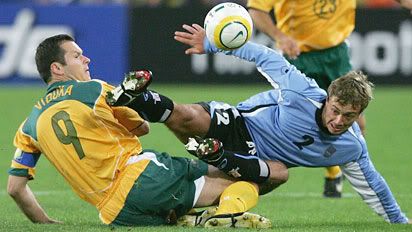 21:33
The extra time ended without any goals and this is it... PENALTY SHOOTOUT!
21:39
Here we go!! Australia will take the penalty first! Kewell takes the penalty.. and GOAL!!! Beautifully placed to the left!!
21:40
Next is Dario Rodriguez... SAVED BY SCHWARZER!!
21:40
Lucas Neil is next... and SCORED beautifully! 2-0 for Australia!
21:41
Gustavo Varela walks up and scored... schwarzer read carefully but was an inch away... WHAT A WASTE!
21:41
Tony Vidmar runs... AND SCORED!!!! 3-1
21:42
Fabian Estoyonoff comes up for Uruguay.... GOAL! 3-2
ughh.. can't take it anymore... 2 more goals to go!

21:42
Mark Viduka steps up... hesitates.... WIDE!!!! oh no! He stares disbelieve and the Telstra stadium looked frazled! Can you believe it? VIDUKA missed!
21:43
Marcelo Zalayeta is next.... Schwarzer's gotta save this...!!! Runs and SAVED!!!!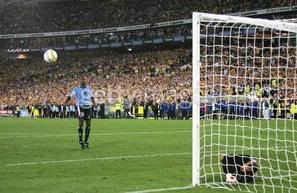 ONE MORE GOAL B4 HISTORY IS MADE...!

21:44
John Aloisi steps up.. concentrates.... runs... AND SCORES!!!!!!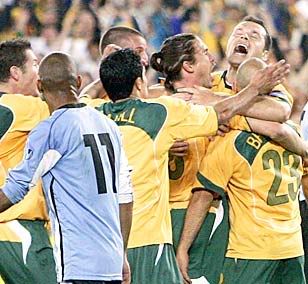 AUSTRALIA IS IN GOING TO GERMANY!!!

2 Comments: