My twitter Updates

Tips: Taking good pic of the A380
Sunday, November 13, 2005
Ok.. to get a good nice pic of a historical event, you need to have a good strategic viewing location. Yep... like what the Donald always stress... location, location and location.
Here's and example, this is a pic taken from the runway...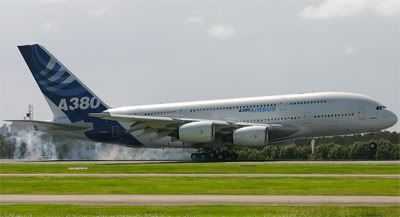 As you can see, the A380 touches down nicely and this whole event is captured nicely on camera. Yep... a picture paints a thousand word.
So to get a photo like this, you need to be at the location at least 2 hours before and get a good unobstructed spot near the landing area. There are over 3000 ppl here, so it is recommended that you park your car some distance away and walk in.. you dun wanna b caught by the
after party
traffic.
As for me... I was at the multi-level car park and
since I came late
, I didn't haf the time to look for 'secret' spots (should have tough.. since the flight was delayed).

Here's the pic I captured...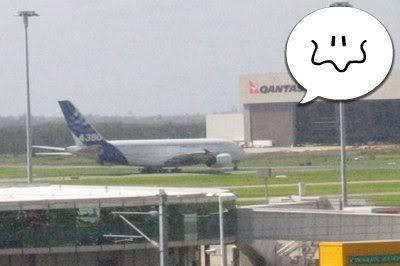 I think it's the A380...

sighh.. the first pic look so much nicer! Come to think of it... it's not THAT bad, considering the effort I took....

If you're interested, here's a site that has a good collection of photo from the event.
Click Here!
0 Comments: