My twitter Updates

This week on, The Apprentice (Season 1, week 5)
Friday, October 22, 2004
I am hooked to this reality TV series. :P It's on every Sunday on tv3 at 10:30pm and repeats on 8tv, Saturday 2pm. In this reality series, Donald Trump has divided a team of 16 job candidates into two teams of eight--men against women--think of Survivor + job inteview. The only difference is that the tribe doesn't vote you off the island. If you mess up The Donald simply fires your ass!
The first four episodes saw the men's team lose four straight times partly because of their inability to work as a team and partly because the women have been able to use sex appeal in their challenges. The challenges so far are selling lemonade, ad designing, procurement and restaurant management.
Anyways with 12 candidates left, I reckon there will be a merge pretty soon. Here's the challenge faced by the candidates this week.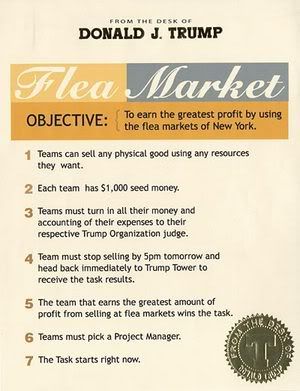 0 Comments: