My twitter Updates

Pizza War: Man Utd v Arsenal
Thursday, October 28, 2004
The rivalry continues off the pitch with this latest article. The Sun, Britain's biggest-selling newspaper joined forces with Pizza Hut to offer its readers tokens for purchasing the newly created
'Flaming Fergie'
and
'Wenger Wobbler'
pizzas.
The creation named in honour of the United boss was described as a
"fiery feast that will knock your head off,"
a reference to Ferguson's notoriously short temper. Anyone eating a pizza bearing Wenger's name was assured of an
"explosive Mediterranean experience"
. Meanwhile, a Pizza Hut spokesman said: "Unfortunately, we are not able to supply any sour grapes."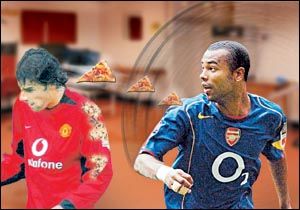 Picture is copyright of thesun.co.uk
This 'invention' came about after England ace Ashley Cole tried to dish up revenge for being fouled by Ruud van Nistelrooy — only for a pizza he lobbed to hit Sir Alex Ferguson.
The pizza man : Ashley Cole
The 'customer' : van Nistelrooy
The accidental 'customer' : Sir Alex Ferguson
The peacemaker : Thierry Henry
The product : 'Flaming Fergie'
: 'Wenger Wobbler' pizzas
The motto : fiery feast that will knock your head off
: explosive Mediterranean experience
: sour grapes not included
0 Comments: