My twitter Updates

TV: Traveler
Friday, June 01, 2007

Here's the question: How well do you know your friends? After spending every minute of the last two years living, working, and partying together, grad-school students Jay Burchell, Tyler Fog and Will Traveler depart on a cross-country road trip.
When an innocent prank at one of New York's oldest art museums coincides with the bombing of the iconic building, Jay and Tyler are conveniently blamed for the terorist attack and realize that their "friend" Will may have been the one who framed them. Unable to find Will or any evidence that the Will Traveler they knew even existed, Jay and Tyler are forced to flee the city and go on the run.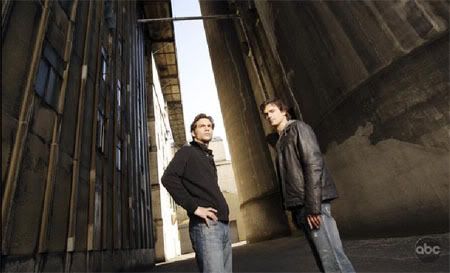 Now, hunted by the F.B.I. as domestic terorists, the friends must rely on each other to elude capture, while trying desperately to prove their innocence by answering two questions -- Who is Will Traveler? Why did he do this to them? Jay and Tyler search for clues both in the present and the past, and slowly unravel a conspiracy that involves their friends and family members and calls into question the very nature of American democracy.
The premier episode was AWESOME - well made and quite gripping, with lots of chase scenes through hotel corridors and rooftops (kinda like 24 style). It's a combination of a few proven Hollywood blockbusters such as The Fugitve, Shooter, Enemy of the State and combining with the cast chemestry of Supernatural and a lil' bit of that Lost flashback formula will make this tense thriller a surprise hit!
0 Comments: