My twitter Updates

Q1: The World's tallest residential building
Thursday, February 02, 2006
Ugh! Can you believe it? It's FEBRUARY already!!! Time flies! Anyways... I have been really bz lately and thus the lack of updates.
Regardless of my hectic-ness... I managed to do a write up of Q1... the latest addition to Gold Coast's skyline;
At level 77, the observation deck of Q1- the world's tallest residential tower, you can see right along the Gold Coast, south as Byron Bay and north to Brisbane.
Just opened a month ago, the Q1 apartment resort is set to become one of Australia's sought-after destinations. There are 526 one-, two- and three-bedroom luxury apartments, 150 of which have already been set aside for serviced holiday rentals. Within the next 12 months, that figure is expected to rise to 250.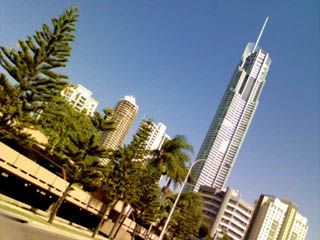 Every apartment comes with an underground car space. There's also 24-hour reception with a concierge, and rooms are cleaned daily. Together with Palazzo Versace down the road (built by the same developer), Q1 raises the bar in Surfers Paradise to a whole new level.
Q1's apartments are ultra-contemporary, with white walls, clean, sleek lines and modern designer furniture. All have gourmet kitchens, full laundries, and huge bathrooms with spa bath.
But it's the views that win the prize. Our apartment was on level 38, a little less than half-way up, yet we had a panoramic ocean and hinterland vista from every room, especially the funky, glassed-in balcony. It was wonderful to lie back in bed at night and watch the sparkling Gold Coast lights.
An impressive aspect of Q1 is that it's possible to stay there without ever needing to leave the property. For a start, there's the high-definition cinema on level two. You can hire it for the family for just $15 for three hours. The theatrette has a capacity for 12 people, and you'll be seated in groovy, red reclining chairs. There are 200 DVDs to choose from at reception.
Then there's the retail area on the ground floor. It was still being touched-up and will be opened soon.
A highlight will be the Absinthe restaurant, run by a Michelin star-rated chef formerly of the Franklin Manor, in Tasmania. The tower itself is surrounded by more than a hectare of beautifully landscaped grounds.
There are two lagoons, one with its own beach surrounded by tropical gardens of pandanus, bamboo and cordylines. Adjacent to the beach are the covered barbecue facilities, with outdoor settings, a perfect place for families to enjoy their dinner. If you can't be bothered cooking, there's always the lagoon-side Beach Club Cafe, which specialises in casual alfresco dining.
There's also a fully equipped gymnasium, a heated indoor lap pool, a jacuzzi and his and hers steam and sauna, ganes room for the kids and a sky bar if you fancy coffee, cakes and light snacks at a high altitude.
0 Comments: