My twitter Updates

F1: Renault dominates 2005
Monday, October 17, 2005
It's over... the 2005 season of the Formula 1 ends with Renault winning both the Drivers' and Constructors' championship. Alonso put on a dominant display as he won his seventh race of the season in Shanghai during the Chinese GP. While obviously happy after the result Alonso says he actually wished he could have won more races.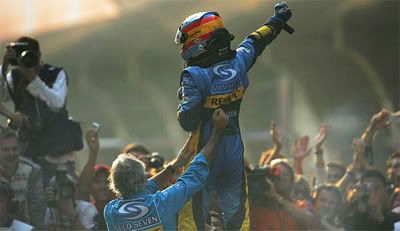 Both he and Kimi Raikkonen have won seven races this season, Alonso's reliability and consistency has ensured that he won the F1 championship by 21 points. Renault arrived in China two points behind McLaren but leave nine points ahead and the 2005 Constructor's Champions. Renaults has failed to match the McLaren for pace this year but in China it had more than enough, literally pulling away from the field early on in the race.
It's been a good year for McLaren and the team has been really pulling it together this year. The team had realibility problem at the start of the season which ultimately costs the team both the drivers' and constructors' championship. Nonetheless, the team has improved tremendously compared to the last season and looking fwd, things look promising.
0 Comments: