My twitter Updates

Japanese Laksa?!!
Tuesday, October 04, 2005
Was trying out this new food court in the city with one of my colleague and since he's into asian food we tought of trying out this Jap food stall.
Anyways, what caught my eye was the
Japanese Laksa
. Yeah, I heard of Penang Laksa, Johor Laksa... but Japanese Laksa?!?! hahaha.. I guess it must be fusion food or something...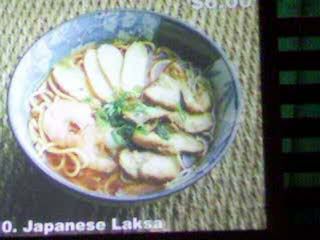 Dunno why they call it Japanese Laksa, but everything else look like curry laksa. Nope, I didn't have a go at it... not worth paying AUD$6 to try a dodgy Japanese Laksa.
I reckon Laksa Shack should add this to their menu...
0 Comments: