My twitter Updates

Malaysian Idol Audition Day 1
Friday, May 06, 2005
Was walking around Times Square this morning hoping to catch a glimpse of the Malaysian Idol KL audition. Was actually rather surprised by the calmness of the area. They were nothing to indicate the hype of the event.
Anyways, the audition is being held on the 6th level of Times Square and from the looks of it, that's where the registration and waiting room is located. Hopefuls will get their number (currently standing at 11600+) and thus be waiting in that room. From the looks of it, they are divided into a group of 10s and once the group is ready, they are ushered upstairs where they will meet the famous trio (Roslan, Fauziah and Paul),
There were little camera activity on the first day and the place is not too crowded. Since I was hanging around there.., no one came out with the yellow piece of paper. :P I expect the place to be packed and crowded during the weekends, where the main action will take place.
Anyways, if you were about to ask... no I did not go for the audition. hahaha.. If you are going, all the best!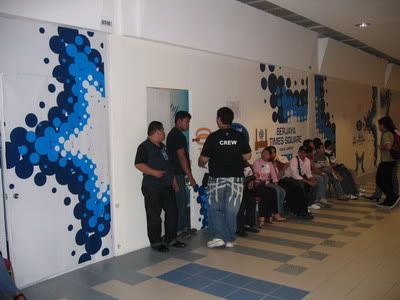 For the photo album,
Click Here!
0 Comments: