My twitter Updates

iPod mini, what's the big deal?
Tuesday, May 10, 2005
Everybody's getting it! What's the big deal? That's what I thought about the iPod hype... until I got my own iPod mini over the weekend... a pastel green one. :)
From the moment I opened the box, I was like...
wow!
. It is so much sexier when viewed in person that you realize none of the pictures you see on the internet or display models do it justice. The iPod mini clearly lives up to its name; it is small (about the size of a business card and half an inch thick) and fits the palm perfectly like a glove. The metallic green aluminum tube-shaped casing feels extremely solid and comfortably cool in the hand. Most of all, it's so light that you might forget that it's in your pocket.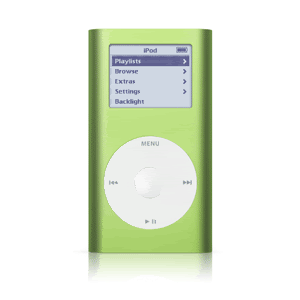 The iPod is so sleek... there aren't a lot of buttons or switches. Below the display is an innovative new touch scroll control with four push buttons embedded inside. The Click Wheel can not only be used to scroll through the menus with great accuracy, but it also doubles as the "menu", "rewind", "forward", and "play/pause" buttons when you press down on the four sides of the wheel. It's actually very easy to use.
I've already used up 2.71gb and that's over 500 songs! And upon using the provided earphones, it does live up to my expectation, producing rich, high quality sound for my music. :)
Furthermore, the iPod mini not only works as an mp3 player, but also has other neat features built into its operating software. The extra features include a clock, an alarm clock, a sleep timer, contacts, a calendar, a to-do list, notes, and games. Cool or what?
Anyways, I'm going to continue uploading songs to my 4gb sexy iPod and seriously, now I know why most adults
including myself
go ga-ga over the iPod. Sweet!
3 Comments: