My twitter Updates

F1: Kimi's Heroic Failure!
Monday, May 30, 2005
My heart sank when I watched Kimi's right-front tyre let go and ripped off the entire right-front suspension, pitching him off the road at high speed... with ONE more lap to go. What a waste!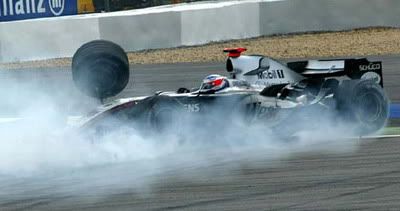 The Finn's retirement enabled Alonso to snatch victory and increase his World Championship lead to a mammoth 32 points. BMW's Heidfeld was promoted to his second runner-up finish, while Barrichello, scored Ferrari's best finish since Imola by coming home third.
So, why didn't the team bring in Kimi and settle for 3rd or 4th? Some points are better than no points right?
According to Ron Dennis (McLaren Head)... "look at the tyre, it's not going to make it, settle for 3rd or 4th". It would have been the dull thing to do, the long-term thing to do, the safe thing to do. Ferrari would probably have done it.
McLaren gambled and lost. Oh well... we almost pulled it off! What a victory that WOULD have been. As it was, Kimi did astonishingly well to keep his car ahead for as long as he did. No question that he created his own problems, but even so, a heroic failure.
3 Comments: