My twitter Updates

Australian Open 08 Select: Sania Mirza-Alicia Molik v Eleni Daniilidou-Jasmin Woehr
Wednesday, January 16, 2008
ahhh.. another beautiful day for tennis today. The second round of the Australian Open starts today with most of the big names, Henin, Serena, Nadal and Roddick powered into the third round.
The doubles competition starts today and I managed to catch the Sania Mirza-Alicia Molik v Eleni Daniilidou-Jasmin Woehr match in the evening.
Mirza-Molik seeded 6th had a tough one against their lesser known opponents but won after 2 hours of entertaining tennis.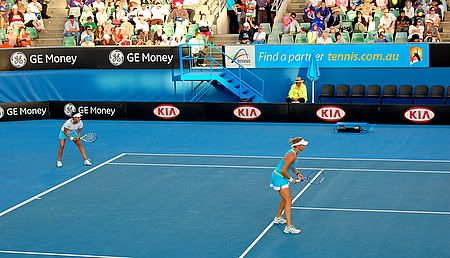 Was on the way out of the court when, at the same time, Australia's Alicia Molik was on her way to the dressing room. Got a pretty good photo of her signing autographs for her fans... it was quite funny 'cos I was right in front of her by accident and got shoved by kids and old ladies who were trying to get her autograph or a pic!!~!!
We then adjourned to the next court to catch Richard Gasquet v Feliciano Lopez. Nothing interesting with this match...
Lopez got pwn by eighth seed Gasquet in straight sets...
What a disappointing night... hoping for interesting matches tomorrow. :D
1 Comments: